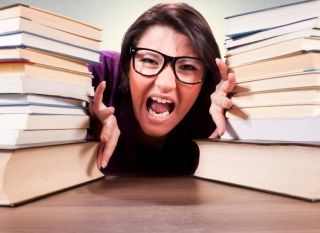 Here's how to make somebody hate reading: 
Send them to an American high school.
The end.
Hmmm – in proofreading this post, it seems a little short. So maybe I should elaborate.
I've seen some statistics floating around the web claiming that one third of high school graduates never read another book for the rest of their lives. I don't know if it's true, but it sounds about right, based on how few adults I encounter who still read for pleasure. And when I think about how literature is taught in most high schools, I'm not surprised.
Some background: I grew up loving to read. My parents were both writers and readers, and the library a block away from my house quickly became my second home. But the high school English curriculum did its best to kill my love of reading, and years later, I watched it try to do the same to my teenage daughter.
How? By forcing kids to read books in which they have absolutely no interest, and then analyzing and dissecting those books in a way that A) almost no student will find relevant, and B) completely sucks any possible enjoyment out of the act of reading.
The argument, I suppose, is that they're trying to teach them to appreciate literature, not just enjoy it. But I think that puts the cart before the horse. Why not try to get them to enjoy books first? Then, with their interest piqued, they might show an interest in a deeper level of study.
Note: I'm not saying there should be no courses that study literature in greater depth. But I feel that level of study should be offered at a voluntary level, for the few who are actually interested. It's the way literature is taught in required English classes that I'm ranting about.
It was the best of books, it was the worst of books
So what am I bitching about? First of all, the choice of books. The Grapes of Wrath may be a "great" book, but let's be honest: it's also a colossal downer. And I suspect most Americans my age have read A Tale of Two Cities and Moby Dick for one reason and one reason only: they were forced to.  [Read more…]