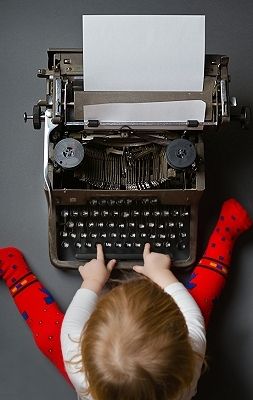 I've become quite nostalgic in recent years. But my interest in the past extends far beyond my own. I'm also fascinated by the pasts of other people – for example, I really enjoy seeing all those "Throwback Thursday" photos on Facebook each week. And in particular, I am deeply intrigued by glimpses into the mysterious pasts of artists whom I admire.
When did their gifts first surface? What inspirations awakened the artist inside the child? Did they always plan to become an artist, or fall into the life by accident?
In my case, I never expected to become a writer. A cowboy, yes. A movie stuntman, definitely. A milkman, briefly (long story). But a writer? Not so much.
It wasn't until I turned 40 that I started getting serious about writing, making me one of many "late bloomers" in the writing game. But in examining my own past, I uncovered a few hints that maybe, just maybe, I had been destined to become a writer all along.
I was a poet and didn't know it
Although I've long since lost the original work, I still remember a poem I wrote for an elementary school English class, at the ripe old age of seven or eight. It was an epic poem about a family of imaginary creatures called Grimble Bimbles, which were three-eyed monsters with very sharp teeth. I illustrated the poem myself, armed with a purple crayon and my own not inconsiderable sketching skills. Picture a three-eyed purple Pac-Man with stick-figure arms and legs, and you're in the ballpark visually.
I have no idea why I can still remember this poem verbatim so many years later, but I can. And without patting myself on the back too hard, I think it's safe to say that the poem shows traces of what would become my own hallmark style. (More on the whole "hallmark" thing in a moment…)
Submitted for your approval:
The Eleven Grimble Bimbles, by a very young Keith Cronin

There were eleven Grimbles.
Their last name was Bimble.
Once a Grimble yawned,
and saw through his eyes three
that in his mouth was flying
a giant bumblebee.
Now the Grimble's dead.
The bee stung him in the head.
He'll never budge again,
and now there's only ten.
I'll admit, I'm pretty proud of that closing line [Read more…]