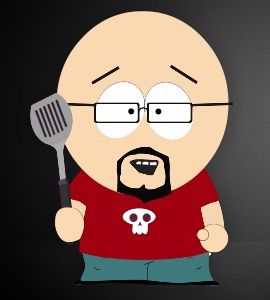 Wait, what?
Yes, I'm serious. My post today is about the storytelling lessons we can learn from possibly the most tasteless and offensive TV show of all time: South Park.
Full disclosure: I haven't actually watched an episode of South Park in quite a long time. But I've seen many episodes over the years, and I am embarrassingly fond of the movie Team America (one of the most tasteless and offensive movies I've ever seen, as well as one of the funniest), which was also written and directed by the creators of South Park: Matt Stone and Trey Parker. So I feel confident that they continue to be tasteless, offensive and funny – and damn good storytellers.
I recently stumbled onto a very brief video clip of Stone and Parker making a guest appearance at what appears to be a film class at NYU, and I was struck by the simple but powerful lesson they shared.
[pullquote]That's the curse of funny people: it's easy to forget that part of the reason they are so funny is because they take the craft so seriously.[/pullquote]
I'll admit, I was a little surprised by how seriously these two took the concept of storytelling when talking to a group of students. But that's the curse of funny people: it's easy to forget that part of the reason they are so funny is because they take the craft so seriously.
It's not hard to imagine Stone and Parker just sitting in a writers' room making fart jokes all day long, but you don't keep a show running for 18 seasons as one of the highest-rated series on Comedy Central by accident. No, there's some brainpower at work here, which became clear as Matt and Trey addressed their audience.
Cause and effect
In discussing how their writers' room worked, they revealed that although they brainstorm and develop individual funny scenes, the key to turning those scenes into an actual story is in making sure that each scene causes the next scene to occur.
Why is this important? Because if there's no relationship of cause and effect between scenes, you end up with simply a list of events or plot points, without anything driving the story forward. Parker pointed out how this is a common problem in the work of inexperienced writers, but Stone noted that he sees similar problems even in some current films, leaving him wondering, "What the @#$% am I watching this movie for?"
To avoid this pitfall in their own work, the South Park writers developed a very simple litmus test for determining whether they had achieved the desired causation between scenes, by seeing whether one of two words could be inserted between each scene:
"Therefore" or "but"
Whether you're a South Park fan or not, I urge you to watch this two-minute (yes, it's safe for work) video to learn the power of these two simple words. (EDIT: if you can't access that link, try this one.)
Stone and Parker's lesson prompted a real "a-HA" moment for me as a writer, and you can see on the faces of the students in the audience that many of them were experiencing the same epiphany.
So this left me thinking: what other lessons might there be to learn from Matt and Trey's body of work?
I came up with four lessons, but you might find even more. But here's something I want to emphasize: these lessons are NOT just for people writing funny stories (or tasteless stories, for that matter) No, despite my tongue's reputation for spending a lot of time in my cheek, I'm serious in saying that I think ALL of us can learn something from the storytelling in South Park. To wit:
1. Dig deep.
Episode after episode, scene after scene, Stone and Parker show that they are not afraid to go to the uncomfortable place, often pushing the boundaries of what you can get away with on broadcast TV. Although they may present their topics through a lens of lowbrow humor, Stone and Parker are willing to take on religion, race, politics, sexuality, censorship, war, terrorism, society's worship of celebrities and many more hot-button issues. Does your own work push that hard, or do you tend to play it safe? I know my own work could probably take a bolder stance far more often.
2. Be honest.
Brutally honest, in Stone and Parker's case. They show a complete willingness – possibly a flat-out addiction – to having people go ahead and say and do things that we would normally only think or fantasize about.
[pullquote]One way to make characters "larger than life" – and thus, more compelling – is to have them say or do the kind of big, bold things that many of us would be too afraid to do or say in real life.[/pullquote]
This is actually why I started paying closer attention to Stone and Parker's work, because this aligns directly with what I've learned in workshops led by our own Donald Maass. One way to make a character "larger than life" – and thus, more compelling – is to have him or her say or do the kind of big, bold things that many of us would be reluctant or too afraid to do or say in real life.
3. Kill somebody.
Stone and Parker truly milk this point, killing somebody in every episode. But to push it a step further, they kill the same person in every episode: the hapless Kenny. While this plot device left viewers scratching their heads after the first few episodes, it quickly became one of the show's hooks: seeing what new and horrendous way they would find to kill Kenny in each episode.
Yes, it's a dumb gag. But it also reminds us that even in comedy, the story has more impact when the stakes are high – and THAT is the lesson. To make our stories bigger, we often need to raise the stakes. Sometimes, that means killing a character – even a primary character.
[pullquote]To make our stories bigger, we often need to raise the stakes.[/pullquote]
Joss Whedon does this, often taking out a significant character in his TV shows and movies, and gut-punching the audience in the process. And fans of Game of Thrones know that George R.R. Martin takes it to a whole new level, gleefully killing off characters in whom you've invested hundreds of pages of reading, or tens of hours of viewing. NOBODY in Martin's world is safe. And how awesome is that, preventing your reader from ever feeling too comfortable?
Whether you're a serial cartoon-character-killer like Stone and Parker, or writing a quiet emotional exploration of some contemplative character's inner journey, nothing prompts the "whoa – shit just got REAL" response in your readers like unexpectedly killing off a character. So take a look at your characters. Are you willing to have one of them walk the plank, in the name of amping up the stakes in your story? Hey, it's a legal way for you to get away with murder!
4. Above all, be fearless.
I think anybody who watches South Park will quickly see that there seems to be nothing that Stone and Parker are afraid to tackle. They think nothing of breaking – hell, utterly pulverizing – any and all taboos, no matter who gets offended in the process. Do they cross the boundaries of good taste? Oh, hell yes. Constantly. But that's the expectation they've created, and there's a specific audience they're trying to reach with all that tastelessness.
But that's not the only way to be fearless. As writers, we can push ourselves to explore areas where most people are afraid to go – whether we're being funny or deadly serious. You could even make the case that this is often what our readers WANT us to do: to take them to a place their own day-to-day lives would never take them. To me, this means they're looking to us to be brave. Let's not disappoint them.
How about you?
Have you ever learned valuable story lessons from an unlikely source? What do you think of Stone and Parker's emphasis on causation between scenes? Do you see opportunities to apply any of the other lessons I've harvested from this scatologically obsessed duo? Please chime in, and as always, thanks for reading!
Image generated by this awesome South Park Avatar Creator
Author of the novels ME AGAIN, published by Five Star/Gale; and TONY PARTLY CLOUDY (published under his pen name Nick Rollins), Keith Cronin is a corporate speechwriter and professional rock drummer who has performed and recorded with artists including Bruce Springsteen, Clarence Clemons, and Pat Travers. Keith's fiction has appeared in Carve Magazine, Amarillo Bay, The Scruffy Dog Review, Zinos, and a University of Phoenix management course. A native of South Florida, Keith spends his free time serenading local ducks and squirrels with his ukulele.