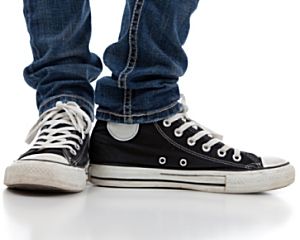 Welcome to 2015! For many of us, today is the first real workday of the new year. I always enjoy the "clean slate" feeling of starting a new year, and I'm usually eager to make some tweaks and changes to how I operate.
Some of those changes are simply about breaking some bad habits (e.g., no more chocolate-covered Pringles after 11PM), while others are about creating some new, better habits.
Getting butts *out* of chairs
As the svelte and savvy Porter Anderson observed in this excellent WU post, a popular health trend for writers in recent years is the standing desk. After all, with studies like this, this, and many others all pointing out the health risks inherent in sitting for prolonged periods of time, the age-old writer's mantra of "butt in chair" can start to sound like a death sentence for some of us.
Case in point: I'm an admittedly sedentary person. I spend the majority of my day sitting at a keyboard, either working on my next Pretty Good American Novel, or trying to persuade my clients to avoid using terms like "incentivize" and "thought leadership" in the corporate speeches and presentations I write for them. As a result, it's safe to say my chair and my butt have been getting more than enough quality time together. So I decided to do something to change that in 2015, and I'm happy to inform you that I'm typing this post at my new standing desk.
Fear of commitment
I held off on this move for a couple of years. For one thing, switching to a standing desk can be an intimidating commitment to ponder. I mean, what if I hated it? And most of the decent standing desks are pretty big, so where the heck would I put the thing if I actually took the plunge and ordered one? Plus, most of the options I was finding were awfully expensive, making this an even riskier venture to consider.
In keeping with my historic cheapskatedness (hey, it might be a word), I began looking for a workaround. After checking out some of the commercially available standing desks (focusing particularly on ones that go on top of your current regular desk), I started varying my search terms, and soon struck gold. For just 42 bucks, I found a solution that lets me try out this whole standing-desk thing with minimal investment of money or space.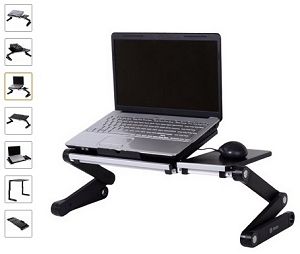 To the left is the one I chose, but I found a variety of options on Amazon and elsewhere. I just set this on top of my regular desk, and voila – instant standing desk!
This particular model can fold down flat in just seconds, but I just take it off the desk when I want to sit down to work.
(EDIT – I notice the specific model I bought is currently not displayed on the page linked above, but that's definitely where I ordered it.)
I managed to save a significant amount of money by getting creative with my search terms. Interestingly, I had the best luck searching for folding bed desk, but you can also experiment with terms like folding lap desk, etc. By contrast, just searching for standing desk had a tendency to double the price of the items that would come up.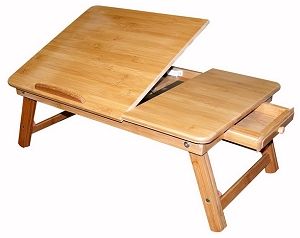 If I end up sticking with the whole standing thing, I might fork over a little more money and pick up one of the bamboo models like this one, since I think it would look better in my office.
But I don't expect I'll ever get a freestanding stand-up desk to replace my main writing desk, because it's a family heirloom with a lot of sentimental value. But with all the tabletop alternatives I'm finding, I don't think I'll be missing out.
Time to make a stand
My folding standup thingie arrived with no instructions, and it took me a while to figure it out and get it set up in a comfortable position. Finally I got myself situated to my own satisfaction, and my test drive – er, test stand – was able to begin.
[pullquote]One thing I noticed almost immediately was how much more aware I became of my posture.[/pullquote]
I found that it's quite a different sensation to write (or surf the web, think deep thoughts, or update my Facebook avatar) while standing. One thing I noticed almost immediately was how much more aware I became of my posture. When I'm sitting, my posture is utterly horrible, as I tend to slouch severely, essentially pouring myself into whatever chair I'm sitting in. This has helped me make several local chiropractors very happy, but has not been great for the old Cronin frame. But when I'm standing, it actually feels better to stand up straight rather than hunch over the keyboard, so I think this marks an excellent trend.
Also, I move around more now, as I shift my weight and reposition my feet – all good things to do. Plus, because I am already on my feet, I am much more easily able to start pacing, a crucial part of the Cronin Creative Process (or, CCP).
Better posture? Check. More physical activity? Check. Facilitated pacing? Sweet! Hey, this standing stuff was looking better and better. But then I had my biggest surprise:
It's already changed how I look.
No, I haven't developed abs of steel in the past few days, nor are my biceps rippling and bulging any more than usual (which is to say, not very much at all). But this writing-while-standing thing has made one unexpected change in my appearance.
As fate would have it, my office is in the hottest room in our South Florida house. Despite my investment in a supposedly top-of-the-line A/C system, the expensively cooled air shows only the most cursory interest in making its way up to my room. So I historically rely on the ceiling fan to make the office bearable.
That's fine when I'm sitting. But when I'm standing at my desk, my head is directly under the whirling blades, less than two feet away. Given my particular hairstyle (or lack thereof), the result is that my big bald head gets really cold.
Which is why my typical writing attire of gym shorts and a t-shirt has now been augmented by a snug-fitting stocking cap (or as the cool kids apparently now call it, a beanie).
Personally, I think it makes me look all gangsta. My ESO (Extremely Significant Other) says it makes me look cute – I can only assume she means the sort of ruggedly dangerous cuteness that inspires fear and respect on the mean streets. Hmmm, I may need to get knuckle tattoos to complete the ensemble…
Bottom line, if you are A) a ceiling fan user, and B) follically challenged (I prefer to think of my own head as aerodynamic), you might want to consider adding some headwear to your shopping cart when you order your standing desk. I'm just sayin'.
So far, so good
As I post this, I'm on day 5 of this new arrangement, and so far I'm digging it. The portable/adjustable nature of my setup allows me to easily switch between sitting and standing, but I'm trying to be good and do most of my work on foot.
Will I stick with it? Time will tell. But for those who are curious but reluctant to invest, I wanted to make you aware that there are some low-cost options for dipping your toes (so to speak) in the world of stand-up writing.
Note: If you decide to try a standing desk, make sure you take ergonomics into account, and figure out what height would be optimal for your keyboard (and your monitor, if you're not using a laptop). This site offers tips on calculating the best heights for various working positions, while this site has a helpful video about configuring a standing desk. There's a lot of information out there, so do your homework.
Stand up if you're with me!
How about you? Have you tried a standing desk? Or have you found other ways to make the act of writing more physically active, like sitting on a yoga ball? Or are you kicking it up a notch, using a treadmill desk, or dictating your Great American Novel while running a marathon? Please chime in – I'm eager to hear your thoughts and experiences. No matter what approach you take, here's to a happy – and healthier – 2015!
Image licensed from iStockphoto.com
Author of the novels ME AGAIN, published by Five Star/Gale; and TONY PARTLY CLOUDY (published under his pen name Nick Rollins), Keith Cronin is a corporate speechwriter and professional rock drummer who has performed and recorded with artists including Bruce Springsteen, Clarence Clemons, and Pat Travers. Keith's fiction has appeared in Carve Magazine, Amarillo Bay, The Scruffy Dog Review, Zinos, and a University of Phoenix management course. A native of South Florida, Keith spends his free time serenading local ducks and squirrels with his ukulele.