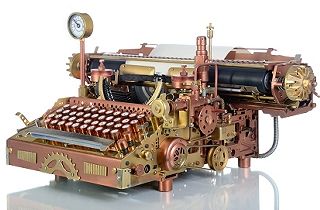 Last year I wrote a post about some inexpensive high-tech tools that I found useful as a writer, and the response I received suggested that this was a pretty hot topic.
Since that time, I've become aware of several more pieces of technology that writers might find useful, so I thought I'd share them with you, along with my initial impressions of these tools.
In my previous post on the topic, I focused on tools that I use regularly. But in this case, I haven't worked with all of these yet, and none of them have yet become indispensable to me as a writer. But I think it's possible that could change as I delve deeper into my Latest Attempt at Literary Awesomeness (or, LALA).
I'm still a big fan of cheap, so again I'll focus primarily on the most affordable tools I've recently encountered, with a couple of more expensive options as well. The good news is that there are a LOT of choices out there. Let's start with one of the most popular ones.
Scrivener
Website: http://literatureandlatte.com/
Price: $40-45, depending on operating system
My one-line summary: Tons of features make this a suite of tools worth exploring.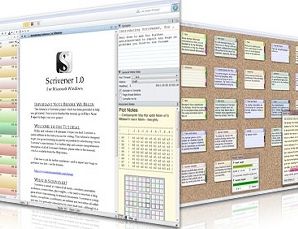 Many of you may already be familiar with this tool. A longtime favorite with Mac users, in 2011 Scrivener also became available for PC. Check out WU contributor Jeanne Kisacky's excellent write-up on the PC release of Scrivener here.
As you'll see at the Scrivener website, this is an extremely full-featured tool for writers, offering organizational tools, text editing, a wonderful "corkboard" interface and more.
I used Scrivener for several weeks, and while I'm highly impressed with all the functions this software offers, to me it ultimately became more than I wanted to deal with. I felt like I was spending more time making sure I gave Scrivener all the information it needed, and less time actually writing. And I sometimes felt all the various tools and windows that are available in Scrivener began to take over my screen, making the window where I did my actual writing seem like a bit of an afterthought.
BUT – and this is a big but (yes, I like big buts, and I cannot lie…) – it's important to note that A) Scrivener is highly configurable, so you can control what tools and windows are visible, as well as their size; and B) I use a tiny little netbook as my main computer. This is probably not a smart move for a writer, but I became so fed up with how quickly my big super-ultra-mega-awesome laptops or computers would become either hopelessly slow and buggy or flat-out killed by some asshat virus, so I finally decided to start treating my computers as disposable commodities. So I bought a $300 Acer, and will be happy if it lasts as long as a pack of disposable razors.
My long-winded point is, I may have found that Scrivener crowded my screen too much simply because I use a computer with such a skimpy monitor. So although I no longer use Scrivener, I highly recommend it as a tool worth checking out.
Writers Blocks
Website: http://www.writersblocks.com/
Price: $149
My one-line summary: Powerful features made less attractive by a hefty price tag.
Probably my favorite feature in Scrivener is the corkboard, which gives you a virtual bulletin board on which to pin your ideas in the form of note cards.
I'm a visual guy, so that sort of thing is really helpful, because I lack the desk space or handwriting skill to use actual physical 3×5 cards or Post-its. So I looked around for other software that offered something similar, and found one that is definitely a top contender.
Writers Blocks is another powerful piece of writing software that uses the notecard metaphor, with an emphasis on providing the ability to easily move those cards (or blocks) around as you build and tweak your book idea. I've been aware of Writers Blocks for a while now, and over the years this software has become more and more feature-rich, and it's worth checking out as an alternative to Scrivener. However, I think the price is rather high, at least in comparison to the other tools currently available. With Scrivener finally available on PC, I'll be interested to see whether Writers Blocks considers lowering its prices.
Text Block Writer
Website: http://text-block-writer.en.softonic.com/
Price: FREE
My one-line summary: Nothing but notecards, and at no cost – sweet!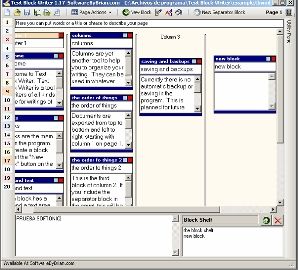 After bailing on Scrivener and choking on Writers Blocks' price tag, I began searching for some other products that offer a computer equivalent of pinning notecards (or pressing sticky-notes) on a bulletin board.
There are numerous options, but this one is particularly attractive for its price: nada. Zilch. Bubkes (which I've also seen spelled as bupkis, bupkes, and bupkus – but I digress…).
While not as sexy as the faux corkboard that Scrivener offers, Text Block Writer gives me what I need – the ability to create, configure, and position small notecards, which I find helpful for piecing together the flow of my book-length projects. I've just begun using this, but so far I'm very happy with it.
Snow Flake Pro
Website: http://www.advancedfictionwriting.com/info/snowflake_pro/index.php
Price: $100 (discount offers available)
My one-line summary: Full-featured but non-sexy tool for getting your literary ducks in a row.
This is a piece of software developed by author Randy Ingermanson, who came to my attention with his innovative and impressive "Snowflake Method" for writing a novel. I love experimenting with structure and process, so last year I took advantage of a coupon offer and bought the software.
Snow Flake Pro is another very full-featured tool for planning and organizing your work. It prompts you to create a one-sentence storyline, one-paragraph summary, character sketches, scene lists, and more. On one hand this can feel overwhelming, but on the other, it pushes you to do the things you should probably be doing anyway.
The interface itself is not at all sexy, mostly resembling a spreadsheet. I think Scrivener does a better job in this area, with a much more engaging interface. And I think Snow Flake Pro's price is too high, given what it's competing with. I experimented with this for a while, but when I changed computers late last year, I didn't bother loading this on to my new machine. But for a writer to whom such organizational tasks are hard to manage, this software may be worth exploring.
WriteRoom (MAC, iPhone/iPad)
Website: http://www.hogbaysoftware.com/products/writeroom
Price: $4.99 download for Mac, $1.99 app for iPad and iPhone
My one-line summary: Distraction-free writing goes old-school.
I like to keep things simple, and have used simple word processing machines like the AlphaSmart and the NEO to draft most of my work for the past decade, free from the distractions of email and the interwebs. But that requires an actual piece of hardware.
Another approach is to make your own computer so simple that all you can do is write, by filling your screen with a simple plain-text window, similar to what computer users would see prior to the invention of the mouse-driven Graphical User Interface.
One of the most popular pieces of software to offer this is WriteRoom, which gives you an old-school plain screen where there's only one thing you can do: write.
WriteRoom has been tweaked and revised over the years, and is now also available as an app for your favorite iDevice. But if you don't use a Mac or an iSomething, fear not – as you'll see next, there are similar tools available for PC.
Writemonkey (PC)
Website: http://writemonkey.com/index.php
Price: FREE
My one-line summary: PC version of WriteRoom, with some added features.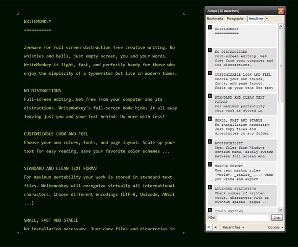 Writemonkey touts itself as "Zenware," a concept I find quite appealing, in that its goal is to "function with a minimum of superfluous user intervention." The primary function of Writemonkey is similar to that of WriteRoom: to provide a distraction-free writing environment.
That said, this software does offer more than a simple text-only screen – check here for some additional features you may find useful.
I'm one of those guys who hates it when software that I like keeps changing and adding new and unnecessary bells and whistles with every new release. (For example, find me whoever is responsible for adding the "Ribbon" to the most recent versions of Microsoft Word, and I will cheerfully beat them to death with a 5B drumstick.) So I can definitely see the appeal of tools like WriteRoom and Writemonkey. It's also worth noting that a variety of similar programs exists, either free or at very low price points. This Wikipedia page lists some other options that might be worth a look.
MasterWriter
Website: http://masterwriter.com/creative_writer/index.html
Price: $9.95/month, $99/year, or $199 purchase
My one-line summary: An innovative but expensive tool for choosing your words.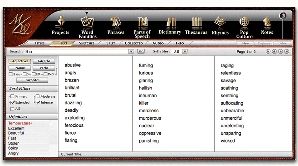 This tool differs from many others I've seen, both in its pricing model, and in how it seems to focus almost entirely on word choice.
I'm wary of software tools that think they know better than I do when it comes to word choice – I turn off my grammar-checker, and have to beat my spell-checker into submission to accept words like gotta, kinda, or bigtime, without which my written vocabulary would be woefully incomplete. But this tool breaks things down in an unusual and yet logical way, which I find intriguing.
Probably the most interesting feature in this suite of tools is the "parts of speech" function, which allows you to search for specific parts of speech (such as nouns, adjectives, etc.) in terms of the intensity of the word, the positive or negative connotation, and by whatever letter the word starts with.
I don't think my explanation really captures this, so I suggest you check out this video – the description of this feature begins just before the 3-minute mark. If you enjoy devices like alliteration and other wordplay, I could see this being a very useful tool. There have definitely been times when I wanted to use a word that began with a specific letter, but couldn't think of one that fit the part of speech I needed. This tool addresses that admittedly very specific problem, and seems to do it well. I haven't purchased this one – it's definitely pricey, but I think I'll give the free trial version a try.
Storyometer (app for iPhone/iPad)
Website: http://www.storyometer.com/
Price: $7.99
My one-line summary: Frame your writing project from your handheld device.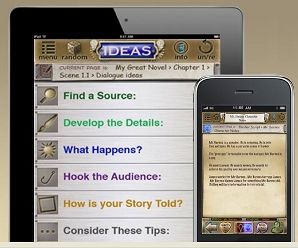 Developed by James Monohan, this app serves as a brainstormer, note-taker, and outlining tool for writers. There's a cute tongue-in-cheek video about it here, which seems to position it as a 21st-century upgrade of Edgar Wallace's Plot Wheel (a possibly apocryphal card marketed in the 1920's, with a wheel you could spin to choose a random plot element). But when you go to the Storyometer website, it's clear that this app does far more than offer you possible plot elements.
Check out some of the tutorials on this site to see whether this might be a tool you'd find useful. I haven't used it yet, but I dig its steampunk name and vibe, and can appreciate how this could free writers from relying so completely on their computers.
And that's just scratching the surface…
There are many other technology-fueled tools for writers out there, so I won't for a moment claim the above list is comprehensive. But if nothing else, this gives you a sense of the extremely wide range of products available, and I think you'd agree that it's impressive to see how creative some of these engineers are in looking for ways to facilitate the process of writing.
What about you? Have you tried any of these? What other groovy new techie tools are you using? What's working for you, and what isn't? I look forward to your input. And as always, thanks for reading!
Image licensed from iStockphoto.com
Author of the novels ME AGAIN, published by Five Star/Gale; and TONY PARTLY CLOUDY (published under his pen name Nick Rollins), Keith Cronin is a corporate speechwriter and professional rock drummer who has performed and recorded with artists including Bruce Springsteen, Clarence Clemons, and Pat Travers. Keith's fiction has appeared in Carve Magazine, Amarillo Bay, The Scruffy Dog Review, Zinos, and a University of Phoenix management course. A native of South Florida, Keith spends his free time serenading local ducks and squirrels with his ukulele.