…when a book kicked your ass?
Today's date tends to evoke a lot of "I remember where I was when…" memories, so I thought I'd explore that notion, but taking it in a less painful direction.
Powerful memories and landmark events can etch themselves permanently in our psyches. One of the things that binds people together generationally is the group of shared cultural touchpoints that shaped their youth. In my case, that would include JFK, the Beatles, the Viet Nam war, Martin Luther King, the moon landing, Watergate, and of course the introduction of bell-bottom pants. (No, I don't still own a pair. However, I do find it interesting that we put a man on the moon before anybody thought of putting wheels on suitcases. But I digress…)
The kind of memories I've cited above influenced the lives of countless people. But today I'd like to talk about the memories that influence us at an individual level, often just as powerfully. For a writer, such a memory could be formed by reading a book that literally changes your life. So in this post I'm going to explore a few books that kicked my ass so thoroughly that I can still remember where I was when I first read them. 
A rare moment of shameless self promotion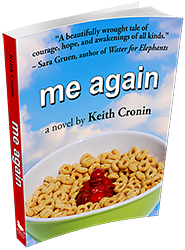 Before I go on, I'm going to take a moment to do what I can assure you will be a rare piece of self-promotion here at WU. I'm pleased to announce that my novel Me Again is now available on Kindle.
The book came out one year ago in hardcover only – just my luck, the same year that pretty much everybody on the planet got an e-reader. So I'm thrilled to finally be contractually able to offer an e-version of the book at a far more attractive price. You can download a free sample to get a taste of the rather rare genre of "funny novels about brain damage" by clicking here.
Ahem – thank you. We now return you to your regularly scheduled program.
The Wonder Years: books that kicked my then-youthful butt
When I started drafting this, I quickly realized it was going to be WAY too long for a single post. So the following is a far-from-comprehensive look at just a few of the books that had a huge impact on me early in life. In fact, I read most of these before I began to get serious about my own writing, which shows that their influence was not only powerful, but apparently permanent. If people find this topic interesting, I may follow up with some more recent books that were similarly influential.
The Greatest Thing Since Sliced Bread – Don Robertson
Where was I when I read it? Sitting in my sixth-grade classroom
I'm not really sure why our sixth-grade English teacher chose to read this book aloud to us – after all, sixth graders seem a little old for "story time" – but I'm awfully glad she did. Although the protagonist is a nine-year-old boy, there was a warts-and-all honesty about the book that made the story seem very… adult, for lack of a better word. The characters weren't perfect or stereotypical, there were messy problems, ugly people, and a gut-wrenching tragedy at the book's climax, but it was all delivered with such candor and humor that I couldn't wait to hear what happened next.
I don't know how else to say it: I felt like this book was leveling with me, giving it to me straight. It was probably the first time that I felt a book about a child wasn't treating me like a child, by hiding or sugar-coating or dumbing anything down for me. I went on to read the three books Robertson wrote about that same boy as he matured, a trilogy that mixed humor and adolescent misery with a candor I'd never before seen. In a sense, I grew up with that boy, and have never forgotten him.
First Blood – David Morrell
Where was I when I read it? My childhood second home: the library
I discovered this book when I was still a young boy in the early 70's, living in fear of the war in Viet Nam that was slowly eating up the older boys in my neighborhood. In addition to being packed with incredibly gripping action, this was one of the first books that captured how disenfranchised many Viet Nam veterans felt upon their return to the States. I re-read the book countless times, and it was a huge influence on my early writing, before my tastes (and my lack of talent at writing dark action/suspense) led me to lighter fare.
I was fortunate enough to meet David Morrell at a literary conference a few years ago, and I told him how much his work had meant to me. He was extremely easy to talk to, and he spent a long time chatting with me, during which he shared that this was the first book he had written using "the classic three-act structure." I've still never developed the ability to think of books (or movies) in terms of acts, but I gotta say, whatever he did, it freaking worked. If your only exposure to this story is through Sylvester Stallone movies, pick up a copy of this book. And consider the guts and insight it took to write this while the Viet Nam war was still raging.
The Stand – Stephen King
Where was I when I read it? On the top bunk in my dorm room at Indiana University
This book gave me a sense of what it's like to be addicted to something. The sheer size of this book made it impossible to devour in one sitting, so it took me a good number of days to get through it. But oh, the cravings! Whenever I was being kept away from the book – you know, by trivial things like bathing, attending class, practicing my music lessons, and so on – I kept finding myself frantically planning when I might be able to squeeze in my next reading session. Like a smoker sprinting outside for a quick nicotine fix, I would thumb hungrily through through a few pages between classes to help ease the pain of being separated from that story.
Talk about a page-turner. I don't think any book before or since has had that kind of grip on me. I'm not saying it's a perfect book. I found King's reliance on sudden character-killing explosions to be a bit of a cop-out, but still I could not wait to find out what happened next. And it was also a great unifying social bond – everybody I talked to who was reading it at the time seemed to be having similar experiences, so we could commiserate together over our shared addiction. Powerful stuff, this storytelling.
Bright Lights Big City – Jay McInerney
Where was I when I read it? On a tour bus, motor-home, airplane or van
(Okay, I spent most of the 80's touring in bands, so I can't tell you exactly where I was. My whereabouts and mode of transportation during that era tend to blur together in my memories, no doubt exacerbated by a significant dosage of imported beer.)
Two words describe this novel best: time capsule. This book vividly captures the cocaine-fueled mid-80's, when suddenly everything seemed possible, but dammit, people still weren't happy. But it isn't just through faithful reporting of period-specific details that this effect is created. McInerney took the bold step of writing this from a very unusual point of view: second-person present tense. This means the main character in the book is, well, you. If that doesn't make sense, check out how the book opens:
You are not the kind of guy who would be at a place like this at this time of the morning. But here you are, and you cannot say that the terrain is entirely unfamiliar, although the details are fuzzy. You are at a nightclub talking to a girl with a shaved head. The club is either Heartbreak or the Lizard Lounge. All might come clear if you could just slip into the bathroom and do a little more Bolivian Marching Powder. Then again, it might not. A small voice inside you insists that this epidemic lack of clarity is a result of too much of that already."
The more "schooled" you are in writing technique, the more jarring that approach is likely to seem. But somehow it works, and by using this POV the author takes even those of us whose lives are far removed from that of this coked-out Manhattanite, and makes that guy's problems and his perspective become your perspective. When I first read this I don't think I had enough technical chops to recognize exactly how he was doing it, but even at an instinctive level, I knew this author was taking me to a place I'd never been – and it's a place I've never forgotten.
Just the tip of the iceberg…
There are many, many more, but this post is already nearly as long as a Stephen King book, so I'll stop. But now I want to hear from YOU:
Does this resonate? Should I go on? More importantly, what are some books that had a lasting impact on you? And where were you when they kicked your ass?
I'd love to hear your stories. Thanks for reading!
Image licensed from iStockphoto.com
Author of the novels ME AGAIN, published by Five Star/Gale; and TONY PARTLY CLOUDY (published under his pen name Nick Rollins), Keith Cronin is a corporate speechwriter and professional rock drummer who has performed and recorded with artists including Bruce Springsteen, Clarence Clemons, and Pat Travers. Keith's fiction has appeared in Carve Magazine, Amarillo Bay, The Scruffy Dog Review, Zinos, and a University of Phoenix management course. A native of South Florida, Keith spends his free time serenading local ducks and squirrels with his ukulele.