[1]The stories have been written, the votes tallied, and finally it's time time to reveal the winners in WU's first ever 7 Sizzling Sundays of Summer Flash Fiction Contest!
There was a clear winner in terms of voting.
Receiving a huge 38% of the vote [2], and the lion's share of the prizes, including:
a Sony ICD-SX712D Digital Flash Voice Recorder
Dragon Naturally Speaking Voice to Print Software
a Scuba writing slate with pencil
a Night-Writer pen
the first EVER produced Writer Unboxed T-shirt
is…
David Olimpio
Dory T. Wellington and the Fire Orange Blue Jellyfish Kite

[3]

I stole the kite from Mr. Kensey on my birthday. I stole it while he slept in a chair in his backyard. Me and Dory T. Wellington, we stood on the horizontal fence beams and looked into Mr. Kensey's backyard at that fire orange blue jellyfish kite and we wanted it.

Dory said, "Let's steal the kite."

"I'll do it," I said. "It's my birthday."

Dory said, "You should do it. You're faster."

"I'll do it," I said, "because I want to do it."

And I did. I stole that kite. And then me and Dory, we ran through the open lots in back of my house with the fire orange blue jellyfish kite. The lots where houses weren't built yet. Just heaps of ant hills and spider holes, and patches of grass, and chiggers. The lots where me and Dory rode our bikes, and sipped Capri-Sun, and ate Peanut Butter and Honey sandwiches, and shot BB guns at cans. And once, I shot a BB at Dory's face, but only because he dared me to because he didn't believe it would hurt. And it lodged in his cheek real good but it didn't bleed. And we laughed when I did it, and Dory never cried.

I was grounded for weeks after that. But it didn't matter, being grounded. Because I still had Dory T. Wellington. And now, the fire orange blue jellyfish kite. And that cool scar that's never gone away from the BB in my cheek.
CONGRATULATIONS, David! We'll be in touch via email to get your snail-mail address, and soon your prizes will be on the way.
In second place, with 16% of the vote is:
Andrea Ellickson
[4]
A monster lives in my bedroom and his name is Gary. My parents don't believe me. Tonight, if I sit in the hallway, cold and shivering, then maybe they will believe me. Maybe they will believe that Gary has two dog heads and a scaly tail. Maybe they'll believe that Gary reads me fairy tales like Beauty & the Beast and Snow White. He even has a different voice for each of the dwarves.

But, my dad doesn't usually come upstairs until long after midnight. Sometimes he tumbles against the walls like a lumbering giant, and Gary perks his head up, ready to leap at the monster in the hall. My mother, she doesn't ever leave her bedroom except to eat bowls of cold chicken soup. Every night, she slips two red pills into her mouth and disappears into silence. I bet she never dreams of fairy godmothers or flying on the back of a winged beast.

The hallway feels like an icy tunnel. Goosebumps rise on my arms and my eyes droop from the darkness. I just want my parents to believe that a monster lives in my room.

"Come back to bed," Gary says, waving me over with his soft white paw.

I follow him back to my bedroom where he can protect me from empty hallways.
Congrats, Andrea! You've won a Writer Unboxed T-shirt and WU coffee mug. We'll be in touch via email to ask you about sizing, etc…
And our third-place winner, bringing home 9.39% of the vote is:
Michael Molony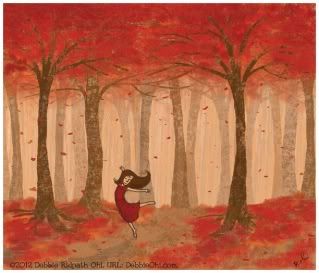 The Girl and the Wolf

One autumn day, a girl frolicked about in the forest, kicking the fallen leaves into the air.

Suddenly, a squirrel rushed out from behind some brush. "There's a wolf about!" he cried. "You should hide, too, before he finds you and eats you all up."

"Not to worry, squirrel, but thanks for the warning." The girl pulled an acorn from her pocket and handed it to the squirrel, who was most grateful.

She resumed her whimsical romp and was stopped again, this time by a rabbit who hopped out from behind some boulders. "You must hide now!" he said. "There's a wolf in these woods and he'd love to make a meal of you."

"Not to worry, rabbit, but thanks for the warning." The girl pulled a carrot from her pocket and gave it to the rabbit.

She gaily continued, when a large, menacing wolf stepped in front of her.

"Hey, Roscoe," she said, with noticeably less enthusiasm.

"How'd it go out there?"

"I know where they're all hiding," the girl said, her voice deepening. She then removed her mask, revealing an equally vile wolf. "You be the girl next time."

Moral: If someone seems too nice, check for a tail.
Congratulations, Michael! You've also won a WU T-shirt. We'll be in touch over email soon.
Thanks again to everyone who participated, and to Debbie Ohi for her generosity in allowing us use of her artwork.
We'd love to hear your thoughts in comments re: if you'd like to do something like this again, and what changes–if any–you might suggest for the future. And until next time… writeflash on!
About [5]
Writer Unboxed began as a collaboration between Therese Walsh [6] and Kathleen Bolton [7] in 2006. Since then the site has grown to include ~50 regular contributors--including bestselling authors and industry leaders--and frequent guests. In 2014, the first Writer Unboxed UnConference (part UNtraditional conference, part intensive craft event, part networking affair) [8] was held in Salem, MA. Learn more about our 2019 event, ESCAPE TO WuNDERLAND, on Eventbrite. [9] In 2016, the Writer Unboxed team published a book with Writer's Digest. AUTHOR IN PROGRESS: A No-Holds-Barred Guide to What It Really Takes to Get Published [10] has been well-received by readers who seek help in overcoming the hurdles faced at every step of the novel-writing process--from setting goals, researching, and drafting to giving and receiving critiques, polishing prose, and seeking publication. James Scott Bell has said of the guide, "Nourishment for the writer's soul and motivation for the writer's heart." You can follow Writer Unboxed on Twitter [11], and join our thriving Facebook community [12].