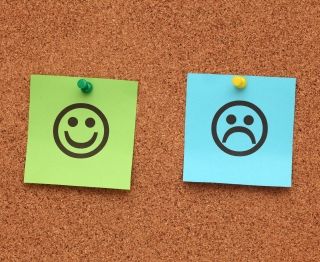 Ask yourself whether any of these "Dear diary" entries sound familiar:
Thursday: OMG! I've just come up with the most awesome book concept. It came to me all at once: character, conflict, a truly awful antagonist, and it falls right in my stylistic sweet spot. I churned out a few pages, experimenting with voice, and I think I'm onto something. This is SO awesome. Yay!
Friday: I suck. To be more precise, I suck in ways that no other human has ever sucked. In fact, it's highly likely that the next edition of Roget's Thesaurus will list my name as the first synonym for the verb "to suck." I'm looking over the stuff I wrote yesterday, and it is BEYOND lame. Who am I kidding? I'll never be a real writer. You know, because of the whole sucking thing.
Saturday: It's amazing what a decent night's sleep and a good cup of coffee can do. I think this thing has real promise, now that I've plugged a couple of holes in the plot. And I can't get the protagonist out of my mind – we've even been having conversations while I'm in the shower, which would be creepy if I weren't so thrilled about how this character is developing. I wrote some more pages, and the voice is starting to come together. I rule, if I say so myself!
Sunday: Who turned the "Suck" knob up to eleven? I thought I was on a roll, but in fact I must have been on crack. It's late at night, and I'm realizing I've wasted the entire weekend on a premise that has a hole in it a mile wide. And I don't see a fix for it; I'm totally painted into a corner. And now I'm mixing hole metaphors with paint metaphors, further proof of my absolute lack of talent as a writer. I suck.
---
I'd go on, but I think you get the idea. If you've experienced this sort of psycho-emotional seesaw, maybe this post can help. 
Call it a crisis of confidence. Call it writer's block. Call it impostor syndrome. Hell, call it Ishmael (although I'm pretty sure that one's taken). But know this:
You're not alone.
Just as members of various 12-step addiction-fighting groups find it helpful to be among kindred spirits, you can draw strength from knowing that no, it's not just you. Some of the best writers I know have frequent head-on collisions with massive crises of confidence – and these are folks who write way better than me and have sold WAY more books than me. Knowing this – and I mean really embracing this fact – can help you get past the soul-crushing idea that only YOU are being attacked by these Gremlins of Suckiness, or these Monsters of Muselessness, or however you may view this enemy of your own creativity. Now that you're fortified with this knowledge, here are some other strategies for you to contemplate:
Hold on loosely, but don't let go.
First, let's take a moment to fully appreciate the cognitive dissonance inherent in using an old southern rock song lyric in a literary blog post. Does this mean a "Free Bird" reference is not far behind, or that perhaps I will next dip my quill into the vast literary inkwell of Molly Hatchet? No, fear not. I'm just trying to suggest that maybe the idea you're working on has some merit, but isn't quite there yet. And maybe that's why you're still going back and forth on it.
Rather than immediately discarding it, spend some time examining it from other angles, exploring other directions your story could take, while still holding onto the germ of the idea. I believe that we become inspired for a reason, but sometimes that initial inspiration is just the launching pad for a far different piece of writing than we might originally envision. But that will only happen if we hang on to it long enough to find out.
Let it age like a fine wine.
Or a really stinky cheese. In time, you'll know which.
But don't make a snap decision. It may be helpful to put an idea away for a while, when it's not immediately leading you to your literary happy place. When you view it with fresh eyes, you may be surprised by what you see. My first published novel Me Again came from a short story idea I had discarded long ago, but when I re-read the excerpt years later, I fell in love with the voice and the premise, and found myself fleshing it out into a novel. Suffice to say I'm really glad I didn't delete the original file.
Share your idea, but with a very select audience.
Sometimes it helps to talk to somebody about what you're trying to write. Try your ideas out on a few people – but NOT just authors. Read author Mia March's recent WU post to see how unhelpful and possibly show-stopping some well-intentioned advice from other authors can be. Instead, if you know non-authors who enjoy reading the sort of stuff you write, try bouncing your ideas off them.
Here's why this can be so helpful. Once you're past your initial excitement over your new idea, it's dangerously easy to lose the urgency of your own enthusiasm (particularly if you tend to worry an idea to death, like I do). I recently went out to dinner with my ESO (extremely significant other), and relayed the two story ideas I was toying with. Watching her eyes get wider as I described the first of these ideas helped validate the notion that hey, I might actually have something here. Also, the questions and responses you get can poke unforeseen holes into an idea you've been constructing. For example, this same dinner conversation made me realize that my other idea had potential, but wasn't quite ready for primetime. This in turn helped me decide which of these two ideas to dive into first.
The trickiest thing is actually finding the right people to share your stuff with, so when you do, be nice to them and take them frequently to very nice restaurants. Trust me on this. (Of course, if you're holding this exchange of ideas via email rather than in a nice restaurant, then you need to buy them a pony. I'm pretty sure Amazon has ponies – they sell everything else.)
But don't be afraid to ask the hard questions.
Ah, the dreaded tough love portion of today's post. Sometimes, an idea or a piece of writing simply doesn't work. And it falls on our own critical thinking skills to discern when this is happening. As a very recent example, after attending a Donald Maass workshop at this year's annual Backspace Writers Conference, I realized that one of my book ideas just didn't cut it. It was a clever concept, and posed a fun intellectual and architectural puzzle, but it didn't have the depth to become an emotionally resonant piece of fiction.
I determined this by finding myself consistently unable to come up with satisfactory answers to the hard questions Donald kept asking the audience about the characters and ideas we were working on. (It should be noted that hard questions are Donald's specialty. If you haven't attended one of his workshops or read any of his "Breakout" series, you owe it to yourself to do so. Just be ready to face some challenging questions, and be honest with yourself about your responses).
On one hand, it was frustrating to give up on that idea of mine – I had put a lot of time and thought into brainstorming it. But on the other, that exercise saved me from putting an even larger amount of time into writing something that frankly would not have been able to stand up against the work of the authors with whom I hope to compete. (Watch for more on this ugly and unpopular notion of competition in a future post.)
Bottom line: bipolar ain't bad.
I guess the biggest point I want to make is that I think it is actually helpful to go through the extensive self-evaluation and mental litmus-testing that can be prompted by occasional – and yes, severe – bouts of self-doubt.
Good writing demands that we dig deep, and if you look at this experience as simply part of the process, I think the highs and lows you encounter can actually inform and strengthen your own writing. I hope you find this helpful.
So, who's with me on this seesaw? I welcome your reactions and coping strategies!
Image licensed from iStockphoto.com.
Author of the novels ME AGAIN, published by Five Star/Gale; and TONY PARTLY CLOUDY (published under his pen name Nick Rollins), Keith Cronin is a corporate speechwriter and professional rock drummer who has performed and recorded with artists including Bruce Springsteen, Clarence Clemons, and Pat Travers. Keith's fiction has appeared in Carve Magazine, Amarillo Bay, The Scruffy Dog Review, Zinos, and a University of Phoenix management course. A native of South Florida, Keith spends his free time serenading local ducks and squirrels with his ukulele.