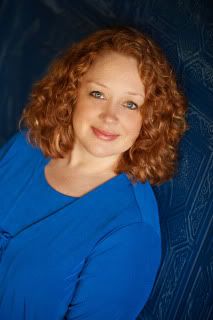 Kath here. We're so pleased that WU contributor Anne Greenwood Brown has agreed to let us pick her brain regarding her first book. The highly-anticipated YA novel LIES BENEATH [1] releases June 12 (tomorrow!) by Delacorte. Anne's book has been building buzz for months, getting terrific reviews from book bloggers, and in speaking to my own YA kid, word of mouth on this book is strong. I've no doubt LIES BENEATH is going to be the read of the summer.
If you'd like a taste of LIES BENEATH, check out the audio book teaser HERE [2] or absolutely killer book trailer Anne has created HERE [3].
Take it away, Anne!
Q: What's the premise of your debut novel?
My quick elevator pitch is: "mermaid assassins on Lake Superior."
To give you a little bit more: LIES BENEATH is the story of Calder White, the only brother in a family of murderous mermaids living in Lake Superior, who plan to kill Jason Hancock, the man they blame for their mother's death. To draw out their prey, Calder is assigned the job of seducing Hancock's daughter, seventeen-year-old Lily. "Get close to the daughter," his sisters tell him, "and you'll get close to the man. Get him out on the lake, and we'll take care of the rest." It all goes according to plan, until Calder screws everything up by falling in love. That little snafu puts Calder in the position of trying to love the girl while simultaneously plotting her father's murder. For a while he thinks he can actually pull this off, but it doesn't take long for his plans to unravel.
LIES BENEATH is categorized as a YA paranormal romance; however, the romance is only a symptom of what's really going on. In my mind, this is an evolution story (as in Darwin). It's the story of a predatory animal who evolves into a man.
Q: What would you like people to know about the story itself?

Mermaids make an appearance in nearly every culture around the globe–and have since ancient times. When I was doing my world building and creating my characters, I found inspiration in mermaid legends from Greece, Arabia, the British Isles, China, and Native American tribes. The other thing I'd like people to know going in is that it is NOT Disney's The Little Mermaid. There are no singing crabs. In Calder's own words:
"Forget about that freakin' Ariel. Think Friday the Thirteenth. Think Silence of the Lambs."
Q: What do your characters have to overcome in this story? What challenge do you set before them?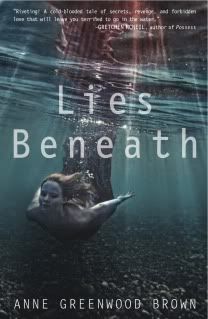 Calder is struggling to overcome his predatory nature from the very first page. He gets no help from his sisters who see nothing wrong with hunting humans. In their minds, it's no different than the lion taking down a gazelle on National Geographic. You don't describe the lion as evil, so why should they see themselves that way? The other thing Calder struggles against is family loyalty. He owes his life–as miserable as it is–to his mermaid family. To turn his back on them would be a massive betrayal.
Q: What unique challenges did this book pose for you, if any?
LIES BENEATH is told from Calder's first person point of view, so getting myself to talk and think like a teenage boy (merman) was tough at first. When I read the first draft of Chapter One out loud at my critique group, they all thought he was a girl, so I did a lot of observing and listening to get it right. The weird thing was when I started writing the sequel, DEEP BETRAYAL, which is told from Lily's point of view, I had to relearn how to write from a girl's pov.
Q: What has been the most rewarding aspect of having written this book?
Probably being part of an online community of 2012 YA/MG debuters, aka "The Apocalypsies." If I ever had a question about the road from sale to publication, there was always someone just a step ahead of me who could give me advice. Working with YA book bloggers has been awesome, too. They're a fearsome bunch–all very passionate about YA books.
LIES BENEATH is available at all booksellers June 12. Congratulations, Anne!
About [4]
Writer Unboxed began as a collaboration between Therese Walsh [5] and Kathleen Bolton [6] in 2006. Since then the site has grown to include ~50 regular contributors--including bestselling authors and industry leaders--and frequent guests. In 2014, the first Writer Unboxed UnConference (part UNtraditional conference, part intensive craft event, part networking affair) [7] was held in Salem, MA. Learn more about our 2019 event, ESCAPE TO WuNDERLAND, on Eventbrite. [8] In 2016, the Writer Unboxed team published a book with Writer's Digest. AUTHOR IN PROGRESS: A No-Holds-Barred Guide to What It Really Takes to Get Published [9] has been well-received by readers who seek help in overcoming the hurdles faced at every step of the novel-writing process--from setting goals, researching, and drafting to giving and receiving critiques, polishing prose, and seeking publication. James Scott Bell has said of the guide, "Nourishment for the writer's soul and motivation for the writer's heart." You can follow Writer Unboxed on Twitter [10], and join our thriving Facebook community [11].