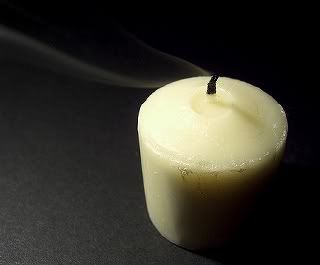 Late at night is when the pain is the worst. The aching void. The silence. The knowledge that what once was is now gone.
Forever.
It's not like we didn't know it was going to happen. This was a love affair that we knew would end. We both knew this going in, but I don't think we realized how deeply we could fall in love in such a short time. So we underestimated the emotional risk, and let ourselves be carried away by the sheer momentum of our growing passion.
Sometimes we'd go at it for three or four hours at a time. Knowing how tired we would be the next day from lack of sleep. Knowing that each hour that we surrendered ourselves to our hunger was bringing us one hour closer to this love affair's inevitable ending.
We weren't always in synch. Sometimes I'd want to wait, to hold back, to try to stretch our time together. To savor the moment, and make it last. But her needs were more urgent, and I could not help but succumb to her desires. As we neared the end, her appetite became insatiable, prompting marathon sessions in that darkened room, stopping only when neither of us could keep our eyes open.
And that's how my fiancée and I burned through all five seasons of Friday Night Lights in just two months.
~ ~ ~ ~ ~
Not since The West Wing have I been so captivated by a TV series. Okay, let's call a spade a spade – I wasn't captivated; I was freaking addicted. And now I'm in withdrawal – hell, we both are.
So what does this have to do with writing?
Everything.
I had heard about Friday Night Lights through some rave reviews from several writers I really respect, but I resisted watching it for a long time. After all, it's a show about high school football. To me that was a recipe for changing the channel.
For one thing, I hate sports. Seriously. I am missing whatever chromosome makes a man care about sports, but it goes beyond that. Over the years my distaste for the exaggerated emphasis that society places on professional athletes has led me to go beyond not caring about sports, to the point where I flat-out dislike them. Oh, and I also hated high school. I couldn't wait for that awful part of my life to be over, and I have never attended a reunion or felt at all "defined" by my high school experience.
So here's a show that is ostensibly about not one but two things I actively dislike. Yet I fell in love with Friday Night Lights, within the first couple of episodes.
That's good writing. So let's take a deeper look.
If you've read Donald Maass's books or attended one of his mind-blowing workshops, you'll find the writing in FNL (that's what all the hip people call Friday Night Lights) seems to follow many of his guiding principles: There's conflict on every page (or, as the case may be, in every shot and scene); there's serious microtension, as the day-to-day struggles of everyday life coincide with and/or amplify the Much Bigger Conflict that is at the heart of every FNL episode.
The show explores large, extremely powerful themes like racism, monogamy, poverty, premarital sex, alcohol and drug abuse, obsession with sports and the moral and financial corruption it can generate, family dysfunction (in a big way), and more – you name it, and FNL's got it.
And the stakes are always high, and the good guy (or girl) doesn't always win. (In fact, he or she almost never does.) FNL is a show that's more than willing to ask the question "What's the worst that could happen?" – and then promptly show us the answer, while we cringe, clench our fists, or choke back the tears.
But it really comes down to the people. (I look at the sentence I just typed, and realize I instinctively chose the right word with "people." It's hard for me to even refer to them as mere "characters" – that's how real they've become to me.)
And again, those characters – those people – are developed in a way that aligns with many of the methodologies that Donald advocates. The ostensibly "good" characters – the heroes – have flaws. They make bad decisions. They give in to temptation. They do things that make us shake our heads and groan, "what are you thinking?" Yet their actions are entirely believable. And the "bad" characters? They carry in them the hint of something heroic, a potential to be much better people than they currently are. They make us root for them, hoping they'll dare to reach higher, dig deeper, and realize that they do have the opportunity to change. But the majority of the characters are not painted as simply being good or bad. They are a mixture of both. Just like real people.
Brief reality check: the fact that some of the actors playing these characters are absolutely smokin' hot probably doesn't hurt. But that's really the show's only major concession to Hollywood values, and to be fair, some of its main characters are also not smokin' hot. But as for the ones who are – well, what can I say? FNL is not a show that's hard on the eyes.
You could argue that FNL resonates so powerfully because it's about something true and well-documented: the astonishing level of importance many Texans place on high school football. But ask any fan of the show, or watch any interviews with the cast and crew, and they'll tell you the same thing: this show is NOT about football. Even the show's creator Peter Berg has gone on record saying that the football component of the show is the least interesting part to him. And FNL is not just a "teen" show about high school, because the problems these characters face go far beyond the scope of mere teen melodrama, and involve multiple generations of people driven by goals, problems and desires that collide more often than they align.
It's not about football. It's not about high school. It's a show about people, whose trials and tribulations somehow start to matter to us, despite the fact that these people are fictional characters. To be sure, the acting and the innovative camera work do a lot to help make this happen. But it still comes back to the writing. Peter Berg and his team of writers have fleshed out a group of people who seem incredibly real, as do the challenges they face, and the stories that spring from their intertwined lives.
And now that they're gone, I miss those people terribly. Damn, that's good writing.
How about you? Is anybody else grieving over the demise of FNL? What are some other books (or TV shows or film series) that have left you feeling an actual void upon finishing them? I ask this hoping that I'm not the only one who sits at home, staring at a darkened TV screen, pining for a chance to tip a beer with Tim Riggins and hear him wistfully say, "Texas forever."
Photo courtesy Flickr's orangeacid
Author of the novels Me Again (originally published by Five Star/Gale), and Tony Partly Cloudy (published under his pen name Nick Rollins), Keith Cronin is a corporate speechwriter and professional rock drummer who has performed and recorded with artists including Bruce Springsteen, Clarence Clemons, and Pat Travers. Keith's fiction has appeared in Carve Magazine, Amarillo Bay, The Scruffy Dog Review, Zinos, and a University of Phoenix management course. A native of South Florida, Keith spends his free time serenading local ducks and alligators with his ukulele.