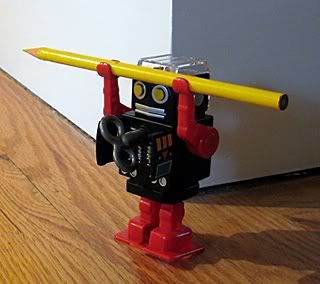 I love technology, but historically I'm a late adopter. I mean, I still own a cellphone with a retractable antenna. And yeah, it only makes phone calls.
It's not that I think iPhones and Androids aren't cool. I'm just cheap.
Plus, I hate the idea of investing in something that's likely to become obsolete before I finish my next draft.
As a result I am particularly attracted to technological tools for writers that don't represent a significant strain on my wallet. So today I thought I'd share with you several high-tech tools that have been a huge help to me as a writer, but which also have the advantage of being cheap. Let's start with the cheapest one.
NaturalReader
Price: FREE
One-line summary: Find out whether you wrote what you think you wrote
As author Laura Harrington pointed out in this excellent post, reading aloud is an extremely effective way to evaluate and revise your work. I completely agree with her. In particular I've found that weak or awkward writing really stands out when read aloud, as do the small but inevitable errors that occur when our familiarity with our own work causes us to see what we think we wrote, as opposed to what we really wrote.

To give myself even more distance from my work, I use software that reads my text back to me, "speaking" aloud in a computerized voice. Numerous types of this software exist, but I've been very happy with the free version of NaturalReader, available here.
The company offers several more expensive versions that come with more realistic voices, but I figure if my text sounds okay coming through that robotic voice, I'm in good shape. Plus, it can be perversely entertaining to hear your most emotional passages read aloud in that mechanical monotone.
ClichéCleaner
Price: $12.95, free trial version available
One-line summary: Discover bad habits you didn't know you had
Don't let the name of this software fool you. It doesn't "clean" (or otherwise change) anything you write, and it does more than focus on clichés. ClichéCleaner scans your text for common figures of speech, clichés, and repeated phrases. You can set the sensitivity for how stringent its searches are, as well as a few other helpful parameters. Available from this site, this little piece of software has become an essential part of my revision process.
From using ClichéCleaner, I discovered I have the habit of repeating certain phrases verbatim in different parts of my manuscript, particularly when it comes to small bits of stage direction or "beats" inserted into dialog. For example, in an early draft of one of my manuscripts, ClichéCleaner showed me I had an insane amount of instances where a character "shook his head." Seriously, my characters would all be wandering around wearing neck braces, given the amount of head-shaking I had them doing.
It's important to understand that ClichéCleaner doesn't DO anything to the items it identifies; it just lets you know they are there. This is a huge plus for me. Unlike MS Word and other "helpful" tools, ClichéCleaner doesn't fix anything, nor even suggest how to fix anything. It merely points things out, essentially making you ask yourself, "Did I mean to say that?" It's a great way to justify what you write.
Textanz
Price: $39.95, free demo download available
One-line summary: ClichéCleaner on steroids
(I know, if ever there were a cliché we never need to see again, it's "XYZ on steroids." But hey, the shoe fits. Oops, there's another cliché. Anyhooo…)
Textanz (I assume the name is a combo of "text" and "analyze") does an even deeper dive into your manuscript, identifying repeated phrases, calculating which words and phrases you use the most, how many different words you use (apparently there are 6,916 distinct words in my novel Me Again), and numerous other functions. I recommend Textanz for the more techie/geeky writer, with the caveat that I found the latest version troublesome to install, so I'm still using my old (pre-Java) version. For most writers, I'd simply recommend ClichéCleaner, but it you're dying to know things like what your longest sentence is, or the average length of the words you use, you may enjoy Textanz – check it out here.
NEO
Price: $169
One-line summary: The "leave me alone, I'm writing" machine
No, this NEO is not the Keanu Reeves character who likes to say "whoa." Over the years, Therese and Kathleen have sung the praises of a now discontinued word-processing keyboard called the AlphaSmart. I'm a longtime AlphaSmart owner and advocate, having drafted two novels on mine over the years. But this year I finally decided to upgrade to their latest keyboard, the NEO, available here.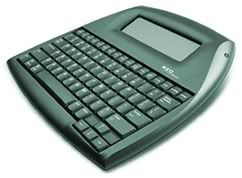 This is an amazing tool that I find invaluable for first drafts. It's a lightweight keyboard that turns on INSTANTLY (no booting process), runs on three AA batteries that last for HUNDREDS of hours (no exaggeration – you may have to change them every year or so), does not heat up (which means it's a laptop you can actually put on your lap), and can hold approximately 200 pages of text. You upload the text from the NEO onto your computer via a USB cable, streaming it into whatever word processing program you prefer.
I find the NEO an incredibly liberating tool. I can write with it anywhere, without needing to pack a power cord or other laptop peripherals, and – this is huge – without the distraction of the Internet, email, etc.
All this thing does is write. Period.
Things I like about my NEO:
A NEO is great for all-day conferences and events where you want to take notes, but may not have a place to plug in a laptop.
The lack of boot-up time makes it perfect for instantly capturing those elusive moments of inspiration. You can literally turn it on, write down a few lines you don't want to forget, and turn it off – all in just seconds.
NEOs are much lighter and more rugged than laptops, making them easy to schlep around.
You do not have to pull out your NEO when going through airport security – it can stay in your carry-on bag.
The display window only shows a maximum of six lines of text, which reduces the temptation to revise as you write, and thus helps you maintain your momentum.
If you're afflicted with Internet A.D.D. (like me), the lack of distractions the NEO offers can really boost your productivity.
I could go on and on about this machine, but instead I'll point you to one of the better reviews I've found.
Note: Like that reviewer, I made a phone call and bought the NEO2, which is different from the NEO in two respects: It has specially loaded software for using it in a networked classroom environment (which I simply ignore), and it comes in dark gray, as opposed to the dark green body of the NEO. I just preferred how the NEO2 looked. Silly, I suppose, but when you spend as much time as I do using this thing, aesthetics may have some impact.
It's important to emphasize that the NEO is not a viable substitute for a laptop. But it offers a convenient and refreshing way to get away from your own computer, for those times when you just want to write. And if you're in a household where family members compete for computer time, this machine could definitely enhance your domestic tranquility.
What's in your toolkit?
These are just a few technology-fueled devices that have become vital tools for me as a writer, and I'm excited to share them with you. There are many others, including software designed specifically for constructing novels or screenplays, or tools for organizing your ideas using visual metaphors like bulletin boards, note cards, etc. Jeanne Kisacky recently did a great write-up of one such tool, in her informative post about Scrivener.
So how about you? Got any indispensable pieces of technology in your writer's toolkit? Let's hear about them!
Photo courtesy of Flickr's Plutor
Author of the novels ME AGAIN, published by Five Star/Gale; and TONY PARTLY CLOUDY (published under his pen name Nick Rollins), Keith Cronin is a corporate speechwriter and professional rock drummer who has performed and recorded with artists including Bruce Springsteen, Clarence Clemons, and Pat Travers. Keith's fiction has appeared in Carve Magazine, Amarillo Bay, The Scruffy Dog Review, Zinos, and a University of Phoenix management course. A native of South Florida, Keith spends his free time serenading local ducks and squirrels with his ukulele.