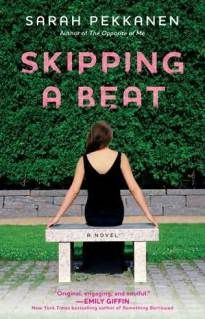 Former Washington DC journalist Sarah Pekkanen left the ratrace of covering the political beat and turned her skills to writing women's fiction novels. Her debut book, THE OPPOSITE OF ME, garnered rave reviews and hit the bestseller lists.  Her followup novel, SKIPPING A BEAT, also recieved advanced praise and earned a coveted spot on Oprah's O Magazine "Pick It Up Now" booklist, just in time for summer beach reading season.
In part one of our two-part interview with Sarah, she talks about transitioning from a high-powered career into motherhood and writing books full time. In part two, we pick her brains about her writing process and the market realities — and opportunities– for today's writers. Her answers might surprise you.
Enjoy the second half of our interview with bestselling women's fiction author Sarah Pekkanen.
Q: You play with narrative structure in SKIPPING A BEAT, delving into the characters' backstory to inform the plot. Did you decide to tell the story in this way from the outset, or did you let the characters drive the plot and let it unfold organically?
SP: I adore thrillers and I've been trying to inject some of the things I admire about those books – like high tension and plot twists – into my books. So I wanted to open Skipping with a big, dramatic scene – Michael's heart attack – and immediately thrust my character into a crisis: Julia has to decide if she should stay with her husband or start over without him. As she moves toward a decision, I wove in scenes from their past that reveal the moments, both big and small, that created the distance and complications in their relationship. This was planned from the outset. I loved the idea of hopscotching around time, letting readers glimpse Julie and Mike as high school sweethearts, and their wedding day, and during their loneliest nights. The book is told in first person from Julia's point of view, so readers only get her side of the story. As she begins to learn how much more there is to the story of her marriage, so too do they.
Q: Did your characters surprise you while you were writing the story? In what way?
SP: Yes! And that's the best, most magical part of writing. Those are the times we just live for as writers, aren't they? When you've been slogging through page after page of prose and everything you write seems flat and uninspired, and you're thinking about taking up accounting as a new career because numbers can't mess with you the way words do, and then suddenly your fingers start flying across the keyboard, and your mind goes to a place where you're simultaneoulsy relaxed and intent, and then hours or days later you look down at your pages and think, "I wrote that? But…where did it come from?"
Q: What aspect of the industry has surprised you when you became a full-time writer?
SP: The fact that no one has control over a book's destiny. Publishers can give authors a million-dollar advance, take out big ads, design a fantastic cover… and that book might sink, whereas a tiny little novel with no ad campaign becomes the blockbuster of the year. The only single proven way for a book to succeed is through word of mouth. So it's all in the hands of the reader!
Q: The industry is changing rapidly these days with the transition to digital publishing and promotional budgets being cut in the big publishing houses. What parts do you think it's most important for writers to focus on? What do you think is a waste of time?
SP: To the extent that they can – and not all writers are able to do this, as some are very private – I think writers should interact with readers on Facebook and Twitter. It's fun, and it helps spread the word about your books. I'm also a firm believer in putting money back into your own books, and treating them like a small business you're trying to grow. The Honest Tea founder inspired me to do that. I've worked with two amazing outside publicists, BookSparks PR and Engelman and Co., who have helped get a lot of attention for my novels, and I've paid for their services. Bloggers are also doing an incredible job of spreading the word about books and supporting our industry, and I'm exceedingly grateful to them. I've tried to get to know bloggers personally because we have a love of books in common, and because most of them are really nice people, and they've been very kind to me and my books. As for a waste of time, everyone knows checking your Amazon number isn't at all helpful. Um, that's why I only do it every couple of hours or so when I have a new release.
Q: What is the most important lesson you've learned on your road to publication?
SP: That everything can change in an instant. I recently had dinner with a New York Times bestselling writer who just produced a huge novel and was getting incredible praise – and she mentioned this awful, eviscerating review she'd gotten a few years ago, in which she was essentially called washed up. She was so devastated she couldn't leave her house for weeks. And then she turned around and wrote her best and most popular work. Every writer has a story like this – take Kathryn Stockett, who was turned down 60 times for The Help, or John Grisham, who talks about filling the trunk of his car with his first book and trying, none too successfully, to hand-sell them. Perseverance is the most important quality for authors.
Q: What inspires your creative juices?
SP: Music, chocolate, a strong cup of coffee, a walk…. and a looming deadline!
Q: What's next for you?
SP: I've just wrapped up my third book, with the working title THESE GIRLS, which will be out in April 2012 from Atria Books/Washington Square Press. It's the story of three very different women – each with a secret – who become unlikely roommates in New York City. I set it in the magazine world, and asked a staff writer to sneak me into a glossy magazine's headquarters early one morning for a behind-the-scenes tour and some delicious gossip about that industry. I came away completely coveting magazine writers' access to something called a "Free Shelf" – the place where all the promotional goodies sent to magazine are left – like M&Ms emblazoned with the name of a new clothing company, scented candles, sunglasses, beach bags, books, decadent skin care products. If you walk by the Free Shelf at the right time, you can score some amazing stuff.
Thanks, Sarah! 
SKIPPING A BEAT is available at all bookselling retailers.
Kathleen Bolton is co-founder of Writer Unboxed. She writes under a variety of pseudonyms, including Ani Bolton. She has written two novels as Cassidy Calloway: Confessions of a First Daughter, and Secrets of a First Daughter--both books in a YA series about the misadventures of the U.S. President's teen-aged daughter, published by HarperCollins, and Tamara Blake, for the novel Slumber.