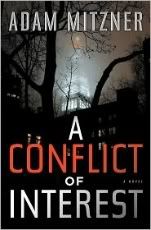 Kath here.  Please welcome first time author Adam Mitzner to WU today. Adam's debut thriller, A CONFLICT OF INTEREST, is garnering terrific reviews.  Publishers Weekly, in a Starred Review calls it an "assured debut, a legal thriller, compares favorably to Presumed Innocent… Mitzner tosses in a number of twists, but his strength lies in his characters and his unflinching depiction of relationships in crisis. This gifted writer should have a long and successful career ahead of him."  The New York Journal of Books says, "The look inside big-time law is fascinating . . . the author really knows his stuff . . . Mr. Mitzner is a writer to watch. Get in on the ground floor."
A practicing attorney in NYC, Mitzner is able to add the prized level of authenticity to his legal thrillers.  But his road to publication, like all new authors, was bumpy and full of ah-ha moments.  We're so pleased he's able to share some of the lessons he's learned with us.   Enjoy!
"Truth Even Unto Its Innermost Parts" — That was the motto of my college. Like most school mottos, I didn't think much about it while I was there, or in the years afterwards, for that matter. But, when I started writing it came back to me hard, ironically in the words of my then-ten year old daughter.
My debut novel, A Conflict of Interest, was actually the third book I'd written. The first two, as first and even second novels tend to be, were thinly-veiled autobiography. After both of them failed to find a publisher, I decided to try something new for the third one — a female protagonist. When I explained to my daughter that the book was about a female lawyer in New York City, she immediately said, "Why is the lawyer going to be a woman? It's about you, right?" I patiently explained that it's not about me; it's a work of fiction. And she took the tone that she sometimes does when she thinks I'm not giving her enough credit, saying, "I know it's fiction, but it's still got to be true."
That exchange led to the liberating moment of my writing; shortly thereafter I recast the protagonist of A Conflict of Interest, and then went the extra step of naming him Alex Miller. I knew that people (especially my friends and family) would assume that he was based on me no matter what I named him, but by picking an appellation so close to my own, I was, in the words of my ten-year-old, "owning it."
Alex Miller, and what happens to him, is a work of fiction, but it's also true, and by that I mean Alex's feelings, his hopes, his disappointments, his fears, are my own. But not just him — I share this bond with all the characters in the book to one degree or another.
And that's my guiding principle: fiction or not, it's got to be true.
I read a great interview of an author (I sadly can't remember the author or the title of her novel) who had a scene about a mother teaching her teenage son how to kiss. It was a very disturbing scene, and in the interview the author was asked if she had actually done that. Her response was (and I'm paraphrasing), "Of course not, but I did teach him how to dance."
That's what I strive for in my writing — taking something that's real, and then add more drama than real-life often permits, but knowing that, at bottom, it is still true. We all know what it's like to lose a loved one, for example, though few of us have experienced having someone we know murdered. But if you shy away from the feelings you had when your own loved one passed, for fear that it makes you too naked or your reaction of insufficient grief or maybe even relief upon the death was a source of shame, then you have to be a much better writer than me to make the character's reaction ring true, because for me, no amount of — but that's how the character would have experienced it — makes up for my own first-hand experiences in conveying emotions.
Of course, that doesn't mean that you need to make your characters your own alter-ego, just that there should be something of yourself on the written page, if only as the jumping off point for your characters' inner lives. Re-reading my unpublished work, I see that I held back that critical component, even while closely aligning the characters with myself in more superficial ways. And I held back for the reasons that we sometimes don't share our real selves with our friends and families — for fear of rejection, of judgment, of disapproval.
For me, writing is like therapy, a time to acknowledge who I am at my core. If you don't share your innermost thoughts with your audience (be it your therapist or your reader), you're not getting everything that you can out of your writing, and so your readers will see that something is missing.
I'm now at work on my next book, and the lead is a female lawyer in New York City, but I put my daughter's mind at ease when I told her it's still going to be me. And not me, of course.
A Conflict of Interest is available now.  For more on Adam's books, follow him on Facebook.