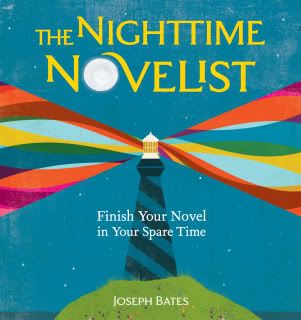 Kath here.  Please welcome Joseph Bates, author of The Nighttime Novelist: Finish Your Novel in Your Spare Time to WU.  Bates's fiction and nonfiction have appeared in The South Carolina Review, Identity Theory, Lunch Hour Stories, The Cincinnati Review, Shenandoah, and Novel & Short Story Writer's Market. He holds a Ph.D. in comparative literature and fiction writing from the University of Cincinnati and teaches in the creative writing program at Miami University in Oxford, Ohio.  We asked if he could share some of his tips with our readers on how to get the most from writing at night.  Enjoy!
Franz Kafka was an insurance agent. William Faulkner was a postmaster. Stephen King taught high school English, John Grisham was an attorney, and Toni Morrison worked in publishing. Though romantic fantasies of the writing life don't often include a day job, the fact is that most writers have one.
The purpose of this post is to offer some further advice on novel writing that doesn't really fit into easy categorization, though I'm hesitant to call this advice purely practical. Some of it is –you'll need a good place to work that meets your individual needs, and you should absolutely set goals and deadlines for yourself as you go — but other bits of wisdom you find here will seem more off-topic. Or superstitious. Or weird.
Of course that's fine. Take what's useful and feel free to disregard the rest. But don't forget this section is here; there might come a time when you're stuck in the work and find yourself thinking, What the heck! I'll go take a shower. Maybe you'll find yourself out at a dinner somewhere, about to spill the secrets of your novel writing, and will suddenly find yourself thinking, Wait, maybe I shouldn't discuss it. I might jinx it. Maybe you'll find yourself feeling a bit guilty for spending so much of your time locked away in a little room, separate from the world, and will need someone to tell you that your family and friends understand that what you're doing means something to you; it's okay. Maybe you'll need some of the advice in the chapter after all, no matter how rational or irrational you find it, to help make it through as a Nighttime Novelist. And if that's the case, then who cares if any of these seem irrational? As John Lennon reminds us: Whatever gets you through the night, it's alright.
• Have some mindless activity at hand. Sometimes getting out of your head for a few moments is the best way to solve a problem. Play solitaire for a minute. Play with a slinky. Get a little squeeze ball designed to release tension, and squeeze the life out of it.
• Don't discuss a work in progress. You don't need any external pressures or expectations on you when you write, not even those by well-meaning friends. If you get asked about the novel, simply say, "I'm working on something, but I'm not exactly sure what." That will confuse them long enough for you to change the subject.
• When the perfect image or idea comes to you as soon as you've gone to bed, GET OUT OF BED. Don't tell yourself that you'll remember when you wake up. You won't.
• Don't read while you write. This is maybe personal preference, but I find that whatever I'm reading while working on a novel inevitably begins corrupting the novel; I start writing like whomever I'm reading. So by all means read often and read well — good writers are, obviously, good readers — but be careful about anything that might contaminate the creative process.
• Don't check your e-mail when you work. Or surf the Internet. Or read the news. You should have access to the Internet just in case you need to check a fact, or conduct quick research, or look for inspiration, but try to imagine the Internet has glass around it like a fire extinguisher. In case of emergency . . .
For more tips and inspirations on writing your novel around your day job, follow Joseph on Twitter and Facebook.