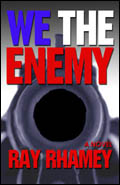 Maybe you can help me. This is about my literary obsession, We the Enemy, the "story of the heart" I wrote about here in May. While I'm still submitting to agents and an editor is taking a look at it, I'm pretty sure the only way it reaches the eyes of readers is to self-publish. 
So now I face the task of distilling something from the many things the novel is about down to a singular, comprehensible, enticing blurb for the back cover (this will be a trade paperback). It needs to reflect some aspect of the story and encourage a reader to look inside.
But I know too much
Here's the problem, one I suspect you've faced in pitching your novels in query letters, blurbs, etc.—I can write a novel because there's room to contain all that goes into it, all the stuff that adds up to the gestalt that makes it worth reading. Any novel is a complex weave of action and character and theme. For We the Enemy, the things I think it's about include: 
The character arc of the primary protagonist, who starts the novel emotionally dead because of the way his little girl was killed (sorry, can't say here, a spoiler). An ex Secret Service agent, he's now a mercenary, an assassin for hire. Deep down, though, he longs for a return to being truly alive again, for being a whole human being. Will events and actions and his decisions get him there?
But then there's the other major protagonist, a single mother dealing with the loss of her job, and crime on the streets and in her ghetto neighborhood. Events and her courage take her to a place where she has a chance for a good life for herself and her daughter, but the damage done by her tough road to survival prevents her from taking the final step. 
Do I include both characters? Just the primary?
And what about the overarching conflict in the novel, an attack by the president's administration to sabotage an organization that's behind eliminating lethal weapons in the Northwest—the organization is costing the president votes and he could lose re-election. Power is at stake, and he's determined not to lose it. 
But what about themes? 
And then there's one of the major themes in the novel—dealing with violence due to lethal firearms. We the Enemy explores ways to remove guns that kill from the hands of killers and a means to defend ourselves from the violence rampant in society. This is not the only, or most important, theme in the story, but it is the most identifiable and controversial. 
But wait, another important theme is the way the U.S. justice system works—or, as the novel posits, doesn't really work very well at all. There's an examination of the adversary system and a notion of how the Fifth Amendment could work differently in regard to testimony by an accused. If things were the way We the Enemy imagines, crime and punishment would be very different in the U.S.
The root theme is community, how our society is fractured into smaller and smaller hostile bits with an increasing lack of connection with others. The recent turmoil over the Muslim center in New York, mistakenly labeled as the Ground Zero Mosque, is an example.  But, frankly, community doesn't sound all that dramatic, does it? 
Lastly, We the Enemy is an "issues" novel, as the topics of gun control, justice, and community might suggest. Most beta readers respond enthusiastically to that aspect of it, but try including that in a blurb—I can tell you for sure that it's a turnoff when querying agents, who, perhaps rightfully so, only want gripping story. (Even though the issues aspect can provide a promotional hook that could generate buzz in both the media and with readers. For example, the problems of lethal weapons never seem to leave us and are always in the news.)
One beta reader, a woman, wrote to me, "I wish the world you've created existed." So I believe that, in its totality, the story works. 
So how to blurb all that? 
You see my dilemma. All of those things are important to the worth and value of this story, and are what add up to a story that is not only a page-turner, according to beta readers, but also makes them think.
But I can't say that in a blurb, I'm told. I've tried various pitches out on the readers of my blog, Flogging the Quill, and the notion that this will make you think has been soundly rejected. As I said, it doesn't fly very high with agents, either. 
Argh. 
The blurb du jour:
I decided to try focusing on the primary character, the over-arching conflict, and the most controversial (interesting?) of the issue elements. Here's where I currently stand for the back cover copy: 
Madmen, madchildren, and criminals kill us with terrifying firepower. 

In the Pacific Northwest, the Alliance is eliminating guns that kill—and a president desperate for gun-owner votes aims to eliminate the Alliance. The president's weapon is Jake Black, a Secret Service agent turned cold-blooded mercenary after the killing of his little girl.

But Jake's target, Alliance leader Noah Stone, brings hope for better lives to millions. When a murderous attack threatens to destroy the Alliance and the vision it offers the nation, its only chance to survive lies with the man sent to stop it. 

Jake has a chance to win a new life—or to lose what little he has left. And no matter which way he turns, he will betray someone.

This story hits home with any woman who has ever feared for her safety—with people on both sides of gun control—and with everyone affected by crime.
The idea here is to get a reader to look further—on Amazon, for example, to click the Look Inside link and read some pages. What do you think? Any insights, suggestions? 
As soon as the editor and currently submitted agents say no, the manuscript goes to a copyeditor (yes, editors need editors), and then to publication. So your thoughts will be helpful. 
Thanks.
Ray Rhamey is the author of four novels and one writing craft book, Mastering the Craft of Compelling Storytelling. He's also an editor of book-length fiction and designs book covers and interiors for Indie authors and small presses. His website, crrreative.com, offers an a la carte menu of creative services for writers and publishers. Learn more about Ray's books at rayrhamey.com.