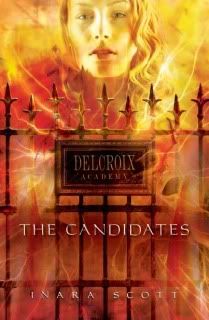 Please welcome Inara Scott back to WU.  Last month, Inara guest blogged with us, and the response was so good, we asked if she would do a Take 5 interview with us on her debut THE DELCROIX ACADEMY, which releases tomorrow.  Enjoy!
Q: What is the premise of your new book? 
Dancia Lewis is a girl with a dangerous paranormal gift — she can make things happen just by imaging them. The problem is, when she uses her gift, people always end up getting hurt. Dancia tries to make herself invisible, hiding from the world in an effort to avoid using her powers, but when she's recruited to attend Delcroix Academy, an exclusive boarding school, all bets are off. Suddenly, she's got the hottest guy on campus and a dark, troublemaking best friend vying for her attention. But why has the most invisible girl in the ninth grade suddenly become so popular? What's really going on behind the gates of Delcroix Academy? 
Q: What would you like people to know about in this story? 
Delcroix Academy is filled with lots of romance, danger, and mystery, and lots of tough choices for our heroine, Dancia. You won't find very much that's black and white in this story, which was really my goal. I wanted to take the fantasy/paranormal genre, which usually has clearly defined good guys v. bad guys, and make everything into shades of grey. 
Q: What problems and challenges do your characters have to overcome in this story? 
As I mentioned above, Dancia and her friends have to figure out the line between good and bad at Delcroix and draw their allegiances accordingly. Unfortunately (for them!) everything is tangled up together. Dancia's also in the difficult position of trying to figure out what to do with her talent, which presents the potential to do amazing things, but also to hurt a lot of people. 
Q: What unique challenges did this story present you, if any? 
Delcroix was the first book I'd written in the first person, and while I found that made Dancia's voice easier to capture, it also presented the unexpected challenge of needing every bit of the mystery to unfold before her eyes. This continues to challenge me as I write the other books in the series.  
Q:  What has been the most rewarding aspect of this book? 
That's easy — getting letters from readers telling me that they loved it. :-) 
Kathleen Bolton is co-founder of Writer Unboxed. She writes under a variety of pseudonyms, including Ani Bolton. She has written two novels as Cassidy Calloway: Confessions of a First Daughter, and Secrets of a First Daughter--both books in a YA series about the misadventures of the U.S. President's teen-aged daughter, published by HarperCollins, and Tamara Blake, for the novel Slumber.