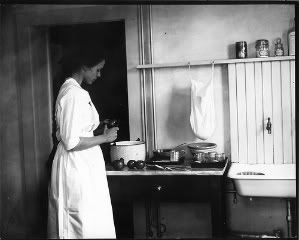 Every book requires research. Even if it's set in your hometown and your protagonist is a whole lot like you, there will be some moment where you're not sure of a fact – was the corner store there in 1994? Is it 15 miles to Waverly or 16? – and you will, in some way, do research.
What you choose to do with the facts you find, that's trickier.
My first book, The Kitchen Daughter, is coming out next April. On one hand, I chose to "write what I know" – the protagonist is a passionate home cook (as I am) who lives in Philadelphia (as I did). On the other hand, she also has a sister (which I don't) and, as the book opens, she has just lost both her parents (an experience I am fortunate enough not to have). And, most importantly, Ginny also struggles with Asperger's syndrome – which, when I started writing about her in 2007, I knew next to nothing about.
I threw myself into research. Books, blogs, message boards, conversations, critiques, going in a dozen directions.
I learned about the spectrum, and special interests, and that if you've met one person with Asperger's, you've met one person with Asperger's. I absorbed what I learned, and wrote and rewrote and rewrote. Although Ginny is fictional, it was essential that my research about Asperger's be accurately reflected in the book.
Contrast that with the book I'm writing now. Without going into too much detail – it's still a secret, shh! – it takes place between 1895 and 1905. I'm embarrassed to tell you how much I don't know about that time period. The amount of research I need to do is staggering, since the action of the book takes place in at least five cities, and involves everything from stage magic to ballet to mine accidents. It's kind of scary.
I'm researching as I write, trying to move both parts of the process forward in parallel. One week I wrote a slam-bang scene set in the New York Public Library, only to find the next week that the library didn't exist at the time. This I can easily fix by finding out what library did exist and correcting the details. I know I'll have to go back and revise for countless things like this, but if I waited to complete the research before I started writing, day one would never come.
But the next layer of complexity is this: while most of the characters in book #2 are fictional, some are real people of the period, and the action happens in real places. And this is where I asked myself the title question: is my loyalty to the research, or the reader?
In a sense, the answer is simple: both. A novel packed with accurate facts that ignores the reader experience is a novel most readers will reject. Finding the balance is the trick. In a case like Asperger's, accuracy is the highest priority, because anything else is unfair, not only to the reader but to real-life Aspies, since most readers will assume that what they are reading is a true and accurate depiction.
But with the book set around 1900, I'm starting to think I'll be changing history. My cast includes a historical character whose career lasted more than two decades, and in order to get my protagonist's career going more quickly, I need to change what happened to the real live person. In this case, the reader's experience is more important to me than the research. I won't change the big things, like moving a historical event to a different year or putting the New York Public Library up four years ahead of schedule, but the little things, I think I'm OK with changing. Because I want my readers along for the ride.
As a writer, are you absolutely faithful to the facts? As a reader, do you like a book more if you know the historical aspects are true to life?
Jael McHenry is the debut author of The Kitchen Daughter (Simon & Schuster/Gallery Books, April 12, 2011). Her work has appeared in publications such as the North American Review, Indiana Review, and the Graduate Review at American University, where she earned her MFA in Creative Writing. You can read more about Jael and her book at jaelmchenry.com or follow her on Twitter at @jaelmchenry.