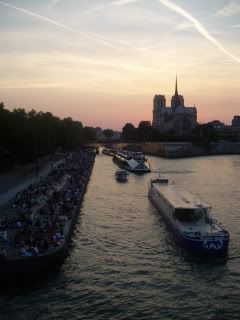 Valued contributor Sophie Masson wraps up her writer's sabbatical in France this month.  Enjoy!
Summer in Paris, and it's really hot at last, after weeks of unseasonably grey and cold weather. Our windows are open on the heavy still air but the curtains are drawn against the sun. You can hear music wafting all up and down the street, but few people are out in it, except a few lost tourists—it's just too hot. Later, though, in the cool of the evening, after dinner, all of Paris will be out, it seems—strolling along the quays and bridges, watching the picnicking groups of young people who cluster as thick as penguin rookeries on the cobbled banks of the Seine, or the slow boats of gawking tourists click-clicking away on the bateaux-mouches that at this time of the year fill the river like buses in city traffic.
It's become quite a ritual for us, this after-dinner walk; you always see so much, things to file away, to remember: the blingy wedding group celebrating by the river; the eccentric guy straight out of a Miyazaki animated film, with a collection of strange home-made contraptions and an incoherent political manifesto (only in France!); the homeless men looking with lurching disapproval at the busy 'penguin rookeries' that have invaded their usual riverside haunts; police frogmen searching the Seine for something (the imagination ran riot!); the guy in clown costume picking over the bargain bins at Shakespeare and Co; the angelic little girls trotting along in sandals and pink and white dresses with their parents—then when their backs are turned, engaging in a silent but fierce plait-pulling fight; the tall blonde in high heels and sparkly dress, tottering along on the arm of a much older and shorter man (I mean, do they know they're walking clichés??); the Maserati driver pulling into a forbidden parking spot and being immediately nabbed by the traffic police, and a highly entertaining debate beginning; the fellow ducking down behind a parked car, finger to mouth, as a police van cruises slowly down the street.
All this we saw, and much more, my journal, well, journals, now!–I long ago burst the bounds of just one!–are full of vignettes, scenes, glimpses. Here and in other places we've been on this long trip—Rome, Malta, Russia, the last a long-held dream and wonderful experience of which more some other time, maybe—we have been enriched with so many experiences—the reservoir of memory, inspiration, story is filling to the very brim. 
But now it's all drawing to a close.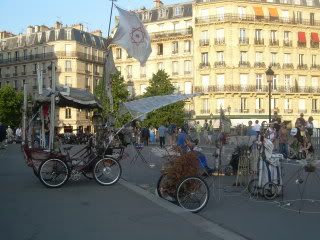 These are our last few weeks in this marvelous place, and they will go so very fast. Will I be sorry to go? Of course. We've had an absolute ball. It's been extraordinary, an experience I will never forget and I will always be grateful to our wonderful Literature Board of the Australia Council for the Arts which granted me this time here in the Keesing Studio. But glad, though, too, to come back home, to see our children, especially (they might be big and grown up and independent, but they're still my kids and I missed them a good deal!) and our home, so different from here—in the quiet of the countryside rather than the bustle of the city, for a start. And there it will be time to reflect properly on everything that's happened, everything we've seen and felt and heard and experienced, to process things—and to start work on the thousand and one new ideas I have lined up inside my head! It's going to be an exciting few months and years, getting geared up on new books. 
But for the moment, still here, there's one thing I do know for sure. And that is that for this novelist at least, it has proved (if I needed it!) that it is new experience that is the lifeblood of new writing, fresh ideas, new opportunities. We may not all have exciting and dramatic lives (and God forbid we do for what may look exciting and dramatic from the outside may well be tormenting and troublesome from the inside!)—and trying to create drama and risk where none exists is not for me. But putting yourself out of routine and habit through travel, especially, is an absolute must for a restless imagination that might otherwise repeat itself out of sheer boredom. And something else, for me–OK, so I've know France well; but the opportunity of renewing with that part of me in more than just a few weeks—the slow experience of everyday life in Paris, the minutiae of the life of the city, observed at close quarters—that is an added joy. A deeper one, in many ways; and one that I'm sure will bear fruit in the years to come. 'Paris—the Novel'–here we come!
Sophie Masson [2] has published more than fifty novels internationally since 1990, mainly for children and young adults. A bilingual French and English speaker, raised mostly in Australia, she has a master's degree in French and English literature. Sophie's new e-book on authorship, By the Book: Tips of the Trade for Writers, is available at Australian Society of Authors [3].