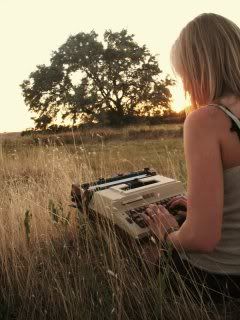 Last week I blogged about my three tidbits of advice for writers.  The first bit was to listen to your gut, not the market.
"Now I'm not saying ignore market trends or the industry. Novelists have to be business people too, and this IS a business as well as a vocation. But if you, for example, really want to write a simple story about two country teens who fall in love when the market is screaming for gritty urban fantasy, you should do that. You'll give that story your best effort, the magic will come. If you try to wrestle your simple love story into a hot market segment when it doesn't belong there, the reader will know."
I've thought a lot about this since, and it isn't entirely true.  Yes, writers should listen to their hearts, always.  But those who wish to become published must write a story that is saleable for their target genre.
I don't mean to chase the trends.  But I do mean to write smart.  And that means keeping an eye on the market and putting yourself in the place of the editor or agent.  If you chase a trend, chances are it's already gone by the time you're finished with your project and shopping it around.  But each segment of genre fiction has different needs.  Sending your murder mystery to a SFF editor is like serving a vegetarian a steak for dinner.
Designer Michael Kors tells aspiring designers on Project Runway to "know their girl."  Writers need to "know their girl" (target consumer) and appeal to them, even if "their girl" is themselves.
For example, if you wanted to write the story about the country teens falling in love, think about where your story fits in the publishing landscape.  Is this going to be a mystery?  A 10 – 14 year old YA?  A fantasy novel?  Be clear about the vision.  Hone into it and keep your target reader in your sights.  It may be that in the actual writing of the story you realize that your target reader is someone else, but that's okay.  That's what the writing process is all about.
What is the tone of this story?  Lighthearted?  Unless you're going for dark humor, maybe having a decayed corpse show up during the funny dialogue isn't the way to go on this one. Literary? Are four-syllable words a good choice for a book you want to sell to fourth-graders?
Is your book current?  By current, I mean appealing to today's readers.  For example, if you are writing in the historical romance genre and your heroine is a virginal girl from the country coming to London for the Marriage Market, your book had better have one hell of a twist.  Readers (and editors) have been there, done that.  Ditto vampires.
Please note that I'm in no way advocating that writers subvert their artistic visions for commerical purposes.  Many, many books are written from the heart, are outside of market norms, and set trends.  That is admirable and lucky.  But if your heart happens to coincide with what editors (and their readers) are looking for, so much the better for your publishing prospects.
Image by ~AmythePirate
Kathleen Bolton is co-founder of Writer Unboxed. She writes under a variety of pseudonyms, including Ani Bolton. She has written two novels as Cassidy Calloway: Confessions of a First Daughter, and Secrets of a First Daughter--both books in a YA series about the misadventures of the U.S. President's teen-aged daughter, published by HarperCollins, and Tamara Blake, for the novel Slumber.