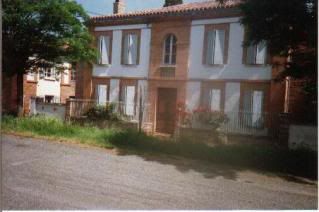 Contributor Sophie Masson continues to share her notebook from her travels in France.  Enjoy! 
Coming back to France always evokes complicated emotions for me—and none more so than when I go back to the house of my childhood, the house we always went back to on our frequent trips back from Australia. It was a large, crumbling eighteenth and nineteenth century manor house, with dilapidated seventeenth century outbuildings, in a south-western French village called Empeaux, 35 kms from Toulouse. 
Set in what seemed to us to be vast overgrown parklands, the house, which my father had named 'La Nouvelle Terrebonne', was a beautiful folly, a bottomless pit swallowing a large chunk of my parents' expatriate salary.  It chewed up heating fuel like a hungry dragon; it required constant attention from the masons, the tilers, the electricians, the roofers. But it was also utterly magical. It was the one place in all the world that our scattered and tormented family could be together. In that enchanted Narnia-like space, everything was extraordinary.  For it was a house full of strange and mysterious stories: of the haunted red room, where a young man had hung himself, a hundred years before; of the well, where a witch had been thrown, centuries ago; of the enormous elm tree outside my parents' bedroom window, planted by one of Louis XIV's ministers. The stairs creaked, the attic was spooky, the cellar dim and creepy; there were storage antechambers to every room. Each of these storage rooms had its own strange cargo: a huge oak wardrobe full of old fur coats, including my great-grandmother's Canadian wolf-skin coat; pottery jars full of goose and duck confit in the winter; an old wicker doll's pram with my aunt's doll in it, sporting a wig made of her own, blond childhood hair; and in another, the baskets brought back by my parents from Indonesia, full of red and gold and green and gold costumes, filigree jewellery, and two sinuous plaits of black hair, wigs made, so my mother told us in a thrillingly bloodcurdling tone, by cutting off the hair of corpses. 
It was a house that breathed presence; a presence that despite the many terrible stories associated with it had a good-fairy benevolence about it. It was a presence that nurtured people, especially children; for this was a house that was not only haunted by the echoes of its earlier people, but that haunted them in turn. 
Every so often, when we were back there from Australia, we would get an impromptu visit from someone who had once lived in our Nouvelle Terrebonne.  'We loved it so;' they would say, wistfully. 'We loved it, and lost it. And we dream about it so often!' 
Back in Australia, we read stories of fairies and knights and monsters; but in La Nouvelle Terrebonne, and the rural world beyond it, we were in the actual homes of those fairies and knights and monsters. We headed out on our bikes to neighbouring villages, past deep rustling woods, fountains and castles and ancient churches; we went to school in the little village school across the road where they still had ink bottles and slates; we found eighteenth-century books on the rubbish tip and picked cherries and apricots and greengages and figs in our own parkland.
But then we grew up, my parents sold the house—and a weird thing happened. For we became those wistful visitors from the past.  Every time I go back to France, just like my siblings, I go back to Empeaux. Everything's changed, in the village; the house is still just as beautiful but now it is marooned in a sea of new development. 
I touch the walls furtively, peer in through the gate, and remember every worn step that led down to our 'park'.  Lump in throat, I pluck a rose-petal from an old bush growing at the front, a bush that my grandmother planted, long ago. I tell my family about it all, and can see in their eyes that they are indulging me, that to them La Nouvelle Terrebonne –which, yes, still sports that name on the door–is a nice house, but nothing more. And why should it be? 
For it's my dream, my lost world, and now I understand that this house, this place, this landscape of green hill and peaceful river and deep woods and little villages is my creative wellspring, the source of my haunting made stone, the bricks-and-mortar manifestation of why I began to write.
Sophie Masson has published more than fifty novels internationally since 1990, mainly for children and young adults. A bilingual French and English speaker, raised mostly in Australia, she has a master's degree in French and English literature. Sophie's new e-book on authorship, By the Book: Tips of the Trade for Writers, is available at Australian Society of Authors.