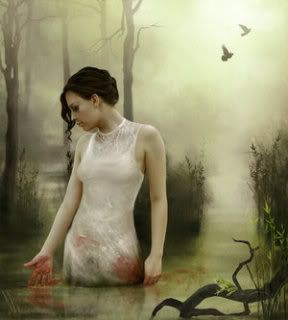 This time it will be different.   I say that to myself every time I start writing a new book.  This time, I think, I know exactly what I'm writing about, and I'll get it right on the first try.  This time I've got a plan that will be the writerly equivalent of a magic spell allowing me to rap three times on the keyboard and have a letter-perfect book simply pour through my fingertips onto the screen.
I guess you only need to look at the title of this post to know how that all ultimately turns out.  In a word, Ha.
Oh, it works for awhile.  At first, in the first flush of new-story excitement, the words pour onto the page almost as fast as I can type.  It's going so well, I e-mail my best friend writing partner.  I'm so excited about this book!  I'm having so much fun!
And then  . . . and then that flood of new words starts to dry up.  And the words I've already written start to give off a smell.  You know the one I mean?  It's like the faint odor of a potato salad that's been in the back of the fridge a day too long:  not horrible, but at the same time, hopelessly, irredeemably, on it's way to being bad.
And that's when I hit what I call the 30,000 word crisis point.  The point I always begin a book thinking I will avoid this time around.  And the point I always, inevitably, plow straight into like an express train hitting the car parked across its tracks.   Every writer is different, but for me, I hit 30,000 words and like clockwork realize that I'm going to have to scrap a sizable chunk of what I've written and start all over again.
But you know what?  I'm beginning to think that's actually a good thing.
I do outline before I begin a book, and I do make fairly detailed background sketches of my characters, as well.  And yet every sentence, every scene I write teaches me something new about my characters and the journey they're on.  I was just reading a book called "Lion Hunt" to my three-year old, about two little girls who set out on an adventure saying, "We're going on a lion hunt, we're going to catch a big one."  And then they run up against various obstacles—like a muddy swamp or whatever—and each time they say, "Can't go over it.  Can't go around it.  Have to go through it.  Squish, squish, squish."
I think writing a book is like that.  As much as I wish there were a way over it or around it, there's simply no other way to get to know your characters and your story but by going through the writing of it—squishing your way through the mud of a daily session in your story world.  After writing a good portion of your story, you WILL know your characters far, far better than you did when you started.  And that affects the story you're telling about them, makes it truer, more vital, more real and alive.  How can it not?
So if you're like me and have hit a crisis point in your own work in progress, don't give up.  Don't even despair.  I hit the crisis point in my book this past month—and though it may never get any easier to avoid, it has, at least, gotten easier to accept with each book I've written.  Ah, I thought.  The 30,000 word crisis.  Time to go back to the beginning.  But I'll get there.
You will, too.
Image by ~asialiv.
Anna Elliott is an author of historical fiction and fantasy. Her first series, the Twilight of Avalon trilogy, is a retelling of the Trystan and Isolde legend. She wrote her second series, the Pride and Prejudice Chronicles, chiefly to satisfy her own curiosity about what might have happened to Elizabeth Bennet, Mr. Darcy, and all the other wonderful cast of characters after the official end of Jane Austen's classic work. She enjoys stories about strong women, and loves exploring the multitude of ways women can find their unique strengths. Anna lives in the Washington DC area with her husband and three children.