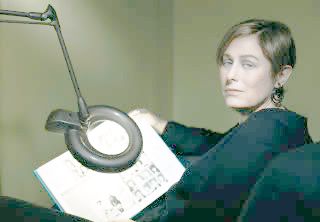 Chicago-based suspense author Libby Fischer Hellman has her fingers in many pies. Stints as a film producer and highly-sought speaker who conducts media training and crisis communication workshops have provided Fischer Hellman with a wide net to draw from to inject her books with extra authenticity and allow her characters to be multi-dimensional. With six novels and a slew of published short stories under her belt, she's a master at the craft of suspense fiction. In October, her guest posts On Suspense (if you've missed them, check out part one and part two) generated quite the discussion and provided WU readers with practical tips on the suspense genre.
Her latest release, DOUBLEBACK, has been chosen by the Great Lakes Bookseller Association as one of their fall "Great Reads" picks. DOUBLEBACK kept me up well past my bedtime, and in Fischer Hellman's competent hands, I didn't figure out the villian until the reveal, which was richly satisfying.
Please enjoy part one of our two part interview with Libby Fischer Hellman.
Q: Tell us about your road to publication. What drew you to suspense?
LFH: I'm drawn to suspense for the same reasons readers are. I love staying up much too late to get to the end of a novel because I can't put it down. And then, when I do get to the end, I want MORE. So the best compliment I can imagine (which you already gave me, btw and for which I'm grateful) is a reader saying they lost a good night's sleep reading my books.
As for the road to publication, I wrote three "practice" novels (that's what I call a mss. which is written but not published) before getting a contract for the fourth. That mss. became AN EYE FOR MURDER, my first novel. The entire process took about 5 years. Since then I have cannibalized some of the characters from those early novels, but when I look at the writing itself, I can see that those "practice" novels weren't ready for prime time. Neither was I.
Q: Now that you have six novels published, has it been challenging writing series and meeting reader expectation in subsequent books? What should writers keep in mind if they hope to write a successful series?
LFH: In a word, yes. There's the conflict between meeting readers' expectations and wanting to stretch and try new things, some of which readers might not appreciate. So it's challenging to find the right balance. And then there's the "authenticity" factor. I started out writing a series with an amateur sleuth, who is a documentary film-maker and single mother. But there's only so many ways to involve an amateur in the middle of a murder investigation. Eventually, I felt like I was turning backflips to find a credible, rational reason for Ellie to investigate. That's really why I started a second series with Georgia as a PI. I didn't have to stretch to find a reason for her to nose around – it's her job.
My advice to writers who are planning a series is to choose your protagonist carefully. Try to develop someone who is flexible and resilient enough to "weather" well. The same thing goes for voice. I started writing the Ellie Foreman series in first person, but after four books, I found it too limiting. Georgia is written from third person, which gives me the added benefit of going into other characters' POV when necessary.
Q: You've also written a substantial amount of short stories. Why are you drawn to writing short stories? What can they offer novelists in terms of helping them with their craft?
LFH: I love short stories. For me a novel is like a marriage, but a short story is like an affair. Short stories let writers experiment… with setting, characters, plot, and voice. They are a fabulous way to stretch, to take your craft to a higher level without investing a year of effort. I am a slow writer, so a short story might take me four weeks…or more. Still, for me they're like palette cleansers. They give me a break from the routine, and I come back to the novel refreshed.
Q: What's your writing process? Are you a plotter, or do you fly in the mist?
LFH: Great question. I'm 180 degrees from where I started. My first novel was carefully outlined, chapter by chapter. It was actually painful to write, and never got published. Over the years I learned why. I was "writing the outline" rather than "writing the story." I was adhering to my take on the characters, rather than letting them lead the way. I know it sounds spooky, but it's the truth. I had to learn to withdraw (at least consciously) from the process and trust that the characters would tell me where they wanted to go.
When I begin a novel, I usually have the set-up: who is murdered, when, and how. I think I know who did it, and I have several key scenes and issues (aka "tent-pole" scenes) in mind. But that's about it. The rest of the book comes in pieces. And I'm very likely to change the murderer. In my current WIP, it's changed four times. One thing I do find, however, is that I need to write in chronological order– I start at Chapter 1 and proceed to 50. Even if the book goes back into time, and chapters 10-20 take place 50 years before the others, I still need to write Chapters 1 through 9 before.
Which means I don't really outline any more, but I do have "notes." And sometimes I'll write character backstories, if I'm not comfortable with the character I'm introducing. Very little of those backstories make it into the final product, but they are very useful in getting to know who I'm writing about.
Q: In DOUBLEBACK, you use both third person and first person POV. Why did you decide to tell the story this way?
LFH: It wasn't really a choice. As noted above, Ellie was always written in first person, Georgia in third. I tried writing Ellie in third person, just to be consistent, but her voice wasn't the same. She lost too much of her wry, self-deprecating humor. So I decided to go with her "as is." Purists might complain, but her personality required it. Georgia is more guarded, cautious, and not anxious to let others know her quickly, so the slight distance that third person provides was the right choice for her. I figured if Robert Crais could do it in LA Requiem, which I believe won the Edgar for Best Novel, I could too.
Q: DOUBLEBACK moves from the world of banking to the U.S./Mexican border and touches diverse topics as the Iraq War and corporate farming. What sorts of research did you undertake for the novel? Where do writers need to draw the line when it comes to research?
LFH: I was a history major in college, and I went on to work in broadcast news, so research is fun for me. In fact, I could research all day. All the time. I love the idea of learning something every day. Sometimes being overwhelmed with that knowledge. So you'll never hear a complaint about too much research from me. The internet has made research so much easier now. It's pretty amazing, actually, to think that what once took weeks can now be condensed to hours, sometimes minutes. I am on Google at least a dozen times a day, maybe more. And what Google doesn't have, I order from the library or a bookstore. Everything I write is grounded in research. And often, what I learn helps advance the plot in a credible, authentic way.
At the same time, though, it bears remembering that we are writing fiction. I know other authors who claim not do to any research, and sometimes I can't tell the difference between their work and mine, so your question is a good one. I don't know the answer. I just know I'm comfortable doing my research. It helps enormously.
Click HERE for part two!
Photo Credit: Jason Creps.
Kathleen Bolton is co-founder of Writer Unboxed. She writes under a variety of pseudonyms, including Ani Bolton. She has written two novels as Cassidy Calloway: Confessions of a First Daughter, and Secrets of a First Daughter--both books in a YA series about the misadventures of the U.S. President's teen-aged daughter, published by HarperCollins, and Tamara Blake, for the novel Slumber.