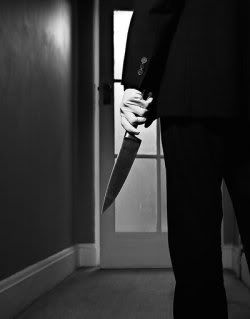 Mystery and suspense writers are in for a treat this week. Noted suspense author Libby Fischer Hellmann [1]has agreed to guest blog with us to reveal a few weapons in the suspense novelist's arsenal. We'll have our Q&A with Libby on her latest mystery novel DOUBLEBACK [2] posted later. Today, enjoy part one of Libby's two part post on suspense techniques. Enjoy!
Have you ever wondered what happens when 1,500 crime fiction fans and writers get together? Mass murder plots? Suspense? Evil things swimming around in your drinks? Well, I'm a crime fiction author, and they let us out of our cages last week for the annual Mystery convention called Bouchercon [3] (named for Anthony Boucher, one of the earliest crime fiction reviewers for the NY Times). This year it was held in Indianapolis, and I can attest to the fact that I'm still alive, unbloodied and almost sane.
Actually, mystery people are some of the warmest, most accepting, and generous people I know. Maybe it's because we get our evil out on the page. Or appreciate the "light" after writing such "dark" doings. Of course, the bar always gets plenty of traffic as it did this year. The organizers also tried new things this year, including something called a continuous conversation, a book bazaar (free give aways of authors' backlist copies), and special "Hot Tix" interviews with best-selling authors. On the whole, I think they worked really well. This, of course, was in addition to the traditional auction, lots of award presentations, and even more parties.
Naturally, there was a lot of buzz about e books – Amazon talked about Kindle and whether Kindle will take over the world (Consensus: no… look out for Google and B&N's platform). Other issues were how much to price e-books, (anywhere from free to $9.99), how much have print runs declined (significantly), and why it's so difficult to find an agent now. (It always has been). Lee Child had his Reacher party at a blues bar, publishers took their authors out to dinner, and no one got enough sleep.
In other words, it was a great convention.
Since this is my first time visiting Writers Unboxed, I wanted to share what I love about this genre… suspense. Before I ever had any idea I'd be writing suspense, I loved reading it. I devoured Le Carre, Ludlum, Follett, Len Deighton. I loved turning the pages, and staying up way to late because I have to get to the end. I still do, but its appeal has broadened over the years. I now embrace all sorts of thrillers, as well as straight mysteries, which, by definition, are suspenseful.
So what is suspense? And how do writers build it? The subject intrigued me so much I built a workshop around it. Forgive the reference to TV, but one of the best way s to illustrate suspense is the show "24." Sure, the plot machinations can be over the top, and some of the dialogue is so lame it's dead-to-rights funny. But what "24" has done relentlessly – and well — is build suspense.
Suspense is not so much what is happening, as what may happen. It's about anticipation, often anticipating the worst. It's about creating an uncertain situation in which the outcome is in doubt. It's asking a question not immediately answered, raising a concern not immediately addressed, posing a threat not immediately resolved.
Notice that immediately is the key word. Suspense depends on stretching time—delaying answers as long as possible. The longer the writer can stretch and delay, the longer information is parceled out in bits, the more suspense there is. As "24" does.
Suspense is not limited to crime fiction. Any story with a secret, tension, or unresolved conflict is ripe for the kind of unbearable, exquisite suspense so many of us love. Consider some of the greatest classics in English literature: To Kill A Mockingbird; Moby Dick; Wuthering Heights, The Great Gatsby. All use suspense to heighten interest and emotion. Contemporary authors as well, including Jodi Picoult, Margaret Atwood, and many more, incorporate suspense in their novels.
In Part Two, we'll talk techniques.