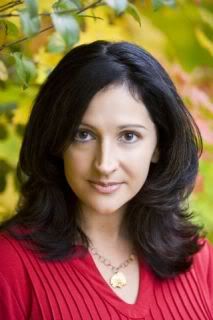 This is the interview I've been waiting three years to do.
We're writers, words are our lives.  But sometimes words aren't enough to express the emotions that go into a moment when someone you know, love, and has struggled and persevered finally realizes a dream. And now we get to watch our own Therese Walsh walk the earth as a published author.  Pick your own words to describe the moment; my list is too long to fit in a blog post.
True story: last summer I took a call from Therese one evening when we should have been feeding our kids. "Elisabeth Weed has agreed to represent me," she said.  And I knew in the marrow of my bones that  my next words were going to come true: "Hang on, because this is going to go fast."
The then-titled Unbounded sold in a couple of days in a preempt to Random House. I think I cried just about as hard as she did when she told me the news.
There is not a time in our long friendship that Therese hasn't been working on this book. I'm just so, so pleased that it is getting the sort of attention and care from the publisher that it deserves, and that Therese is getting all the accolades she deserves. Do yourselves a favor and immerse yourself in The Last Will of Moira Leahy.  It's astonishing.
But before you do, enjoy part one of my two part interview with Therese Walsh, and get the backstory.
Q: You've said that you didn't grow up always wanting to be a writer. What changed  your mind?
TW: Life threw plenty of curveballs my way. I started as a music education major, but I really wanted to perform (sing), so I ended up bailing on my program and rethinking my future. I landed in psychology, thinking I'd finally found a home. When I went to grad school, I learned on day 1 that my program, which was biopsychology, had been cancelled. You get the picture: my future was murky. I transferred into the general psych research program and waited for lightning to strike.
I'd always liked writing but thought of it as one of those untouchable careers—like singing for a living. It was something you might want to do, but how many are successful? This must've been a learned response to Art as Career, and I can't say for certain where it originated.
So there I was at grad school, unsure what I was going to do with my life, and I signed up for a class in magazine article writing. My professor was enthusiastic about my work, very encouraging. When I learned of a job opening at Prevention Magazine as a researcher, I thought maybe this was it—research + the opportunity to write. I jumped, and got the job.
When my daughter was born, I left my staff researcher/writer position and became a freelance health writer. I also started dabbling in picture book concepts for my darling D. I liked it—writing, creating fiction. Once my stories started to veer into picture storybook territory—longer works for an older audience, which are harder to market I might add—I realized I wanted to try my hand at adult fiction.
Q: What was the kernel of an idea that ended up being THE LAST WILL OF MOIRA LEAHY?
TW: At its simplest, The Last Will is a women's fiction novel about a professor of languages, Maeve Leahy, coming to terms with the loss of her twin, Moira.
But it's never been that easy to explain. It taps into the magic of twins through a second narrative, called Out of Time, which introduces you to the girls when young, and eventually explains what happened to Moira and why Maeve changed as she did. It's also about how Maeve's present-day life is altered after winning a Javanese dagger called a keris one night at auction, and her journey—including a trip to Rome—to better understand both the blade and herself. So even though it has a women's fiction heart, it borrows heavily from other genres, including psychological suspense, mystery, family saga, romance and mythical realism.
Q: The revision process for this story was extensive. How many incarnations did this story go through? Are you surprised how it turned out?
TW: If you'd shown me the finished copy of Last Will back in 2002, I would never have believed that I could've written that book—and that's the truth.
As to the number of incarnations, I revise as I write, so it's hard to say. But if we're talking major revisions, I'd say there were three.
Revision one: I first wrote Last Will, then Unbounded, in 2002 as a love story/romance. It veered off into decidedly unromantic territory because of the twin and keris elements, and I learned from agents, in 2003 and 2004, that it likely wouldn't sell because of that. Agent Deidre Knight took the time to tell me that I should be writing women's fiction, that she believed I'd find success in that genre.
Revision two: It wasn't an automatic decision for me—turning the genre switch per Deidre's suggestion. And she didn't suggest that I change this story, just suggested that I should be writing women's fiction. I tried to write a new story—two, in fact—but this story of twins wouldn't let go. Later, another agent suggested I should change the story to hone in more heavily on the romance, drop some of the other. I had to make a choice. I considered which scenes embodied the spirit of the story and of which I was most proud. I realized those scenes involved Moira, the twin, so I started writing the story again for women's fiction in 2005.
Revision three: I chucked everything again in 2006 when I realized I could do better still.
Q: Late in the revision process, you added a new element of suspense. How difficult was it to add this new thread, and what helped you through the process?
TW: I should've added this to your last question about significant revisions! Amending here…
Revision four: Once the book sold in 2008, my editor asked two broad thinking questions—something like, "What can we do to help pacing in part 1?" and "How can we get more of the keris into part 2?" Before the book sold, I'd been considering major changes to the antagonist, and I thought—if I pulled it off right—that those changes would please my editor by addressing her two concerns. I shared my ideas with my editor, and she loved them. So I dug in. I added several scenes, revised more. As you know, one change leads to another; the revise of part 2 became fairly comprehensive. Because I was working at an intense pace, trying to ready the manuscript for Frankfurt 2008, I wasn't sure the copy had the polish I would've liked. I ended up applying a lot of polish to my post-Frankfurt edits, as well as my first- and second-pass pages.
Q: Any other thoughts on the editorial process? What was it like for you?
TW: It's so funny because we often hear that editing is dead, and that editors don't edit any more. I know I was extremely lucky to work with a true author's editor—someone who loved the book as much as I did and who was willing to roll her sleeves up and offer her 14 cents. My editor, Sarah Knight, was also Maine-born, and so she connected with the story, which is partially set in Castine, Maine, straightaway.
That said—I'm not going to lie—it can be tough to move away from the insulated world of Writer and into a situation where you're suddenly sharing control of your work. Did we always agree? No. But we reached compromises. Sarah had a keen ear/eye for repeated words (and I'd thought mine was good!) and a desire to make sure the story always had that turn-the-page engine that's so important. Every once in a while she'd make a note about the story falling flat and wanting me to reach inward and pull out some gold—she'd throw in a cheer, "know you can do it." Her goal was to push me to become my very best, and I know she succeeded. What more could I have asked for?
Q: Was there ever a moment when you wanted to give up on the story? What kept your spirits up through the long years of rejection? (This is where you brag about me. Jus' kiddin!)
TW: Aside from the big one, which came when version one of the story was rejected, there were frequent dark moments of the soul. I wondered WTH I was doing, because I was working my tail off and for what? Maybe I'd get an agent. Maybe that person would sell the story. But I honestly felt anxious whenever I wasn't pursuing the dream.
I also had a great support system, and so when I occasionally had to whine about butt-in-chair time, lack of faith and all that good stuff, they would come to my rescue. My husband and sisters were my biggest supporters, believing fiercely in my ability—so much more than I ever did. And my critique group buddies—including you, Kath!—were always to be counted on for encouraging words: Never, never quit.
Oh. Chocolate never hurt, either.
Q: Ain't that the truth about chocolate. How has your process evolved?  What method do you think works better for you: plotting extensively first, or letting the story unfold?
TW: I've learned that it's wise for me to have a plan in place, but I also need time to explore setting and characters while I'm drafting, to choose the right way to spin the tale. A combination approach seems to work best. I'm trying the index-card method for book #2. I'll let you know how it goes!
Next week, Therese talks about promotion and what writers need to do to make sure they leave no stone unturned in the quest for sales.  Don't miss it!
The Last Will of Moira Leahy is available at book retailers everywhere.
Kathleen Bolton is co-founder of Writer Unboxed. She writes under a variety of pseudonyms, including Ani Bolton. She has written two novels as Cassidy Calloway: Confessions of a First Daughter, and Secrets of a First Daughter--both books in a YA series about the misadventures of the U.S. President's teen-aged daughter, published by HarperCollins, and Tamara Blake, for the novel Slumber.