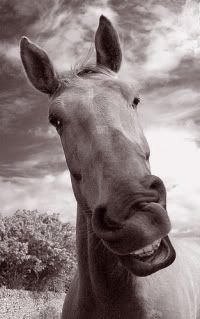 Get the rib tape out, because your sides will be in stitches after reading the entries for WU's insane analogies contest. We received over 100 entries and they were inspired and oftentimes breathtaking in elegance and lunacy.  Therese and I had such a hard time whittling the list down to the last 25.  Then we agonized over getting it down to the top 10, so much so that we went with a top 11. Honestly, all the entries were so fantastic.  Thank you all for participating.
Voting will be open until August 17 at 8 a.m. EST.  One vote per person (we don't want anyone stuffing the ballot so we have a cookie/IP address blocker on the poll)
To those entered, GOOD LUCK! The entries are as follows:
1. He stared at his cubicle wall, gray as an elephant's butt and equally crushing.
2. He considered pants with the same regard that drivers on the autobahn considered brakes; they were optional.
3. Eldon's writing was somewhat reminiscent of Chaucer's in that it had to be read numerous times to be completely understood. One major difference: His spelling was not quite as good.
4. He turned her on like a radio, until she realized the tuner was stuck on conservative talk radio. 24/7. Without commercial interruption. Siriusly.
5. When Michael kissed her, Joanna recoiled, much the way one's bare foot does when it encounters a fresh hairball on the carpet in the middle of the night.
6. Her attempts to help were as misguided as vending-machine sushi, and as likely to succeed as tuna marmalade.
7. I hid my shame inside my confidence, like shredded chicken inside a tamale, but then when I met Lance all my feelings were wrapped inside another layer of feeling, which was lust, so then with one stuffed inside another inside another I was more like a walking turducken, only then I'm not sure where the corn husk fits in anymore and besides, turduckens can't walk.
8. Simone felt as useless as a Girls Gone Wild video in a gay man's DVD collection.
9. She was beautiful and mysterious like the Mona Lisa, only she wasn't smiling, or wearing an old fashioned dress and she had better hair.
10. Dana gazed at Mike, her eyes filling with tears as she realized their love was as doomed as a myopic possum crossing the freeway.
11. Even confession couldn't clear her conscience. After spilling her secrets and being absolved by the parish priest, her soul still felt partially dirty, like one of those low flow toilets that doesn't flush all the way.
So who wins? You tell us. VOTE BELOW THE CUT:
The winning entry will receive:
Juliet Marillier's Heir to Sevenwaters (hard cover)
Barbara O'Neal's The Lost Recipe for Happiness (paperback)
Ann Aguirre's Grimspace (paperback)
Ann Aguirre's Wanderlust (paperback)
Allison Winn Scotch's Time of My Life (paperback, hot off the presses)
Therese Walsh's The Last Will of Moira Leahy (galley)
Kathleen Bolton's Confessions of a First Daughter (as Cassidy Calloway, galley early hardcover!)
Donald Maass's The Fire in Fiction (paperback)
Ray Rhamey's Flogging the Quill, Crafting a Novel that Sells (paperback)
Sophie Masson's The Secret Army (a cool graphic novel)
Rosina Lippi's The Pajama Girls of Lambert Square (paperback)
assorted surprise goodies
the honor of wearing the contest winner's virtual crown for a year
Congrats to all our finalists, and good luck!
Photo courtesy Flickr's pdam2
About
Writer Unboxed began as a collaboration between Therese Walsh and Kathleen Bolton in 2006. Since then the site has grown to include ~50 regular contributors--including bestselling authors and industry leaders--and frequent guests. In 2014, the first Writer Unboxed UnConference (part UNtraditional conference, part intensive craft event, part networking affair) was held in Salem, MA. Learn more about our 2019 event, ESCAPE TO WuNDERLAND, on Eventbrite. In 2016, the Writer Unboxed team published a book with Writer's Digest. AUTHOR IN PROGRESS: A No-Holds-Barred Guide to What It Really Takes to Get Published has been well-received by readers who seek help in overcoming the hurdles faced at every step of the novel-writing process--from setting goals, researching, and drafting to giving and receiving critiques, polishing prose, and seeking publication. James Scott Bell has said of the guide, "Nourishment for the writer's soul and motivation for the writer's heart." You can follow Writer Unboxed on Twitter, and join our thriving Facebook community.