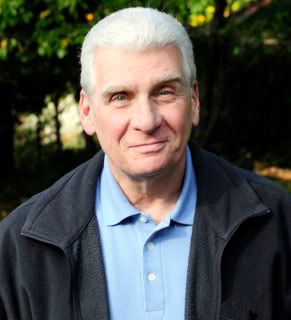 How's this for high concept: two soccer dads who happen to be cops solve crimes in Los Angeles.  No?
In Marshall Karp's gifted hands, this mundane logline is deceptively simple and hellaciously funny.  His third novel, FLIPPING OUT, had me laughing the whole way through and kept me glued to the pages.  Part police procedural, part satirical take on L.A.'s glossy celebrity culture, Karp's gift for the unexpected zinger made this novel a big bag of surprises.  No wonder he's been compared to Janet Evanovich and Carl Hiaasen.  His protagonists Lomax and Biggs are neither jaded nor emotionally wrecked nor morally ambiguous.  They are normal people thrown into abnormal situations, and Karp milks each scene for laughs in a totally organic way.  I was delighted with the novel, and even more delighted when Karp turned out to be as funny as his novels suggest.
Want to experience the Marshall Karp magic?  Be the first to e-mail us at writerunboxed at writerunboxed dot com for a free signed copy of Karp's latest release FLIPPING OUT.  Must live in the contigious U.S.  First one to land in the in-box is the winner!
UPDATE: We have a winner!  Thanks to all for playing!  Kath
Meanwhile, enjoy part one of our two part interview with Marshall Karp.
Q:  What drew you to mysteries?
MK:  You write what you read. Or at least you should. I started reading mysteries as a kid. My dream was to grow up to be a Hardy boy. And what do you do, Mr. Karp? I'm a sleuth. Cool. I'm sure if I had read Jane Eyre or Wuthering Heights, I'd have come up with a completely different set of characters. They'd be frail, hopelessly in love, and consumptive. But they'd still be funny.
Q:  Tell us about your road to publication.
MK:  My road? That's like saying to a lab rat who finally got to the center of the maze, tell us about your Road to Cheese. I just started running. I made a bunch of random turns — left, right, it didn't matter — and every time I hit a wall I'd get up, and run the other way. Did I follow a path? No. But I could always smell the cheese.
I was born a writer. It's something you realize at an early age, like if you're born a natural athlete, or a singer, or a conjoined twin. But I didn't think of writing as a career. After I graduated from college I became a vagabond. Okay, I hitchhiked a little, but vagabond sounds so much sexier on a writer's resume. One Sunday afternoon, months after college, my father woke me up by dropping a twelve-pound weight on my head. It was the New York Times. "Get a job," he said.
The Help Wanted ads are listed alphabetically. I'm not an accountant, so I kept going till I got to advertising. Pretty soon I was writing ads, screwing around at the office, all the stuff you see on Mad Men. The rat analogy is starting to work better, isn't it?
I was good at making up ads. I won awards. But the punishment for being a good copywriter is to promote you to Creative Director. You run the show, but you don't get to write.
I was good at show running, but I missed writing, so after ten years I wrote Squabbles, a play. Hollywood called. They wanted me to write sitcom pilots. So for five years I had one foot in advertising, one in show business, and one in the grave. Two careers can be a bitch, so I finally made the leap. I moved to LA, where I met and worked with a lot of the assholes I later got to kill in my first two books.
That's the road to production. At what point did you decide to write books?
Writing on sitcoms was fun, but the lifestyle sucked. My family stayed in New York, and I was raising two kids by phone, fax, and FedEx. So I came back to New York and got a freelance job in an ad agency. My boss was James Patterson. Jim showed me a manuscript he had written — a thriller called ALONG CAME A SPIDER. I told him to quit his day job and write a few more books. Eventually, he took my advice.
But after I read Jim's book, I got the bug. I thought about it for years. It's hard for a writer to stand in a bookstore on a rainy Saturday afternoon and not think, "Hey, I can do that." I finally told Jim my idea for THE RABBIT FACTORY. He was a bestselling author by than and he was a huge help. Not only with the book itself, but he even helped me find an agent and a publisher. If you're a rat in a maze, you'd be lucky to run into Jim. He knows the way.
I just released my third Lomax and Biggs book, and I'm writing the fourth. But this is my final career frontier. I'm staying right where I am. I like the cheese.
Q:  You've created such distinct characters in Mike Lomax and Terry Biggs—ordinary guys who happen to be crack detectives. Why did you decide to shy away from the burned-out, tormented cop and create soccer dad type guys? What is key for you in creating memorable characters?
MK:  I love that you say Mike and Terry are ordinary. Thanks. I agree. That's because I didn't set out to create cops. I wanted three-dimensional guys with all the warts, flaws, joys and disappointments that one can accumulate in forty plus years on the planet. I wrote a ten-page bible on Mike and almost as much on Terry, shaping who they were as people, and giving them each their own life histories. Only when I was finally happy with who they were as people, did I make them homicide detectives. Then I went back to their bibles and figured out how and when they decided to be cops in the first place.
I'm a character writer. For me the essence of comedy, tragedy, and character development (in fiction and in real life) is conflict. Mike Lomax is starting his life over after his wife dies, and he has to deal with a meddling father. (It helps that I have some personal experience as a meddler.) Terry Biggs has his heart set on a second career making people laugh. (Again I've been there, done that.) My goal was to create a hero who resonates in such a way that you feel you know him, you relate to him, maybe you even are him. If I gave you another burned-out, tormented cop, I'd be competing with writers who have done it brilliantly in the past. But if I give you a character who reminds you of yourself, I have a shot at creating someone familiar but totally fresh. Mike and Terry are unique. Aren't we all? I guarantee you that if one of them screws up Valentine's Day, the readers' reaction will be "typical man," not "stereotypical character."
Q:  Your books are part police-procedurals, part mystery, and pretty damn funny. Did you set out to write funny cop books, or did the jokes appear organically as part of the writing process?
MK:  When you're as big a pain in the ass as I can be, and you marry someone who is willing to stick around for decades because you can always make her laugh, you realize that being funny can save your bacon. My father was funny. My kids are funny. And lucky for me, it didn't skip a generation. But I have a strong point of view about comedy, and you hit on it in your question. The best humor is organic. It emanates from the character and the situation. Some of the biggest laughs in my books (or in my life) are not jokes. They're observations.
Q:  In FLIPPING OUT, you tackle the touchpoints of California culture—a once-hot real estate market, illegal immigration, celebrity and murder. Is place important for your inspiration? How can writers take advantage of setting and use it beyond window-dressing for their work?
MK:  Go there. Live there. Work there. Get laid there. Fall in love with the place and swear you'll never leave. Or hate it so much that you hope it breaks off and sinks into the Pacific Ocean. It doesn't matter. Just immerse yourself in the sights, the sounds, the smells, the attitude, and the people. Do you think I could write a novel that takes place in rural Alabama just by reading about it on Wikipedia?
When I was an advertising Creative Director I realized that a lot of copywriters can't imagine anything beyond their own apartment. They would come into my office and say something like, "the commercial opens on a young woman in a cab on the way to work." That's when I'd break the news to them that 110 percent of the women in America don't get to work by taxi. Maybe you should come up with something they can relate to.
Books have more latitude. As an author I have the opportunity — the obligation — to take a world I know and bring my readers into it. People are attacked by commercials. They seek refuge in books.
Q:  Now that you are on your third Lomax and Biggs novel, has it been challenging writing series and meeting reader expectation in subsequent books?
MK:  Challenging, absolutely. But not difficult. Let me tell you my Birds Do It, Bees Do It Theory. You ask 100 writers to write an original love song. 99 of them struggle, but they can't crack the code. Then Cole Porter writes "birds do it, bees do it, even educated fleas do it. Let's do it, let's fall in love."
Guess what? Now the other 99 see the light. They can write more verses. Cats, bats, monkeys, donkeys — once someone cracks the code, a good professional can follow the pattern. I learned that in TV. They pay a LOT OF MONEY for someone to write a pilot episode of a show. Every episode after that gets paid scale. I cracked the code with THE RABBIT FACTORY. I have the characters, the rhythm, the style. That's the hard part. The rest is all about craft. So like I said, challenging, but not difficult.
Click HERE for part two, where Karp talks about how writing for television influences his process, and his important work with Vitamin Angels, an effort to iradicate blindness in children due to Vitamin A deficiency.  Don't miss it!
Kathleen Bolton is co-founder of Writer Unboxed. She writes under a variety of pseudonyms, including Ani Bolton. She has written two novels as Cassidy Calloway: Confessions of a First Daughter, and Secrets of a First Daughter--both books in a YA series about the misadventures of the U.S. President's teen-aged daughter, published by HarperCollins, and Tamara Blake, for the novel Slumber.