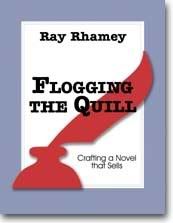 Kath here.  We've been waiting and waiting, and now it's here.  Valued contributor Ray Rhamey's book, Flogging the Quill, Crafting a Novel that Sells, is now available for pre-order at Amazon.com. Ray says "it should be printed and shipped within 2 or 3 weeks and early orders will be tremendously helpful."
He's making a FANTASTIC offer for WU readers:
In the meantime, how about a free e-book for readers of WU? In appreciation of all of the readers who visit and contribute to this blog, I'm making a free PDF copy of my book available until April 1, 2009. In return, I ask you to sign up for "NewsNotes," a sporadic e-mail notice about workshops, appearances, and new books. I also hope you'll post a review on Amazon.com, and spread the word to friends and fellow writers. To sign up, go to my Friends of FtQ page on the website.
I'm reprinting the press release below as it has all the details on the book's content.  For more information, go to http://www.ftqpress.com/.
Flogging the Quill is a one-book remedy for a host of beginner-novelist ailments, and a tune-up for published novelists.

Rich with advice and coaching from editor/author Ray Rhamey, Flogging the Quill, Crafting a Novel that Sells, ranges wide but with a single focus: lifting a novel manuscript to a publishable, professional level.

The first section, covering the craft of storytelling, includes lessons on creating tension, creating the character "care factor," what drives a plot, the six vital story ingredients, and tools for spotting shortcomings in a narrative. In Description, writers learn how experiential description can characterize, plus how to handle the tricky character-description hurdle, staging, and overwriting.

The Dialogue section helps writers avoid leaden overuse of dialogue tags, enliven a dialogue scene with action beats, and deliver the sound of dialogue.

The vital "when to tell, how to show" lesson in the Technique section has been praised by literary agents and college teachers. The section also coaches on point of view, including the problems "head-hopping" can cause with readers.

With the Words section, Rhamey reveals unique insights to the good and bad of using adverbs in a fiction narrative, and guides writers in weeding out weak, wasted, and wrong words.

Computer tips that make writing more productive are included, plus a "workout" section where writers apply lessons learned to real efforts by beginning novelists.

This all-in-one volume draws on the deep understanding of an editor and writer who brings to the task experience in advertising, screenwriting, editing novels, and writing them.

Rhamey is the author of the internationally known "litblog," Flogging the Quill.

Top New York publisher and editor, Lou Aronica, says, "Rhamey offers the kind of advice that could make a huge difference in a writer's prospects." Bestseller Tess Gerritsen adds, "…it's a must-have for any novelist."
I've read the book and I highly recommend it.  The Overwriting section was (koff) especially useful for me.  Ray's insights are also delivered with a good dollop of humor.  Don't miss out on this great deal!
About
Writer Unboxed began as a collaboration between Therese Walsh and Kathleen Bolton in 2006. Since then the site has grown to include ~50 regular contributors--including bestselling authors and industry leaders--and frequent guests. In 2014, the first Writer Unboxed UnConference (part UNtraditional conference, part intensive craft event, part networking affair) was held in Salem, MA. Learn more about our 2019 event, ESCAPE TO WuNDERLAND, on Eventbrite. In 2016, the Writer Unboxed team published a book with Writer's Digest. AUTHOR IN PROGRESS: A No-Holds-Barred Guide to What It Really Takes to Get Published has been well-received by readers who seek help in overcoming the hurdles faced at every step of the novel-writing process--from setting goals, researching, and drafting to giving and receiving critiques, polishing prose, and seeking publication. James Scott Bell has said of the guide, "Nourishment for the writer's soul and motivation for the writer's heart." You can follow Writer Unboxed on Twitter, and join our thriving Facebook community.