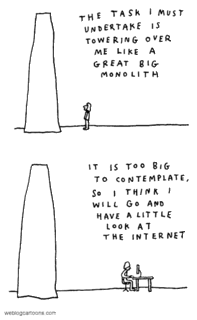 I'll be honest with you, I've been procrastinating about starting book #2.
Granted, I've been busy. There were multiple edits, copy edits, and other things relating to The Last Will of Moira Leahy that required my attention (ideas for the cover, back-of-the-book teaser copy, a discussion guide, web design planning, etc…). I'm easily distracted lately. American Idol is not helping.
Real life has dealt some hard cards, too. A friend is in the hospital. My kids' Odyssey of the Mind team has a month to complete a script, props, costumes and scenery, and they are in such trouble. I have a sinus infection, again. But, hey, I know that life doesn't just stop so you can be alone with your story. I think something more is going on.
It's not that I haven't thought about the 2nd book, because I have–the characters are speaking to me as they should, ideas are evolving–but the days have been slipping by and I haven't made myself sit down and start it. Take the slips of paper, the research books, the ever-mutating story possibilities swirling around in my gray matter and turn something–anything–into a beginning.
Scene 1
Chapter 1
Once upon a time…
Action!
It's like this for me whenever I've been away from the routine of regular writing. Re-entry is a bitch. It hurts. I resist. I'm not ready, I tell myself. I'll need to do more research before I can begin. I'm too tired. I need to go shopping, pay bills, clean the house. But beneath this thin veneer of excuses lies something a little more honest.
A worry: What if I can't turn the idea I'm so in love with into the polished product only I can envision?
It helps that I've done it before. I know it's possible to turn brain droppings into something you can actually be proud of. But, oh, those brain droppings can be awful in the beginning, can't they? Uuuugly. Stiiiinky. Worthy of deletion.
But you can't improve upon writing that isn't on the page.
You have to start somewhere–preferably at the beginning.
And you can't fail if you don't try.
And, wow, I just figured out something that should've been plain all along. The reason I've had such a hard time starting doesn't have to do with lost joy, per se, or sinus infections, or even American Idol. Or, wait, maybe it does have something to do with American Idol, in a way. Simon. This is all Simon's fault. Because he's a critic, and that's exactly my problem.
My inner editor has been sitting at my desk for many months now, and I think she has a bit of a swelled head from all the reparations she made to my previous draft. Somehow, I have to thank her for her services and send her on her way.
It's necessary. Critical, even.
This taps into what Barbara said in her fabu post last week about protecting the work "from any environment that might harm it. Protect it from too much judgment or feedback, from other people, but also from yourself."
Yeah, go away, Simon. Hush and let me sing.
My gut says I need to make this chair of mine a little less comfortable for my personal Simon by diving into the gushy, feely, idea-generating artist supplies Simon has tried so hard to control. Muse-fonding books like The Book of If, and The War of Art, and Bird by Bird, and The Writer's Idea Book, and The Artist's Way, and Wild Mind. Get them out, scatter them around, open their covers. Already I sense Simon's raised brow. I flip to the introduction in Natalie Goldberg's Wild Mind and begin reading:
Life is not orderly. No matter how we try to make life so, right in the middle of it we die, lose a leg, fall in love, drop a jar of applesauce. In summer, we work hard to make a tidy garden, bordered by pansies with rows or clumps of columbine, petunias, bleeding hearts. Then we find ourselves longing for the forest, where everything has the appearance of disorder; yet, we feel peaceful there.

What writing practice, like Zen practice, does is bring you back to the natural state of mind, the wilderness of your mind where there are no refined rows of gladiolas. The mind is raw, full of energy, alive and hungry. It does not think in the way we were brought up to think–well-mannered, congenial…
I think my inner Simon just stomped off in disgust. I'm onto something.
Why do you procrastinate? And what do you do to keep your inner editor silent when it's time to create fresh material?
And since we're talking about procrastination… Enjoy!