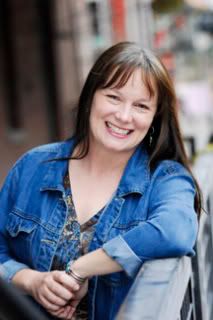 Christina Katz, who you may know as the blogsphere's Writer Mama, knows a thing or two about creating platforms and becoming known. Her first book, Writer Mama: How to Raise a Writing Career Alongside Your Kids, became a sensation and landed her on Good Morning America, even though she began her venture seven years ago just "for fun." When I first learned about her new book, Get Known Before the Book Deal, I knew I had to get my hands on it; here was a writer willing to preach what she'd so successfully practiced. We're thrilled Christina took time out of her busy schedule to talk about the first steps writers should take to build career-launching platforms. Because when it comes to first steps, Mama, of course, knows best. (Psst, it's also her birthday today!) Enjoy!
Q: What drives you as a writer? What passions have brought you to this place, today?
CK: I'm a teacher by nature, as well as being a writer, so helping writers is my passion and my purpose. I'm especially tuned in to methods that help writers overcome the typical pitfalls—the places where writers tend to get just plain stuck. Because I work with over one hundred writers a year, I'm uniquely tuned in to writers both as individuals and a group. I've witnessed too many writers, who were off to a great start, hopping online and quickly becoming very lost. I started to write about platform in Writer Mama, How To Raise A Writing Career Alongside Your Kids, but I eventually noticed that more practical information on platform development was needed. My platform is based on helping others. I have a vested interest in seeing the people I work with—and those who read my book—succeed. Writers are my tribe. Everyone has one. Finding them and serving their interests is the key to success.
Q: Tell us about your new book. Why did you decide to write it? How did you feel it would round out what's out there in terms of resources for writers?
CK: At every writers conference I gave my presentation of the same name, I took polls and found that about 50 percent of attendees expressed a desire for a clearer understanding of platform. Some were completely in the dark about it, even though they were attending a conference in hopes of landing a book deal. Since book deals are granted based on the impressiveness of a writer's platform, I noticed a communication gap that needed to be addressed. I realized that writers often underestimate how important platform is and don't leverage the platform they already have enough.
My intention was that Get Known would be the book every writer would want to read before attending a writer's conference, and that it would increase any writer's chances of writing a saleable proposal and landing a book deal whether they pitched the book in-person or by query. As I was writing the book, I saw how this type of information was often being offered as "insider secrets" at outrageous prices. No one should have to pay thousands of dollars for the information they can find in my book for the price of a paperback! Seriously. You can ask your library to order it and read it for free. Get Known outlines the complete platform basics. Most of the other self-promotion books pick up with the book deal. No other book dials it all the way back for beginners.
Q: What is a platform, and why is it so important for unpublished writers to have one?
CK: A platform is a promise, which says you will not only create something to sell (a book), but also promote it to the specific readers who will want to purchase it. A platform-strong writer is a writer with influence. Your platform includes your Web presence, any public speaking you do, the classes you teach, the media contacts you've established, the articles you've published, and any other means you currently have for making your name and your future books known to a viable readership. If others already recognize your expertise on a given topic or for a specific audience or both, then that is your platform. Your platform communicates your expertise to others, and it works all the time so you don't have to.
Q: Are there any types of writers who don't need a platform?
CK: Yes. There are dozens of reasons to write but only writers who want to establish themselves as professional writers, who aspire to publish a traditionally published or a self-published book should concern themselves with platform development. If you are writing for other reasons, such as to heal, to connect with friends and family, or just for pleasure, then perhaps you don't need a platform. There's no reason why those writers should feel pressured to have a platform. Doing so might hinder rather than help.
Q: How does branding relate to the concept of platform?
CK: I use the word "identity" because it emphasizes the need writers have for the kind of self-awareness it takes to succeed in a crowded and competitive marketplace. A writer's identity is what he or she is going to emphasize and put out there. Identity means you know your strengths and you are not afraid to articulate them. When people talk about a writer and what he or she does, they are really talking about a writer's identity. In a world where people are searching for meaning in the jobs they perform, identity offers more depth and substance than a brand can. No matter what we call it, platform development is first and foremost an inside job and it is extremely important so a writer is not just a writer lost in a mob of writers. Otherwise, you'll just blend in, when what we all really need to do is stand out.
Q: Here's a scenario: You have a platform, or at least some seriously high-quality lumber in order to build one, but you're not sure you feel comfortable standing on it. Is this common? What can a writer do about it?
CK: This scenario is very common. Often the opposite is true too: writers with weak platforms are over-confident that they can impress agents and editors. Meanwhile those with decent platforms are under-confident or aren't stressing their platform-strengths enough.
In situation one, a platform-weak writer can consult a platform-strong writer to get some tips on how to beef up their platform. He or she can learn the kinds of actions that are smart to take and start taking them. In situation two, a writer can recognize that he or she already has the platform and start naming, claiming and articulating it. If a writer can't articulate his or her platform, then nobody is going to know about it. But platform development is a process, not an overnight occurrence. So I suggest being proactive, yet patient.
Come back next week for part 2 of my interview with Christina Katz, when we'll talk about perfecting your niche, understanding your expertise, social trend watching and more.