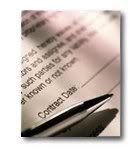 Today's guest is Raquel B. Pidal. Raquel has a master's in Publishing and Writing from Emerson college, and currently works in publicity at Harvard University Press. She's also the blog mama of Copyrighteous–a site focused on copyright and writers' rights issues.
If you missed parts 1 and 2 of her post on publishing contacts–when she discussed some business basics, and three important clauses (the introductory clause, the delivery and acceptance clause, and the grant of rights clause)–click HERE, and HERE, then come back. In today's final post on contracts, she'll explain the advance and royalties clause, permissions, the option/first right of refusal clause, the warranties and indemnities clause, and the out of print clause.
The Anatomy of a Publishing Contract: Part 3
By Raquel B. Pidal
The lovely advance and royalties clause determines how and when you'll get paid. An advance is just what it sounds like: an advanced payment from the publisher paid out before your book is even published. Royalties are a percentage of money that you earn from the sale of each book.
An advance is paid out against royalties—in essence it's a loan from your publisher. Let's say you are paid a $5,000 advance against royalties. This means that you get the $5,000 in advance of publication of your book. When your book starts selling, the first $5,000 of royalties you earn won't go to you; it goes back to your publisher. Any royalties you earn after $5,000 will then be paid to you. If you earn more than $5,000 in royalties, you are said to have earned out your advance, a joyous day in the life of your publisher because many books nowadays don't even earn that much back.
Advances are usually paid out in 2 or 3 installments: when the contract is signed, when the manuscript is submitted, and when the book is published. Be sure to read your contract carefully to determine whether your publisher expects you to pay back any portions of your advance if your manuscript is rejected, as some publishers expect this.
Royalties are a percentage of money you earn on every book sold. They are often based on an escalating scale—for instance, you might earn 6% royalties on the first 5,000 copies sold, 8% on copies from 5,001 to 10,000, and 10% on copies 10,001 and up. Royalty percentages tend to be lower for paperbacks and higher for hardcovers due to differences in cover price (and thus profitability) of each. Some publishers pay royalties based on the cover price, but this is becoming increasingly rare. Due to rising publishing, warehousing, and distribution costs and the larger discounts being given to booksellers, publishers are more commonly basing royalties on the net profits received by the publisher. Make sure you understand which of these systems your publisher is basing your royalties on and ask how much of a discount they give booksellers and what percentage of the cover price is given to distributors so you'll have a better idea of how much income to expect from your royalties. You should also find out if nontraditional sales—such as bulk sales to organizations or sales to libraries—are based on a different royalty scale.
If you can, negotiate with your publisher to get a bonus structure if your book achieves bestseller status or wins a literary prize, since these things usually mean increased book sales and subsequently increased profits for the publisher. And be sure to check when you'll be paid your royalties. Publishers usually pay out royalties in installments during the year, sometimes quarterly, sometimes only once a year.
And what about if you're using copyrighted material in your manuscript? For instance, each chapter of your novel starts with a song lyric, or you're using reprints of photographs in your travel guidebook. You'll need to get permission for these materials. Note the use of the word "you." Most publishers require the author to go about securing the permissions before publication, and this can be a lengthy and sometimes expensive process. However, if the copyrighted material is something the publisher wants added in (say, additional photos for your guidebook), or if you have to secure a lot of permissions, negotiate with the publisher for assistance, either financial or just help in getting the sources to give permission. Sometimes the clout of the publisher can help you get permission more quickly. But be sure that if getting permission for any material will be important to your book that you work out the details with your publisher.
Beware the option/first right of refusal clause. This clause lets your publisher look at your next manuscript before anyone else does, thus giving them the first chance to either accept or reject it. While this isn't so bad, be sure to examine the terms surrounding this. Some publishers may say that acceptance of your next manuscript carries with it the same terms as the contract you're currently signing. This is a lousy deal. By the time your publisher takes on your next book, you're already an established author and they already have an idea of how your book sold. If your book sold modestly, you may be offered a similar advance and royalty scale as for your first book. But if your book sold very well and had subsequent printings, proving that you're a valuable commodity to the publisher, it would be pretty crappy to get the same paltry advance and low royalty scale you got the first time around. So be sure that you indicate in your options clause that if the publisher does choose to take on your next project that the terms will be negotiated at the time of acceptance, thereby preventing you from being locked into a contract that could screw you financially.
And be sure that your option clause indicates deadlines for how long your publisher has with your next manuscript—say, 30 days or 90 days. You don't want to be kept waiting indefinitely for your publisher to make a decision; it's valuable time you could be using to shop the manuscript around to someone else if your publisher turns it down.
Your contract will also contain a warranties and indemnities clause. This clause basically states that by signing the contract, you verify that you are the sole author of the work in question, that the work doesn't infringe any copyrights, that it doesn't contain any deliberately harmful information (recipes containing ingredients you know are poisonous, for instance), and that it's free of violations of privacy, defamation, libel, and other potential legal problems. It also states that the author indemnifies the publisher and holds them harmless if legal actions are brought against the book, although publishers will often help authors somewhat if there are legal problems or will cover authors under the insurance they take out for these very purposes. Sometimes publishers will withhold an author's royalties towards covering legal fees. So try to cover your bum and be sure your manuscript is as free of potential legal problems as possible.
No writer ever wants to think about their book being out of print, but as depressing as the topic may be, it's important to consider before signing the contract. You should know when a book is considered out of print by your publisher because you want to be sure your rights revert back to you.
One of the most depressing aspects of the publishing industry is how quickly books go out of print. Some cheeses have a longer shelf life than books do. In an industry where the shelf life of a book (the time during which the book is available on shelves in major bookstores) is a year or less, it's important to know what happens when your book is considered out of print (or OOP/OP in pub biz lingo).
Make sure there's language in your contract that allows you to get your rights back after your book's been OOP/OP after a certain amount of time. You should be sure your contract states that your book is considered out of print after a certain amount of time when it's no longer readily available in bookstores, or after it's no longer earning a minimal amount of royalties per year.
Obviously this list isn't exhaustive, because there are so many clauses that make up a publishing contract, but it does cover some of the clauses covering rights and payments that can cause writers confusion and angst. Publishing contracts are complicated, but hopefully they no longer seem as confusing.
Thank you so much, Raquel, for allowing us to re-post this great resource for readers of Writer Unboxed!