WU readers may remember that former WU contributor Victoria Holmes, editor of bestselling YA fantasy series WARRIORS, alerted us to a heartbreaking tragedy befalling a young fan of the popular book series:
(In April) We blogged about Emmy Cherry, an eleven-year-old girl tragically killed when a tornado ripped through her home in Arkansas. Emmy was a big fan of former WU contributor Victoria Holmes' massive YA bestselling series WARRIORS, which she conceptualized.

I'd been thinking about Emmy all week, as I have a daughter her age who loves books as much as Emmy did. About fate, for one thing. And about loving stories so fiercely they almost seem real. How that love can transform others.

As many of you know, Vicky is honoring Emmy in the next Warrior's story by creating the character of Brightspirit, who will be Emmy in the book.
A relief fund in Emmy's name was in the works at the time.  The good news is, the fund is now LIVE (ht Galleycat):
Emmy's surviving family, including grandmothers Kay Cherry and Elaine Kizer, wanted to bring some good into the world in memory of their beloved Emmy, and so they created the Brightspirit Relief Fund, to aid causes that would have been important to Emmy, such as literacy, animal organizations, and storm relief. All funds raised from the auction will go to these causes, with a primary emphasis on helping the communities of Arkansas.
Popular YA authors such as Rick Riordian and Brandon Mull, as well as Erin Hunter, have donated signed copies of their works.  This is a terrific opportunity to donate to a worthy cause and receive one-of-a-kind autographed books for the bookworm in your family.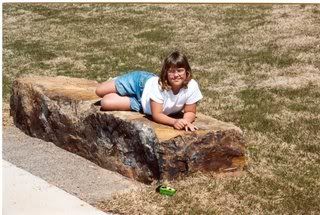 Most of all, you'll help the children in a community in memory of a little girl who loved books.
Please consider visiting the auction and bidding on a great book to add to your library.  The auction ends Oct. 4.
Kathleen Bolton is co-founder of Writer Unboxed. She writes under a variety of pseudonyms, including Ani Bolton. She has written two novels as Cassidy Calloway: Confessions of a First Daughter, and Secrets of a First Daughter--both books in a YA series about the misadventures of the U.S. President's teen-aged daughter, published by HarperCollins, and Tamara Blake, for the novel Slumber.