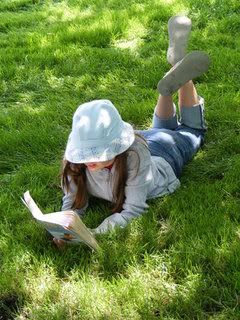 I asked myself this question as I watched my little sproutlet destroy a carefully-designed gift basket she'd gotten for her birthday to get at the Borders giftcard nestled in the middle. Nothing else mattered to her in the basket: not the hair bands, the Jonas Brothers cd, the sweet little paper flowers that crafty moms make. It was all about the gift card. Followed shortly by me being bugged to take her to Borders so she could load up.
My daughter is a book-aholic. So am I. So is her father. Books aren't something we pick up once in awhile at our house. We have piles everywhere, each nightstand groans, shelves are higgly-piggly with titles stuffed as space permits. It's an addiction I feed in my kid, but I never nurtured it. I didn't have to. Oh, I held her on my lap and read to her when she was little, and we treasured our moments. But as soon as she could string letters into words, then words into sentences, she was off on her own, reading, reading, reading.
My niece, on the other hand, is kinda meh on books. She lives the same sort of bookish household, where my brother has piles of books all over the place. She doesn't lack for reading opportunities. I've given her pop-up books, princess storybooks, some of the snappier classics. She's polite, but they don't get devoured. She'd just rather be doing something else.
Sci-fi author Darrell Bain also wonders if readers are born instead of made (ht Teleread):
"Betty and I have taken sort of an informal survey of our families and friends on the subject of who reads for pleasure as a principal form of entertainment and who doesn't. We've discovered that it apparently doesn't matter how much or how little parents try to influence kids to enjoy fiction and reading for pleasure. They either do or they don't and the amount of influence or exposure from parents isn't much of a factor. We've come to the conclusion that readers are born, not made. There's something in the identity of the person that makes some people gravitate to reading fiction but we don't have a clue what it is. Does anyone?"
Good question.
The only hard research I could find (okay, I only spent 20 minutes searching) was a study done by the University of Melbourne on identical twins. The findings suggest that it's about 50-50 innate reading ability combined with personal experience that creates readers.
I think — all things being equal like access to books, a supportive reading environment, and a decent education — that I'm coming down on the side of readers being born. I don't mean to devalue literacy drives and Read-Aloud To Me initiatives. But there's got to be something within that makes readers want to be entertained by books rather than the million other things that we could be doing.
Do you think readers are born, not made? Did you start devouring books at an early age? Do you know siblings where one was a reader and the other not so much?  I'm interested in hearing your thoughts about this.
Kathleen Bolton is co-founder of Writer Unboxed. She writes under a variety of pseudonyms, including Ani Bolton. She has written two novels as Cassidy Calloway: Confessions of a First Daughter, and Secrets of a First Daughter--both books in a YA series about the misadventures of the U.S. President's teen-aged daughter, published by HarperCollins, and Tamara Blake, for the novel Slumber.