Blogger and WU reader LJ Cohen [1] has created an ingenious method of organizing information that's embeddable into your wip — and not a post-it or scribbled napkin in sight — called TiddlyWikiWrite. In part one [2] of her two-part series on TiddlyWikiWrite, Lisa described what a wiki was and how writers can use them to corral the mountains of information needed for a book. Part two shows us TiddlyWikiWrite in action. I can't wait to give this one a whirl. Click the link to embiggen — Kath.
Examples of Use
1. Research
[3]Tiddlers can easily hold information gleaned from books or websites, including live hyperlinks to URLs. (At its most basic, think of the Tiddlywiki as a digital repository for virtual index cards.)
It was much simpler to copy/paste the information into a tagged tiddler along with the URL for the source than to lose the bookmark amongst the hundreds of bookmarks in my firefox setup.
2. Character Development
[4]I created a tiddler for each character (right), including physical description, role in his/her culture, connection to other characters (linked with wikiWords), history, motivation, etc.
This is a list of all the character tiddlers in my Heal Thyself wiki. It's also helpful to see all my characters' names in one list.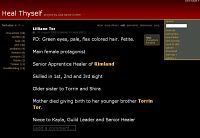 [5]And this is the tiddler for my main female protagonist (left). Lilliane's entry is not all that extensive, as I only did a minimal to moderate amount of pre-planning with this project. But even approaching this novel more like a 'pantser', I found using the wiki to be invaluable in keeping me on track.
3. Chapter summaries
[6]If you summarize each chapter's plot events as you complete the chapter, then it's easier to edit and move plot events around as you can see the tiddlers in any order you wish. In addition, the collection of each chapter's tiddler becomes the first draft of your synopsis.
The plotters out there can plan ahead, writing a extended outlines for future chapters in their own tiddlers and then alter the summaries afterwards to reflect any differences from planning to reality.
4. Problems
[7]To avoid getting trapped in an endless editing loop, create a tiddler for any problems that crop up as you are writing. Tag the problems as open/closed and when you are ready to edit, you have a list of places you need to address.
5. Worldbuilding
In "Heal Thyself," I have two main cultures, each with different mores, beliefs, government structure, and language. I use tiddlers tagged 'worldbuilding' and with either 'Tisreen' or 'Rimland' to organize background information.
Conclusion
TiddlyWikiWrite works for me where index cards do not because of the way I can search, sort and organize the tiddlers. It's far easier for me than to resort to a large corkboard and thumbtacks or multiple word processing files in a folder on my hard drive.
My first novel was organized with a spiral notebook. My second with text files spread across my hard drive. My third and forth were organized using a wiki. I can attest to the fact that writing deep into the novel as well as editing were both significantly easier with the wiki than without it.
TiddlyWikiWrite won't eliminate writer's block, won't cure passive voice, prevent POV violations, or comma splices, but it will keep your information organized in an easy to sort, easy to search format. As with all digital solutions, do make sure to keep your work backed up in multiple places. Happy organizing!
Where to get TiddlyWikiWrite:
TiddlyWikiWrite is free for any interested user to download, use, and alter. You can find it on my website:
on this page: http://www.ljcohen.net/resources-wiki.html [8].
To download an empty wiki, click the link at the bottom of the page. In your browser, click 'file/save as' and select either 'simple html' or 'web page/html only' (depending on your browser).
NOTE: Once downloaded, run it in your browser. You must use the 'save' option on the right hand sidebar of the wiki, not save in your browser file menu.
There are user instructions provided in 'gettingstarted' and 'help'. You can also email me (link provided in 'aboutme') if you have questions or problems.
Thank you, LJ!
We'd like to know how you did with LJ's Tiddlywikiwrite. Drop us a line at writerunboxed at writerunboxed dot com and tell us your experience using LJ's wiki. We love it when writers help writers.
LJ Cohen [10] is a Boston area novelist, poet, blogger, ceramics artist, and relentless optimist. After almost twenty-five years as a physical therapist, LJ now uses her anatomical knowledge and myriad clinical skills to injure characters in her science fiction and fantasy novels. Her most recent book, Dreadnought and Shuttle, (book 3 of the SF/Space Opera series Halcyone Space) represents her sixth published novel. Derelict, the first novel in the series, was chosen as a Library Journal Self-e Select title and book of the year in 2016.  LJ is active in IPNE (The Independent Publishers of New England), SFWA (The Science Fiction and Fantasy Writers of America),  and Broad Universe and blogs about publishing, general geekery, and other ephemera on her website [10].