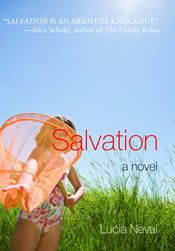 If you missed part 1 of my interview with Lucia Nevai, author of the gritty-wonderful debut novel, Salvation, click HERE, then come back. (There's an excerpt of Nevai's work at the end of part 1 as well.) In part 2, we discuss the novel's theme, her research and the long evolution of Salvation once her publisher, Tin House, committed to her work.
Here's an inside look at why major revisions hold both blessings and curses. Read on.
Interview with Lucia Nevai: Part 2
Q: Salvation seems to me a survival of the fittest tale, with each of three siblings surviving a brutally negligent upbringing in their own unique way. Little Duck survived through good looks. Jima survived through liquor and by being needed to help sustain her sister's life. Crane survived through her intellect, which sometimes meant appearing dull-witted. How did you see survival and salvation as linked?
LN: You've hit on the core of the book. I was pleased to discover after we'd named the book Salvation that the root word save is from the Latin salvus, meaning safe. The various dictionary definitions of the word, salvation, are: (1) deliverance from the power and effects of sin; (2) liberation from ignorance or illusion; (3) preservation from destruction or failure; (4) deliverance from danger or difficulty. So it seems that salvation can be spiritual, intellectual, emotional or physical. I hope the reader will agree with me that, social skills aside, in Crane's case, the many agents of her survival forge a salvation that is all of the above.
Q: Let's talk a little more about the setup. Little Duck isn't really Big Duck's son; he's the son of an evangelist and Tit, a prostitute. Crane isn't Big Duck's daughter; she's Tit's other child with a pharmacist. They live together in a two-room shack they happened upon, along with Big Duck's wife, Flat, and their daughter, Jima; but even that family arrangement is fraudulent, since Big Duck has another wife and children somewhere else. Salvation is a little like the Ugly Duckling tale, but no one in this cast really belongs in this stolen "nest." How important was it to set up this story so that there were no safe places, no places to belong, no real home? What did taking "place" away from the characters mean for you in terms of creating story and an arc of character change? And what did it mean for the characters when "place" finally became something of substance and hope? How did that create new challenges?
LN: You really nailed the dynamic of the set up! I knew how each of the three adults, Big Duck, Flat and Tit had "place" taken away from them unfairly in childhood. In sections that didn't survive the final edit, Big Duck is seen at the age of nine, running away from his physically violent father, an Okie tenant farmer. Flat is an unattractive, grandiose, musical genius whose single mother wants to press her into service as an underage chambermaid (ironically, the chosen field of Flat's daughter, Jima). Tit is sexually abused from the age of two, an alcoholic from the age of six. All three find a place "in Jesus" on the gospel circuit, but they lose it. Sex corrupts them. The starkness of the shack, I realize now, thanks to your question, was intended to function as an unadorned backdrop to highlight the simple mechanics of the behavior of these adults — not unlike a clinical laboratory setting.
The three adults are at the end of their arcs. None of them grow or mature any further emotionally or spiritually, though late in life, Tit tries. But the same shack that is "placeless" to them is a very real, very solid, unforgettable jumping off point for the arcs of the three children. Children possess marvelous resilience. They build on what they were dealt, often without remorse. I was pleased that all three kids ended up geographically so close to where they started out.
Q: The boy on the ceiling did not survive. Why did you need him in this novel? What role did he serve?
LN: The boy on the ceiling died of starvation. Because of his death, Crane's older siblings, Jima and Little Duck, rush in to love, raise and protect infant Crane. The death of a helpless child is something that haunts people all their lives. The people who can love again, must do so.
Q: Crane's research into ants-how tough they are, how smart, how intuitive-foreshadows or enlightens much of Crane's life. How much research was involved in understanding these insects, and what form did this research take? How else did you use research in writing your novel?
LN: There is a wonderful 800-page Pulitzer Prize winning book by Bert Holldobler and Edward O. Wilson, entitled, The Ants, which I studied. I wanted to depict true examples of ant behavior that would obliquely off-set the emotional process Crane was under-going. I tried to write the ant behavior passages so the reader was ahead of Crane, and could tell Crane was obsessed with ants in part to figure out what happened to her.
Other research included reading the Bible. So much of organized religion is devoted to telling people what they should do. I read the Bible to compare all that with what the Bible told people to do. There aren't many overlaps. There are the Ten Commandments, which are relatively easy to obey, and the directives of Jesus, which are impossible to obey.
Q: What is your process? How do you work? And how long did it take for you to complete Salvation, from conception to finished work?
LN: My process has been the same for thirty years. I write long-hand, enter the long-hand in the computer, then edit that print-out long-hand until I like what I have. Which takes a very long time. Salvation took five years – as well as my whole life!
Q: What was the editorial process like for you? How long did it take? What sort of feedback did you have and how did you process it?
LN: The editorial process of Salvation was unusual in that Tin House bought the manuscript on the condition that it would be substantially revised. It took the editor, the agent and me about a year and a half to feel that the revision really worked and really delivered Crane's story. The manuscript Tin House bought was 550-pages long. As hard as we had all worked, trying to clarify the relationships and streamline the structure of every section of the manuscript, I ended up pulling three-hundred and fifty pages of Crane's life story. Into the wastebasket it went.
Q: Tin House's offer seems like both a blessing and a curse: good that the work would be published and that someone "got it," but it had to have been hard to dig deep for revisions. How did you handle it? How did you go about absorbing the feedback to decide which changes to make? It couldn't have been easy to toss 350 pages.
LN: You are right. It was a blessing that a small press like Tin House Books with its outstanding literary reputation wanted the book. And it was a curse for both the editor and me. The book lacked structure–other than the structure of an account of a life. And the time-frame was filled with inconsistencies. Sometimes the narrator was supposed to be six, but she sounded like she was three–and vice versa.
For the most part, the editor and I agreed on which scenes to add and which scenes to remove. There were a few exceptions in which the editor's suggestions made more sense than what I had on paper, but, irrationally, they didn't fit the old-fashioned, coincidence-laden tale aspect of the story which was so dear to me.
Q: Did you have a mantra throughout the revision process? How did you make the decisions about what was or wasn't going to be right for your story in the end?
LN: Yes. When I felt unsure about what should stay in the book and what should go, I would go back to the voice of the narrator. If her voice could carry a scene, then the scene could stay.
Q: Did you fight for any scenes, or was everyone on the same page, more or less (sorry, pun).
LN: Not scenes so much as the sound of the book. I was rabid about the sound– even in cases where the individual sentences were not grammatically correct, or a change in the word would have improved clarity.
Q: What would you say the advantages (and disadvantages) are to working with a small press like Tin House?
LN: The advantage of publishing with a small press, my agent firmly believes, is that small presses provide more focus on fewer titles… and everyone throughout the process really knows (and has read!) the book. I absolutely agree. Also, ironically, a book published by a small press might be more "discoverable" by book reviewers and readers. No one expects a small press to mount a long, lavish promotional campaign for a book. So if a book comes to their attention without any of that, there's no stigma attached.
Q: Would you ever consider going back to these characters? If so, what story would you like to tell?
LN: It's a tempting thought. I do know what happens. But I doubt that I would ever be satisfied with a sequel. I wanted to show how Crane keeps failing at romance, but keeps trying and finally succeeds. Also, I wanted to give Tit a chance to reconnect with her daughter later in life. But, having struggled for months with this content, I came to the conclusion that, given the omniscient first person voice, the arc was too weak.
Q: What's the best advice you've ever received about writing?
LN: Write every day.
Q: What are you working on next?
LN: A novel about love and betrayal among Manhattan oriental rug collectors. And it's in the third person!
Q: Is there anything I didn't ask and should have, or is there anything you'd like to add?
LN: Thank you for your questions. I learned a lot!
Thank you, Lucia, for a great interview. Best of luck with your next works!