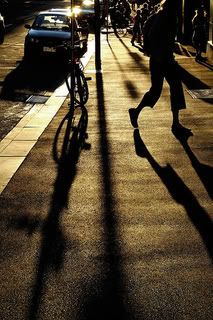 Today's guest blogger is author Karin Tabke, who answers a WU Burning Question:
What exactly is a Street Team and how does an author benefit from it?
Thanks so much for being here, Karin. Take it away…
—
Thank you, Writer Unboxed, for having me back!
Okay, so, I'll try to answer as best as I can, and you'll have to bear with me because I'm a newbie when it come to this really awesome concept (and for the record, I didn't do the leg or brain work in putting my Street Team agenda together, my very capable friend Edie Ramer mentioned the concept to me, as she knows of several authors who have prolific street teams, and well, she ran with it. Thanks, Edie!!).
So by definition a Street Team is a group of fans who canvas/haunt/stalk places and promote you. For writers that would be internet sites, blogs, book stores, cafes, libraries, and of course word of mouth. Basically your Street Team is creating buzz about your work. They can go armed with paraphernalia i.e. bookmarks, fliers, promo items like pens, magnets and key chains or just a smile and a recommendation. My understanding is this concept was first hatched by fans of rock and roll groups who wanted to spread the word. It is a grassroots type of operation. And in this business we know it's all about the buzz.
Of course there has to be something in it for your Street Team. While they love you, they would like to see some love in return for talking you up. Signed books, monthly prize drawings and such go a long way.
How to build a Street Team you ask?
Ask your friends to begin with, but also put the request out to the universe i.e. up on your blog, Myspace, and website. Make the information clear, concise and accessible. Below is the email letter I recently sent out to a few of my friends, I'll also be posting this on my blog, The Write Life, later this week, and there will also be a page or two on my website dedicated to this as well as a Street Team link on my home page. I'll also have it up on my new MySpace.
Hi, Everyone!

I'm inviting you to be a member of the Karin Tabke Street Team! to spread the word about my books. The best sell is always personal recommendation. If that's all you do, tell or email friends about my books that would be fabulous. And the more people you tell the better. You never know who goes home at night and curls up with a good book that was recommended by YOU!

As a member of my street team you'll earn my gratitude and maybe a few other prizes.

* A chance to name a character after you in my next book.
* A chance to win autographed books in a monthly special drawing for Street Team members only. All Street Team members will be automatically entered.
* A drawing each release month for a $25 Visa gift card with TWO WINNERS!
* A date with Gerard Butler. (Kidding. I'm keeping Gerry for myself.)
* Random insider Street Team e-letters that might include a poem from hubby and insider tidbits about my characters.
* An invite to my Yahoo Street Team group where we can chat about everything and anything, including fun street tactics. It's a place where I'll be happy to answers any questions about writing, the business, or my books – or your books.

Here are things you can do to be a Karin Tabke Street Member. Take whatever you feel comfortable doing. If you even do one thing, that's all you need to do to become a Street Team member.

In-Person Team Spirit:

* Talk the books up and share promo materials with friends & family to spread the word.
* Buy my books the first week of release, which helps it get on the bestseller lists.
* Ask your local library to order my books. Give the librarians the title, name and publisher.
* If my books aren't on the shelves, ask the bookseller to order it.
* Take promo materials (bookmarks, postcards, etc) to your local stores, place them with the booksellers. You can leave them with libraries and even at coffee shops.
* Take promo materials (bookmarks, postcards, excerpts, etc) to your local reader group, writer group or RWA Chapter to share with other members.
* With the stealth of a panther, take all of my books and front them on the new release table in the front of the store! (Note, if you insist on slipping one or two in a few best seller slots it won't hurt my feelings.)

Online Team Spirit:

* Feature interviews, reviews, excerpts or my video trailer via your blog, site, MySpace page, etc.
* Visit during online appearances (workshops, blog tours, chats, etc)
* Share your (honest) review of the book via Amazon and Barnes&Noble.com

Remember, do whatever you feel comfortable doing, even if it's just one thing – although I'll be YOUR biggest fan if you do all of these. Joining is easy! Help promote my book using one or more of the above ideas to help promote my books, Join my yahoo group Karin's Street Team @ KarinsStreetTeam-subscribe@yahoogroups.com and I'll add you to the official Street Team list and send you bookmarks, some autographed.

The street team term came from fans of rock groups who spread the word about their favorite bands, helping them become major names. I'd love you spread the word about my books!

Thank you for your support!

All best,

Karin*
As you can see it's pretty simple and self explanatory. I'll be creating a data base with all of my street team members names and locations, and I'm going to ask my uber web guy, Justin Knupp at Stonecreek Media, to create up a pic of the USofA so I can put dots in all the areas my Street Team is hard at work. I'm hoping to see it crowded with dots!
I know I haven't covered all of the Street Team angles in this blog post, I didn't want to blather on and have you all get crossed-eyed, so feel free to ask me Street Team related questions.
And if you would like to be a member of my Street Team, I would love to have you. Just send an email to the subscribe addy above and we'll get you set up. Thank you in advance!
Karin*
Photo courtesy Flickr's Mugley