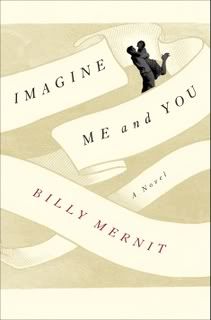 If you missed part 1 of my interview with author Billy Mernit, click HERE, then come back. Billy, an instructor with the UCLA Extension Writers' Program and a story analyst for Universal Pictures, applied the tried-and-true rom-com formula to his debut novel, Imagine Me and You, with hilarious results. In part 2, we discuss his writing process, tackling clichés, writing with a screenwriter's mindset, turning a novel into a screenplay and more. Enjoy!
Interview with Billy Mernit: Part 2
Q: What was your process for refining Imagine Me and You? What steps did you take to tighten the story, draft after draft? What technique, applied to your novel, resulted in the most significant improvement?
BM: I don't think I'm alone in believing that first drafts are for finding out what your story is about. I was aided, after the first pass, by a fellow writer friend who read and offered suggestions, and by feedback from a few other trusted souls. Then it was an arduous process of continued discovery and discarding. You go, oh – this is what the book wants to be… in which case, I've got to rethink a lot of this material. And with each go round, you're closing in on it: what the story really means. Which naturally points the way toward what has to go, and what needs to stay and be more deeply developed.
One early choice that made a big difference was that I shifted from third person past tense to first person present. Suddenly the story came alive. I felt comfortable in that voice. Later, the technique that yielded the most improvements was the notion of assigning distinct tasks to each step of each rewrite. I forced myself to focus on one thing at a time: okay, now I'm just going to track Jordan's character arc. This time I'm just going to look at Isabella's dialogue. And so on. This works. How else can you reasonably hack your way through that big-ass thicket of a manuscript without falling down any number of rabbit-holes?
Q: Did any part of the novel-writing process give you trouble? Any particular scene? Which moments provided the most satisfaction, and which is your favorite scene?
BM: It was the connective tissue that bothered me – the getting from this moment to that. In my next novel, which I've just begun, I'm trying to eliminate all the transitions, to somehow include only what's absolutely necessary for clarity, and leave out all the usual padding that moves us comfortably around the arc of conventional storytelling.
Without a doubt, the most satisfying scene to write was what I always thought of, from early on, as the one big obligatory scene (SPOILER**): the moment where Jordan has to confront all three women in his life at once — his wife Isabella, his imaginary lover Naomi, and the "real" Naomi (i.e. the woman he modeled his fantasy lover on).
But my favorite scene in terms of a piece of writing would be Jordan's visit to Leo at his home — because this really happened, much as it's reported in the novel. I lived that moment and it was a profound one. And I'm grateful that I've been able to memorialize the real Leo in print.
Q: How might a rom-com tale told in a male POV differ from one told in a female POV? Is it in the formula? The goal? The resolution? Or something else?
BM: It's the sensibility. The beats are the same, the goal is the same, the resolution is roughly the same (though I'd argue that for men, the defeat in the "joyous defeat" of committing to one eternal monogamous relationship may be more acute). But a man's sense of what it's like to live through a romantic comedy is markedly more surreal and bewildering. We go through it like "Wha–?!" because we're not hardwired for this stuff. We'd rather be shooting hoops or reading Sammy Beckett.
Q: On your blog, you talk about the cliché that must die: writing the obligatory chase-after-your-lost-woman-at-an-airport scene. You've included airport scenes in your novel—several—but not in the same vein. Why did you choose to include airport scenes, and how did you turn the convention on its head? Why do you think this scene has become such a cliché in rom-com?
BM: This was a wonderfully serendipitous happenstance. The first few airport scenes in the book were merely organic necessities: characters arriving in L.A., characters leaving. Then, when it became self-evident that there'd be airport scenes throughout the whole of it, I was handed this opportunity on a platter: the plot actually demands that your protagonist go to the airport in your last sequence. So, okay: if for once, we have a legitimate reason to do an airport climax (i.e. Jordan is already there), how would you like to send up airport climaxes?
The send-up is necessary because the airport climax is probably the number one cliché in all of rom-com-dom (the depressed heroine eating ice cream from the container is a runner-up). I haven't yet identified which seminal romantic comedy codified this resolution beat, but Hollywood clearly got the memo sometime in the late '60s and we've been seeing it ever since: it's as over-the-top, on-the-nose an embodiment of commitment as contemporary humans can muster when it comes to romance: I love you so much, the cliché says, that to stop you from leaving me, I'll face rush hour traffic on the Long Island Expressway.
Q: Your book contained a lot of vivid imagery, like the coat of mirrors that Jordan imagines. As someone actively involved with screenwriting, do you think you wrote your novel with script principals in mind—like writing to create visual and sound effects, etc… Did you "see" your novel as film as you wrote, and have you considered writing a screenplay of your book?
BM: I'm glad you noticed Jordan's coat. That's an image I really enjoyed stumbling onto. It made perfect sense that a guy who was so prone to projecting and being a screen for other people's projections would dream about wearing apparel that would render him invisible, while showing everybody else reflections of themselves.
I didn't consciously set out to "write it like a movie," but I respond to visual writing – great fiction is full of it (you could say Dickens wrote like a screenwriter). I naturally write that way; I'm more attracted to scene than to summary, to the specific rather than the abstract. And sure, since I do think in images, in a sense you could say I was "seeing" the action as I wrote.
But fiction is such a different process! You've got that incredible ability to write from the interior, to fully inhabit the first person point of view, and that was what excited me – versus screenwriting, where you're constantly having to evoke the inner life through exterior means. Though I do look forward to adapting the book as a screenplay, because it would be a wild, fun ride to ruthlessly turn the thing inside out and upside down, which is of course what one has to do.
Q: I'd love to hear more about that. What sorts of things might you start with in translating novel to screenplay? Can you provide an example of something internal in your book and how you might make it external for Hollywood consumption?
BM: Screenwriting is largely about problem solving. It's – how to get this piano through the skylight, quickly. Because on screen, the story is a shark that has to keep moving to keep the movie alive. So one of the first things you have to deal with in adapting a novel is translating exposition, which has a tendency to slow things down. All the back story information – how do you visualize it, efficiently and succinctly?
Given that flashbacks are tricky – there's a set of tacit rules about if and how to use them, and you employ them at your screenplay's peril — you look for other ways to get this information across cinematically. Ironically, early on in "Imagine" the novel, there is a flashback: Isabella's been gone a few days, Jordan is devastated, and on a long sad night alone, he remembers a poignant moment of her drawing art on the beach. In thinking about how to deal with this filmically, what came up for me was a scene of Jordan watching a home movie of Isabella on the beach, projected on a sheet he's pegged up across a doorway. I saw the sheet coming loose, falling down to reveal a beaded curtain, and for a moment, Isabella's image shimmering on it, as if she were standing there in the doorway like a ghost.
And then I realized: right, of course: this not only foreshadows Jordan's creation of Naomi, a spirit woman, it speaks to the thematic core of the story, imagistically. The story's about projection. So it makes perfect sense that the very first images in the movie would involve a literal projector, and the blurry line between reality and fantasy. Now I just have to add some detail about Jordan being a collector of old-fashioned, outdated technologies (i.e. he still has a super-8 movie camera, a manual typewriter, etc.) to justify this device – which makes sense because he's already a bit of a Luddite, being anti-cell phone in 2008 — and… hey, it might work. We'll see.
Q: You're forced to choose five books and five movies to take along with you before being dumped on a deserted island (with DVD and TV setups, not so bad). Which books and films will you choose and why?
BM: Books: Anna Karenina (Tolstoy), The Collected Stories of Julio Cortazar, In Search of Lost Time (Proust), White Noise (DeLillo), Alice in Wonderland/Through the Looking Glass (Carroll).
I've cheated – there is no all-inclusive Cortazar edition to date, so this is an imaginary book; Anna's there because that's the most readable novel, period, Proust because the epic sprawl would suit the situation, DeLillo's book is pretty much close to perfect, and on a desert island, I'd finally memorize –and recite!–the whole of Alice.
Films: Pierrot Le Fou (Godard), Only Angels Have Wings (Hawks), 8 ½ (Fellini), Annie Hall (Allen), Groundhog Day (Ramis).
Belmondo and Anna Karina, Cary Grant and Jean Arthur and Rita Hayworth, Mastroianni and all his women, Alvy Singer and Annie – they'd be good company for the long haul, and the last movie might serve as a desert island instruction video. When every day you live is the same day, how might you eventually become a better person than you are? Bill Murray and Punxsutawney Phil have a lot to tell us about that.
Thanks so much, Billy, for a great interview, and best of luck with your new novel!