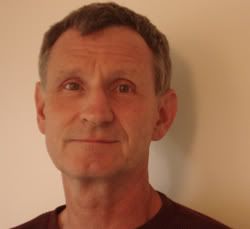 Raymond Obstfeld is The Man when it comes to fiction writing.  A well-respected novelist with 28 titles in just about every genre imaginable to his credit, many screenplays and adaptations, works of non-fiction, and magazine articles as a contributing editor for Writer's Digest, he also finds time to teach creative writing at Orange Coast College.
But it was his self-help book for fiction writers FICTION FIRST AID: INSTANT REMEDIES FOR NOVELS, and the followup NOVELISTS ESSENTIAL GUIDE TO CRAFTING SCENES that made us eager to interview him.  Both books should enjoy a prominent place on the writer's bookshelf.  FICTION FIRST AID is one of the most useful books I've found because it helps diagnose the problems lurking in your MS immediately…. and offers lucid solutions for how to fix them.
Obstfeld's latest release, a high-octane thriller ANATOMY LESSON is out April 1 from Iota Publishing (offering a 30% discount if purchased directly from the publisher).
We are pleased to present our interview with Raymond Obstfeld.
Q: Tell us how you started your career in the notoriously tough world of writing novels.
RO: I started as a poet.  My first published book, The Cat with Half a Face, was a collection of poetry.  In graduate school, I continued to focus on poetry, though I dabbled in fiction and screenplays.  Generally, the poets were at war with the fiction writers.  Poets thought the fiction writers were sellouts who wrote fiction because they didn't have the brains or talent for poetry.  Fiction writers thought the poets were elitist snobs.  They were both right.
My literary studies were so time-consuming that I often spent twelve hours a day studying and writing papers.  Then, about midnight, I started working on a novel for relaxation.  I chose a genre far from everything I was studying—a mystery novel.  It was love at first sight.
When I finished my novel, I took it to a literary agent (Elizabeth Pomada of the Pomada/Larsen Agency) I found in the phone book and dropped it on her front door.  I couldn't afford the postage.  She called me up a week later and told me she loved it and would represent me.  Three years later she sold it as part of a four-book deal.
Q: You teach fiction-writing at Orange Coast College in California.  What drew you to teaching and what keeps you there?