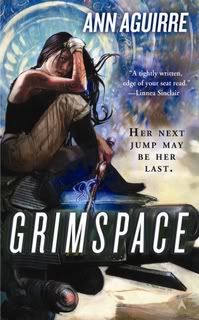 If you missed part 1 of my interview with Ann Aguirre, author of the sci-fi thriller/romance Grimspace, click HERE then come back. Grimspace is an intense, action-packed novel full of humor, surprises and edgy, three-dimensional characters. Aguirre has a true gift for creating complex worlds that not only work but come to life on the page, and for showing just the right amount of specific and acute descriptions to make those worlds feel as though they've been there for an eternity–Aguirre just happened to stop in for a visit and take notes. (Read an excerpt HERE.)
We're thrilled she's with us to talk about Grimspace, her unboxed characters, her work habits and more. Enjoy!
Interview with Ann Aguirre: Part 2
Q: Your slate of main characters is interesting, to say the least. There's Jax, a sarcastic female protag who literally shows off her edgy bits via an array of scars; Loras, a beautiful enslaved savant male who craves freedom; Dina, a lesbian mechanic with a serious chip on her shoulder; and March, a fiercely loyal compartmentalized pilot who can read minds—but would really rather not. What's your process when it comes to crafting these fundamentally unique characters? How do characters evolve for you? Do you base them on people you know? Use any exercises to make them breathe on the page? Or do they spring to life, fully formed in your head?
AA: I'm not so much with the process. I don't over-think; I just start writing. I know that sounds simple, but it's how I work. I don't invent people beforehand, or make up characters trees, storyboards, or write notes about them on color-coded cards. They just are who they are. I generally don't base them on people I know, although certain traits might slip in. I could hark back to the Walter Jon Williams novel at this point, and mention the idea that we all have fragments of other personalities floating in our heads. I suspect I'm just good at letting them develop into "real" people that live in my head (without going batshit crazy because of it).
Characters evolve according to the story arc. Sometimes it's dictated by plot when they're forced into situations that trigger personal growth. I will say I'm not ordinarily a fan of static characters. I do want to see change in a series. I want the characters I read about (and write) to learn from their mistakes and make progress.
Q: One of your most compelling characters, in my opinion, is the enslaved Loras. On your website, I learned Grimspace isn't your first novel; that was Stone Maiden, available through LuLu . Stone Maiden's main character was also a slave. Not only that, all proceeds from Stone Maiden go to benefit Equality Now, a group dedicated to ending violence toward and discrimination against women and girls throughout the world. If you don't mind the question, what is it about this issue that tugs you so deeply that it finds its way into your writing? And what do you want people to know about Equality Now?
AA: Well, if you want to be dead accurate, Grimspace is my… *counts on fingers* eleventh novel, and my mass market debut. Most never saw the light of day, and for blessed good reason. Four are available as ebooks from Liquid Silver and Loose Id, but they're romances, written under my nom de plume.
Stone Maiden was the sixth, and my only other "Ann Aguirre" title to date. It came out through Del Rey Digital as an ebook, and spent three years with them. When rights reverted to me in 2006, I wanted to use my platform to give something back, so I made the book available on Lulu. I'd also been receiving requests from fans who wanted a hard copy for their libraries. Though it's not a well-known book, the story has really resonated with readers. I have permission to share from this fan email, so I will (because this is a cause worth pimping).
Muir: Her quiet strength, loyalty, willingness to sacrifice and absolute faith make her a wonderful heroine. Watching her develop and grow from being totally subservient until she is, for all intents and purposes, the most powerful and important person in two societies, is a
beautifully told story. I love the way you portrayed her transition from being a totally subservient woman to one who is powerful and in control yet chooses to give and sacrifice without diminishing her strength and power in any way. She is a remarkable character.

Rodhlann: He is a wonderful "anti-hero." His development as a character is in direct contrast to Muir's, as he starts out as the all powerful being and ends up as a man who is ultimately vulnerable and must learn to depend on others.

The Two Love Stories: The intertwining and development of the two love stories, with both sets of lovers being torn apart, is just heartbreaking. It always gets a big sigh out of me. I often ponder the question of exactly how much of the love that develops between Muir and Rodhlann is actually Kaveh and Minau. There is clearly a strong
influence, but they are independent couples in many ways. I haven't really come up with an answer yet.

The Mysticism: I love the various magics, mysticism and religions you used. Again, the contrast between Muir's continually growing strength with her sturdy earth magic and Rodhlann's diminishing abilities with his more ethereal magic is a pleasure to follow. I love how it impacts on their need to change and rely on each other to survive.

In my opinion, you have written a wonderful tale of opposites and love, sacrifice and obligation, loyalty and faith, the ability to be giving and it not diminishing your power, and add in a little political intrigue too. Your character development is excellent. I felt like I really knew all the characters. I hate to sound all gushy, but I just love this story. I am a voracious reader and there are only a handful of books that have grabbed me like this one.
The issue finds its way into my writing because I believe in the power of hope. No matter how dark things seem, if people believe there is a possibility it will get better, then maybe they can hang on for that brighter day. Hope breeds strength, and there is nothing more valuable in adversity.
As to what I want people to know about Equality Now? Well, they offer help and hope to women who need both desperately.
Q: Let's talk gender stereotypes. At one point Jax thinks, "These nulls don't know how to fight women. It's a different game, believe me." Later, you write about a guy shaving his chest so that an alien baby can feed off of him, and we hear a lot about the alt-god, Mary. More than anything, Jax is as tough as any male hero I've seen on the page. Do you think freedom to poke at stereotypes increases when your heroine is as strong as Jax? And did you make a conscious choice to cull humor from gender conventions?
AA: First, thanks for the compliment about Jax. I'd think she'd like being called tough, although I would say that's at least partly a facade. She's not as hard as she wants to be, and sometimes, she's downright fragile, just better at hiding it than most.
I didn't consciously poke at stereotypes or gender conventions; I think it's just a reflection of my sense of humor. It tickled me to think of this killer merc being placed in the role of surrogate mommy. If there's some kind of social commentary wedged in there, it's purely incidental. I guess I felt since I was writing the book set in some indefinite and possibly alternate future, I could do what I wanted.
Q: Even though the plotline keeps the story moving and makes the book compelling, Grimspace isn't necessary a book you can digest in one gulp. The prose is dense with information and smart wry humor and then, unexpectedly at times, beauty.
All this time, Loras has been staring up at the sky, as if he lives in a world the rest of us simply cannot perceive. He's dreamy-vague, golden curls and sapphire eyes, a fey, graven look that gives his features an inexplicable purity. Now that I study him closer, I realize he's not young so much as ageless, his face untouched by time or worry. There's a certain kind of madness in his face, as if he cannot care for anything enough to be moved by it, and I have to look away.
What stylistic decisions did you make with this story? Were you conscious of mixing things up to make a stew of sci-fi with dashes of other things—a little sarcasm here, some poetry there, a little romance, etc…? And who did you see as your future audience as you wrote?
AA: At this point, I feel quite embarrassed about my lack of decisions in the writing process. No, I didn't think of style at all. However, the voice in the book is purely Jax; sometimes I did write a turn of phrase because it seemed how she would put something. You've distilled her essence nicely: a little sarcasm, some reluctant poetry, and a touch of romance.
Audience? I didn't think I had one! I had an agent at the time, but she wasn't interested in this difficult, hard-to-classify project. I simply wrote this book to please myself without thinking about market or anything like that. I wound up with a crossover title that seems to be pulling readers from a wide variety of genres. Color me delighted!
Q: Will the story be marketed as both SF and romance, to try to tap into a wider readership? (And the male readership.)
AA: I'm not sure where it'll be shelved; I suspect SF. That really depends on the bookstores. However, I'm making it my personal mission to reach out to romance readers. I got an "A" review on Dear Author, which is focused primarily on romance novels with the occasional romantic fantasy or SF title thrown in. Grimspace is also being featured in a special display in B&N, along with two urban fantasy titles. So I think they understand that this book has the potential to appeal to a wide readership.
Q: "Life goes on whether we want it to or not. And laughter is a constant." Humor is a lively and ever-present component of Grimspace, which helps to counterbalance the dark side of Jax's world and her fatalistic mindset. I noticed that the most damaged characters (Jax, March and Dina) relied on sarcastic humor like a crutch. How did you use humor to conceal motive and true feeling, and what else do you think you used it for in your storytelling?
AA: I think humor is a natural defense mechanism. We joke about the things we fear the most. We joke to hide the fact that someone has, in fact, hurt our feelings. It's just harder to face the world without that shield in place.
And when characters are damaged, they need that barrier twice as much, and it becomes very difficult for them to let it down entirely, deal with their own emotions without the filter. However, when that moment arrives, it becomes even more poignant because the reader understands how much is being risked with pure candor.
Q: Your writing style sometimes feels slightly fragmented, when you chop away the initial noun.
Behind me, I sense Dina stirring. I don't need to be Psi to know she's looking at March, asking with a look, Can I kill her now, boss? And the bitch of it, I can't even entertain myself plotting long, intricate revenges because he might hear me. And laugh, knowing I can't carry out any of my threats.
Would you like to talk about this choice? And is this Ann's style or Jax's?
AA: This is a result of writing in first-person. I try to keep true to the POV as much as possible, and honestly, when you're alone in your own head, do you think in complete sentences all the time? I don't. I tried not to make any observations that wouldn't be consistent from Jax's perspective.
Q: Who are your literary inspirations and how have they influenced your direction as a writer?
AA: Gosh, that's a tough call. I have a lot of authors I love to read, but I don't pattern myself after anyone. Authorial voice is so important that I really just want to be me. I don't have literary aspirations, as such. I want people to read and enjoy my books. I want to take people out their worlds and into mine for a little while. I don't consciously plant lessons or deeper meanings. In the immortal words of Gypsy Rose Lee:
"Let me entertain you, Let me make you smile, Let me do a few tricks, Some old and then some new tricks, I'm very versatile, And if you're real good, I'll make you feel good, I want your spirits to climb, So let me entertain you, And we'll have a real good time; Yes, sir!, We'll have a real good time."
But if I have to pick someone, I'm going to say Nora Roberts, though not in any stylistic sense. She has taught me a lot via example, however, as to how an author should comport herself online and she's shaped my work ethic: no whining, butt in chair, write the book, do the job.
I will always strive to write the best book possible, present a professional demeanor in public forums, and to turn in my manuscripts well ahead of deadlines. I want to be known as a cheerful, positive author who is easy to work with and takes direction well. I don't know if that'll mean I sell more books, but it can't hurt, right?
Q: What's next for you?
AA: Wanderlust (Jax, book 2) comes out in September '08. At least two more Jax titles are in planning stages. I also have an urban fantasy series in the pipeline, first book slotted for early '09. Ace contracted the first three Corine Solomon books. Here's a snippet from Publisher's Marketplace:
"…a new urban fantasy series featuring an on-the-run woman whose ability to 'read' objects with her touch pulls her into an underground world of gifteds, where the bad guys are just as likely to hire a warlock as a hitman to even the score."
[Note: You can read an excerpt from Wanderlust at Aguirre's site HERE.]
Q: What would you like people to take from Grimspace?
AA: A smile and a good feeling.
Q: That shouldn't be too difficult! Is there anything I should've asked and didn't, or is there anything you'd like to add?
AA: Yeah, actually. First, thanks for having me!
Second, I love giving away loot, and I often do so on my blog. Second, I have an author loop where I hang out with readers. We talk about books quite a bit, and I run a monthly contest, starting the 23rd of each month, where we discuss our favorite reads. That culminates on the 30th with me awarding a book from the list of titles mentioned to some lucky winner.
Finally, I love hearing from readers. I never let an email go unanswered, so feel free to get in touch.
Thanks so much, Ann, for a great interview; and best of luck with Grimspace and your career! We'll keep watch for your future releases.