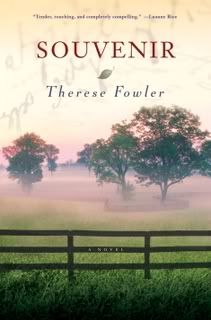 Today marks release day for debut novelist Therese Fowler's Souvenir–a book about family, love, regret and making the most of the time you have.
If you missed part 1 of my interview with Therese (the other Therese), click HERE, then come back. Today, we chat about the choices she made while writing Souvenir, including how she handled backstory and point of view. We also discuss Literary Commercial Fiction (LCF): what it is, why it's hot and how to market it.
Enjoy!
Interview with Therese Fowler: Part 2
Q: You use old journal entries to help reveal the past, which I found a refreshing way to disclose backstory. You also use new journal entries to help tie up loose ends and suggest a future. One of your main characters, Carson, is a musician whose lyrics often have haunting meaning for him and those around him. Messenger-words hold a powerful sway over the main characters because they hold such truth. Did you consciously choose for truth to come out in this way and why?
TF: Not exactly. In the very earliest stage of story development, the idea was that Carson would narrate as if he were writing his autobiography—more of a retrospective approach. Then, because I felt the story needed Meg's voice too, I imagined that Meg would have a journal that would inform his tale.
As I revised my ideas of how best to tell the story, a lot of things changed, but the journal's value was without question. Anna's diaries were a later development and, unlike the rest of the work, her entries were written separately from the forward movement of the narrative. Carson's songwriting bits grew organically from the story as I went; I liked how they underscored his emotional journey over the years, and then Meg's and Savannah's too.
Left-behind words have so much power, can influence us in so many ways; when I saw the potential of Anna's diaries, Meg's entire plot arc became dependent on her mother's words, and then the formation of her own. That Savannah also finds a way to document her journey gives the story a nice, full-circle feeling for me.
Q: Your story unfolds using three distinct viewpoints, with the most distinct story created out of those viewpoints being Savannah's. Some might see the teen storyline as separate from those of her mother (Meg) and her old friend (Carson). How do you view the storylines as essentially linked?
TF: Savannah's storyline begins as deliberately distinct; she's disconnected from the adults' worlds, which is an irony given how badly she wants to be an adult. In fact, all three story lines run somewhat parallel for a while, because these characters, who under other circumstances might have been close, are emotionally very far apart.
Their links are tenuous at first—minor events that provoke memories or raise questions in each character's mind. But the past Meg is suppressing, which involves Carson, reemerges in part because of what's happening in Carson's life; Carson is provoked into revisiting that past because of the plans he's making for his future; Savannah has been raised to be a fan of Carson's music, with the knowledge that he and her mother were once friends—and it's this factor that begins to braid their storylines together.
Q: Were any of the characters more difficult to write and identify with than others? What approach did you use to work through it and better understand the character?
TF: Probably because I'm farthest from her temporally, Savannah was the more challenging character—though I wouldn't say any of the characters were truly difficult. I found each one intrinsically interesting and enjoyed the challenge of getting into three very different minds.
My approach is essentially that of a method actor's: I try to inhabit the character's mindset personally—which means seeing the world from a perspective that is informed by who my character is. What's their emotional baseline? What are their exposures? Inhabiting each of their outlooks then drives the narrative, and gives a story a depth and verisimilitude that I feel is often lacking in plot-based writing.
Q: How did you use the "ticking clock" idea to build tension in your novel?
TF: Each character's story arc is built loosely on a looming event, or events. Some of those events are more urgent than others; Carson's impending wedding, for example, is a fixed date in the near future, and that gives his story a built-in countdown timer. Savannah's looming 16th birthday makes a similar framework. Meg's "ticking clock" is a bit more open-ended, but in her case that's the element that ratchets up the tension—her decisions affect the clock's pace.
Q: You chose to highlight ALS or Lou Gehrig's disease in your novel. Why ALS?
TF: There were several reasons. From a writing standpoint: a disease like ALS, which has no cure, offers a vivid parallel with the decision Meg makes when she's young—what to do, when faced with a situation that offers no apparent good or right choice? Also, ALS is intrinsically fascinating, and terrible, and real; friends of ours lost a daughter to it a few months after Souvenir sold.
From a personal standpoint: ALS isn't well known or well understood, so I hope to raise some awareness of it, and of the kinds of issues that people with incurable illnesses must face.
Q: At one point Meg writes to her daughter, "So here's my advice: follow the rules that make your life work best, Savannah, and discard all the rest." Did you apply this advice to your writing at all? Which "rules," if any, did you discard? Which worked best for you?
TF: I never believed that all would-be novelists must start small. It's a myth that in order to get well published we have to publish short fiction first, or create an existing readership via blogging, or have contest wins to our names. These things don't hurt, and sure, they may help, but they're not essentials. I had none of them. And while I do have the letters MFA to put after my name, any unpublished person with that degree will assure you that the letters themselves don't open doors.
Here are the rules I believe in: 1) you have to tell a good story, and 2) you have to tell it well.
Regardless of what kind of story it is, that's 95% of what it takes to get published. The next 4% involves landing a good agent who can and does entice a good publisher (both of which go much more easily when the first two factors are in place).
The last one percent is serendipity: having your story be the story that agent, then that publisher, is looking for at that moment in time. However, to paraphrase Samuel Goldwyn: The harder you work, the luckier you get.
Q: I've seen the phrase "literary commercial fiction" a lot lately, to the point that I wonder if it's the next hot genre tag. I know Souvenir's been called both women's fiction and literary commercial fiction, so I can't help but probe you on this. What does LCF mean to you? Do you think the industry might be swaying toward LCF, and what do you think it means to the future of publishing—and reading—if they do?
TF: Ah, tags. LCF is really just shorthand for literary-style writing that's put to use in what are considered popular-fiction kinds of stories. When I say literary-style, I mean not only clean, clear prose (which is a must) but writing that's more artful than average, and which makes use of literary tropes. Another term for this type of work is "upmarket." These LCF stories dig deeper into character and situation than standard commercial fiction often goes.
I think artful popular storytelling is always in demand and historically short in supply. Most writers identify themselves with either commercial or literary writing, and live quite comfortably in their zone. That's just as it should be; we all should be true to ourselves. It's harder, though, for those who fit more into the middle—whose writing style leans literary but whose story sensibilities are more commercial. It's not so comfortable there, because of outside pressures—from critics and from other writers—to be one or the other. So most of those middle folk conform.
It's getting a little easier to stay in the middle, thanks to talented and successful authors like Stephen King. He's been talking and writing about the literary vs. commercial conflict for years now, advocating for quality, not genre, as a standard. If LCF is "hot" then I'd say that's in large part a result of more writers resisting the either-or pressures and publishers responding favorably—which then makes it easier for more writers to get on board.
There's only a downside if LCF somehow becomes a minimum standard for publication, making it harder for the straight-commercial writer to be published. It's hard to see that happening, though; there will always be plenty of readers who prefer straightforward commercial fiction.
Q: What are some of the more common literary tropes you might find in LCF?
TF: In the writing, you'll see more deliberate and/or artful word choice, use of metaphor and extended metaphor at the sentence level, repetition of sounds or phrasing, figurative language, use of allusion.
On the story level there might be dramatic irony, broad metaphor, symbolism, and sometimes the use of archetypal characters–and while it isn't glaringly apparent to many readers because the language is simple, the Harry Potter series is a prime example of a story that uses these to great effect.
Q: Here's something I've wondered: You think you have a manuscript that qualifies as LCF. Do you say this in your query letter? I'd have a hard time labeling my work as such because it seems I'd need first to earn that label from a pro. On the other hand, several agents are looking for LCF. Any thoughts?
TF: There's a fine line to walk here. You don't want to come across as overfond of your own writing, but you do want to demonstrate your knowledge of your own work and where it fits in the marketplace. If I were querying such a manuscript, I might say that it's "upmarket," and then mention a novel/author whose work is similar. You do of course want to be sure that your comparison is legitimate before saying so.
Q: What's your writing process? Plotter or pantser?
TF: I don't plot, in the traditional sense, but I'm not completely a pantser either. I always work from a combination of character and situation, and let the plot evolve organically. When I have a fair idea of the direction I want to go, I begin laying out plot points and writing toward them—you have to have some idea of where you're headed or you'll end up either stranded or with an illogical, unwieldy story.
Q: Who are your literary inspirations?
TF: There are so many admirable authors, and different ones inspire me in different ways. If I tried to make a list, I'd surely leave out someone important… I will say, though, that my writer's heart belongs to Jane Austen and Vladimir Nabokov, who between them make the perfect marriage of story and storytelling.
Q: What are you reading now?
TF: Sue Miller's The Senator's Wife.
Q: What are you working on now?
TF: I've just turned in the manuscript for my next novel, which I'm calling What She Should Have Known. Like Souvenir, it's a family drama, an existential drama, and a story about love. Here, a popular TV talk-show host gets a second chance with an old flame, only to find herself falling for his son, who's nine years her junior. I'm looking at the question of what makes love true.
Q: Is there anything I should've asked and didn't or anything you'd like to add?
TF: Maybe mention the foreign editions? Souvenir's set to publish in ten languages and is now or will be sold in some eighteen countries, to date.
Q: Are most of your foreign release dates the same as they are here in the States?
TF: No; because each edition has a different publisher, the dates vary widely. Souvenir was released last summer in the UK, and in Denmark last fall. My German release date is similar: Random House/Goldmann will publish it this month, the Netherlands and Poland publish in April, and other countries have the book slated for fall.
Thanks so much, Therese, for a great interview; and best of luck with Souvenir, released today across the United States!