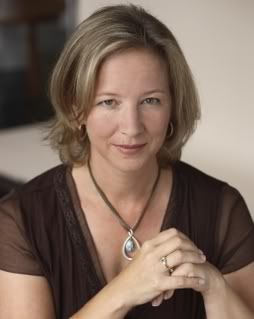 An interview about a Therese, by a Therese. Really, how can it get better?
Therese Fowler's debut novel, Souvenir, will be released this coming week on February 12th. After several months of not taking time to read, I was excited to dive into this novel–a family drama with compelling storylines, woven together to release a singular tale of forgiveness and truth and redemption. Therese Fowler has a gift for merging story with rich thematic elements, among other things. Says one reviewer, "Fowler's characters seem like real people, so reading 'Souvenir' seems like peering into the windows of their world."
Souvenir, published by Ballantine Books, is a March Book Sense Notable pick, a Target Bookmarked Breakout choice for February, and the featured selection for a literary organization in the UK called TRA Reading Partners. Souvenir will also be an alternate choice through several book clubs in the month of April, including Literary Guild, Doubleday and Rhapsody Book Clubs; and will be placed at the front of Barnes & Noble, Waldenbooks and Borders bookstores nationwide.
Therese is also a writing teacher and openly shares some of her best gems for our benefit. Intrigued? Read on!
Interview with Therese Fowler: Part 1
Q: Your debut novel is called Souvenir. Tell us a little about why you chose this title for your book.
TF: I like titles that convey meaning on multiple levels; Souvenir is that sort of title. The word itself comes from the French verb of the same spelling, meaning "to remember." In English, it also connotes a keepsake. In the novel, both meanings come into play, in different ways for each character. The significance of memories, of connections to our pasts, of how we keep those connections and why, underlies everything in the story.
Q: Let's talk about your road to publication. How long had you been writing before Souvenir crystallized in your mind? What path led you to Souvenir, and how long did it take you to move from conception to finished work?
TF: It was in late 2000 that I first began thinking seriously about trying to write fiction, and I spent the next five years learning to do it well enough to earn an MFA in creative writing from NC State University.
In late '05, I sent out the first wave of queries for my second completed novel, and within three weeks, signed with my first-choice literary agent. I'd been through the query-rejection cycle with my first-try novel (I finished it in '02 and queried for a year with no success) and knew how difficult a process getting an agent could be, so of course I thought I'd made it.
Not so. The first wave of submissions yielded great interest, but no offers. Second wave was pretty much the same. While the manuscript was on what would be its last wave of submissions to editors, I did some intense self-evaluation. Maybe there was a reason I'd gotten close but still had no offer. Maybe I'd written the wrong sort of book, for me. What would I be happiest writing, career-wise? I looked at my long-term publishing goals, studied the current fiction marketplace, and in the process recalled the seed of an idea that had been with me since shortly after my mother died, two years earlier.
This was in late February '06; I worked with various approaches to the story for about a month, then started what would become the actual manuscript in late March. I had the first draft done in July, revised and off to my agent in late August. So, six months in all.
Q: You believed earning an MFA would provide you with what you needed to know to become a successful novelist. In retrospect, did it? Do you think you might've done as well without those classes, learning what you did through books, workshops, online lectures, etc…?
TF: The MFA gave me all the writing tools I needed, but none of the business tools–typical for writing programs, though some are getting better with business matters.
I think I might have done as well without formal training. It would've taken longer, and I would have a challenge in finding a capable critique group, but yes, the resources are out there for anyone who has the desire to take advantage of them. I would add, though, that a lot of what goes into the MFA is not writing-focused; the study of literature is a major component.
Q: You completed two novels before finishing Souvenir. What do you think distinguished novels 1 and 2 from the successful Souvenir? Was it an elevation in craft, or do you think it was the level of commitment or personal connection you felt for the content of each work?
TF: A combination of factors: an elevation of craft, especially between the first and second efforts; a shift in my approach to craft, based on knowledge gained while earning my MFA (my epiphany about LCF–literary commercial fiction–you might say); and then the refinement of my career goals and what I wanted to accomplish with my fiction. It was as if everything I'd learned about writing and everything I'd learned about the writing profession came together. Clouds parted, angels sang–well, maybe not quite that, but I felt very clear about what I wanted to do, and how to do it.
Q: You've worked as a writing teacher. Have you gleaned any gems from watching others struggle with the craft? What are the most common writing foibles you see, and what sorts of exercises do you recommend writers try to get past them?
TF: As I teacher, I found the most common errors in basics like tense shifts, point-of-view violations, and illogical plot development. Reading a lot of quality fiction and creative nonfiction, any genre, helps overcome those kinds of errors—it's education by osmosis, really.
Almost any concentrated writing exercise is useful to writers at this stage; in particular, though, I recommend short, concentrated assignments, like taking a paragraph of narrative from some published work and revising it by changing the tense or the point of view. It's surprising how effective this exercise can be, because there's more to it than simply changing "I" to "she," or "He went" to "He goes." Ideally, you do the exercise with many different passages from several different works—changing one from past-tense to present, changing a different one from present-tense to past, doing a first-person passage in third, a third-person in first—because as the material changes, so does the challenge.
I personally learned the most from my MFA writing workshops, where each semester, in addition to writing and revising two of my own stories, I was critiquing as many as twenty-five newly written classmates' stories too. Learning to recognize what makes a story work, or not, is the single most efficient path to improvement. In that middle level of writing accomplishment—that is, judged capable but, in most cases, still not ready for serious publication, the problems are harder to identify, and the solutions to the problems more challenging to find. We have to train ourselves to be critical readers, and then be willing to apply the skills we gain to our own writing. The most successful writers are the ones who are hardest on their own work.
Of gems, I've found this: ego has no place in writing education. If you are stubborn or defensive, you won't learn a thing. Openness to constructive criticism and willingness to be taught are the keys to accomplishment.
Q: You said it's important to know what ISN'T working in a story in order to become a better writer. Do you think providing critique to others is the way to go in this regard? Do you have any guidelines? (e.g. critique someone at your level, the same genre or different, not your best friend, etc… )
TF: Learning to read critically is a process. First you have to know what you're looking for, right? The simplest place to start is to note, when you're reading published work, which stories succeed, in your view, and which do not. Ask yourself why you think so: if it's personal taste, you've learned only what you do or don't like; if the answers are story-related (something doesn't make sense, is over-emphasized, is under-emphasized), or writing related (clunky prose, POV violations that don't work), you've got a good teaching tool in hand.
Once you have a basic handle on how to evaluate a story, you should join a critique group, ideally one that has four or more members who are at similar levels. That can be tough to judge up front; some writers preview the other members' work before joining (and vice-versa), which I think is smart. The genre matter is less important for beginning writers, when the focus is first on effective writing skills. It becomes more important after basics have been mastered and the focus turns to effective stories.
Regular exposure to other writers' story drafts is as effective a teaching tool as exists, as long as your critique approach takes care to evaluate only the writing and not the person, the subject, or the genre.
Q: You mentioned how difficult it can be to identify flaws in a capable work, but do you have any first steps to attempting to ID these things? Where have you found the flaws to be hiding most often, in your critiquing experience?
TF: The flaws are most often hiding in structure, and in these facets of POV: narrative distance, psychic distance, and voice.
The first inkling of structural trouble is a feeling that, while the story seems good and the writing may be stellar, something is keeping it from succeeding the way it should. Eliminating or re-ordering elements is often the answer.
The other elements are much subtler, and the truth is that most readers would never be aware of flaws in these areas. They do matter, though, affecting the reading experience and affecting a writer's opportunities for publication, especially those writers aiming for LCF or literary fiction. The Open Fiction Project has a great comprehensive explanation of these advanced POV elements HERE.
Q: You talked about the importance of reading to become a better writer. Do you advocate reading outside of or "above" your genre?
TF: Emphatically! Read up, read out–and read down, too. All of it helps you better identify what you want to strive for or to avoid in your own work. This might be in terms of craft, or it might be in terms of style. If you're aiming to write a stand-out/break-out book, you have to have the big picture of both your intended market and the market in general.
As a post-script to this point, let me also advocate giving serious thought to the career you want before trying to get that completed manuscript published. Where you start has a lot to do with where you go, and how quickly. If I'd found an agent who'd then sold that first mediocre manuscript, I'd right now be fighting to stay afloat in the overpopulated chick-lit pool, or else struggling with a genre switch–and I likely would not have bothered to go to grad school.
Q: Does any part of writing give you trouble? What do you do to counter it?
TF: I seem to have to start a novel half a dozen times before I find the right way into the story. I'll think about it and think about it ahead of time, considering POV, opening scene, prologue yes or prologue no, structure, narrative distance… But it doesn't seem to matter how right I think I am when I first begin—inevitably I discover I'm wrong, and so I start over again, and again, and perhaps again and again, until something clicks and I know I've got it. From there, I write straight through.
Having now written four novels (and one of them twice from scratch, so I guess that makes five), I have to concede that multiple starts and a lot of discarded pages is just what I have to endure.
Q: "Prologue yes or prologue no." We've talked prologues here at WU before. What do you ask yourself in order to determine whether or not a prologue is necessary and will enrich the story?
TF: A prologue works the same way a first chapter works when there isn't a prologue: everything that comes later in the story will, in a best-case scenario, be contained (even if only subtly) in that opening or be directly connected to it. Many authors end up rewriting their novels' opening scenes or chapters after they've completed a first draft because it's only then that they know the story completely.
The only reason to use a prologue is to provide an essential frame for the story that will follow. So, if, as in Souvenir, the reader's entire experience of the story depends on their first having the knowledge of what you've put in the prologue (first being the operative word here), it needs to be there.
Q: There's a full-circle feel to Souvenir, though that's not to say the circle is closed conventionally. Without giving anything away, did you always have a clear view of how the story would end?
TF: Yes, I knew from the start how, big-picture-wise, the story would end. However, there were several small surprises that came late and were based on having gotten to know the characters so well. The way Meg handled the answer to the question of Savannah's paternity was one of those surprises.
One of my challenges was to be true to the story while still creating an uplifting ending. Not a happily-ever-after in the traditional sense, but an ending that would not have readers throwing the book down in dissatisfaction. I hate those kinds of endings!
Come back Tuesday for part 2 of our interview with Therese Fowler!