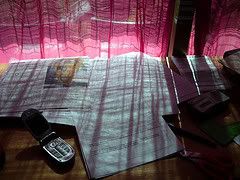 One of the many things that came up at the BackSpace Writers Seminar was whether or not agents actively seek new clients in December, and whether or not it's a good time to submit to them.
"I send out more rejections between December 25th and January 1st than any other time of year," said one agent.
Why?
Maybe like Rachel Vater, it happens in an effort to clear the desk, and the slate, for the New Year. But that doesn't necessarily mean you're going to get an auto-rejection if your work happens to be in the pile. On the contrary, say agents, while they hope to clear their desks, they're also still looking for the Next Best Thing. Says agent Janet Reid: "…if you've got a full out to an agent, don't forget that we do a lot of our reading in the last half of December. That's NOT the time to ignore your email or put your phone on no-ring."
But is now a good time to send a query? What are the chances that query is going to be rejected more quickly than, say, waiting until January?
Said Nathan Bransford, "if you are polishing off a query, go ahead and send it now (but I'd avoid the week around Christmas and New Years)."
I think it was agent Jennie Dunham who provided these guidelines at the seminar on the BEST times of year to submit to editors (apologies for slapdash notes here!):
* Submit whenever there's a sense of restart, like:
– right after the New Year
– in late April through May (buds on trees, Spring)
– in September (corresponds with "back to school")
Since agents may not read your query–especially a snail query–for a few weeks prior to those times, feel free to add that into your calculations. Which might mean this is a good time of year to submit after all.
P.S. Rachel Vater also recommended that all NaNoers take the time to polish their manuscripts before submitting. She's seen a lot of half-baked work lately.
Good luck to all!
Photo courtesy Flickr's Unbound67