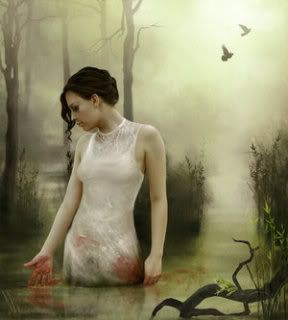 This time it will be different.   I say that to myself every time I start writing a new book.  This time, I think, I know exactly what I'm writing about, and I'll get it right on the first try.  This time I've got a plan that will be the writerly equivalent of a magic spell allowing me to rap three times on the keyboard and have a letter-perfect book simply pour through my fingertips onto the screen.
I guess you only need to look at the title of this post to know how that all ultimately turns out.  In a word, Ha.
Oh, it works for awhile.  At first, in the first flush of new-story excitement, the words pour onto the page almost as fast as I can type.  It's going so well, I e-mail my best friend writing partner.  I'm so excited about this book!  I'm having so much fun!
And then  . . . and then that flood of new words starts to dry up.  And the words I've already written start to give off a smell.  You know the one I mean?  It's like the faint odor of a potato salad that's been in the back of the fridge a day too long:  not horrible, but at the same time, hopelessly, irredeemably, on it's way to being bad.
And that's when I hit what I call the 30,000 word crisis point.  The point I always begin a book thinking I will avoid this time around.  And the point I always, inevitably, plow straight into like an express train hitting the car parked across its tracks.   Every writer is different, but for me, I hit 30,000 words and like clockwork realize that I'm going to have to scrap a sizable chunk of what I've written and start all over again.
But you know what?  I'm beginning to think that's actually a good thing. [Read more…]