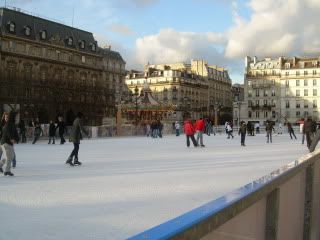 This is my first post from Paris, where I'm lucky enough to be resident in the marvelous Cite Internationale des Arts, in the 4th arrondissement, a stone's throw from the Seine, a short walk to Notre Dame. Even in the winter, Paris is an amazing, magical place for a writer (or frankly, anyone!) to be, and it's made me rediscover something I haven't done properly for a while: the journal.
That's journal as separate from diary, which I keep too, as a much more concise and businesslike precis of each day. In the diary are meetings, the weather, a basic outline of the day's events. But the journal's different. Journals for me are baggier, more impressionistic, more chaotic, impulsive, receivers of random impressions, trains of thought, images, vignettes you see along the way—for instance, young skaters at the Hotel de Ville; homeless men sharing a meal over a hot-air vent; quena players in the Metro, glowing shop windows full of cakes and roses like living jewels, the dance studio across the street, where every day sees a new scene enacted before you-—and this journal is in particular for me the story of a Paris life, and of observations in the city, as the seasons change and my attitudes to being here grow and evolve. Eventually, it may turn into a book, separate from the novel project I'm already engaged on; or it may just remain as an individual souvenir of my Paris adventure. But whatever its eventual fate, it seems a necessary adjunct to being here and really experiencing the city in more than just a surface touristy way. And I know too that it will be an invaluable well of images and ideas which will no doubt bear fruit in all sorts of weird and wonderful ways.

But here's a funny thing about journals. Impressionistic and impulsive they may be, but I think they positively demand a special setting. A certain old-fashioned formality, a certain extra care. And so though I love my dear old HP laptop, and it's being used a lot while I'm here, I certainly don't want to store my journal on its hard drive. Or—despite my blogging credentials!–on a blog. I don't know yet what shape this journal will turn out to be, what it might contain—and so it seems to me it needs the privacy and restrained elegance of beautiful paper, a fine strong binding, a good black ink fountain-pen. Which is exactly what I invested in, before leaving home. Add a glass of wine at the elbow, or a good cup of hot chocolate, and you're well away!
Sophie Masson has published more than fifty novels internationally since 1990, mainly for children and young adults. A bilingual French and English speaker, raised mostly in Australia, she has a master's degree in French and English literature. Sophie's new e-book on authorship, By the Book: Tips of the Trade for Writers, is available at Australian Society of Authors.