Today's guest blogger is the awesome Kay Cassidy! Kay not only has an MBA and teaches marketing and business workshops to writers around the country, but she's a fabulous writer! She was a 2008 Golden Heart Winner (RWA) and writes fiction for teens that she says she wishes was based on real life. Her debut novel, THE CINDERELLA SOCIETY, will be a Spring 2010 hardcover release from Egmont with book two in the series to follow in Spring 2011. We're so pleased to have her with us today and tomorrow to talk about three ways to boost your productivity. Enjoy!
Top Tips for Maxing Out Your Productivity
If you're like most writers, you probably have a whole slew of fresh writing goals for 2009. You may even be wondering how the heck you're going to accomplish them all too. Never fear! With a few quick tips, you'll be on your way to a productive 2009.
Tip #1 – Organize Your Work Space
If you want to be productive, you need to have a work space that's conducive to getting that work done. There's nothing worse than being in the middle of working on a project only to have the flow interrupted when you can't find that bit of research you dug up a few weeks earlier or you can't locate your thesaurus.
Don't worry, I promise you don't have to be a neat freak. We all have different methods of getting organized, so there's no one-size-fits-all solution here. It's all about finding what works for you and sticking with it.
The Everything Out approach
Are you an Everything Out kind of person? Someone who likes having important projects sitting on your desk in tidy little stacks? Or maybe you're an Everything Away person who thrives by kicking off each new day with a clear desk. Again, there's no right or wrong way to get organized. But take a step back and think about whether you're using your organizational style to its best advantage.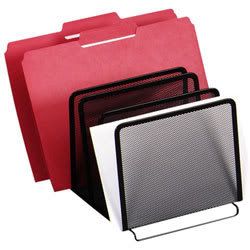 If you're an Everything Out kind of person, there are loads of different ways to keep everything visible and yet still organized. One of my favorites is the wire folder sorter.
It's an easy solution for keeping your projects neat and organized, but still easily accessible. You can even color code your folders for quick reference (and a splash of color to liven up your work space).
The Everything Away approach
If you're an Everything Away kind of person, you've got even more options for getting organized. From manila folders or hanging files in a cabinet to stand-up file centers or decorative hat boxes, you're limited only by your creativity. Just make sure that everything has a specific place and is clearly labeled so you can immediately find what you're looking for when you need it.
I have a lateral file located right next to my computer desk, so that was a no-brainer for me. But my files were far from organized. Then, last fall, I finally hit my threshold for organizational mayhem. I spent a week in my office pulling every single file out of the jam-packed cabinet and purging the contents. (Do I really need Christmas gift lists from 1999?)
Everything that was deemed necessary and relevant (and that I couldn't easily find online these days), got listed in my trusty notebook. When I was done, I sat down and looked at what I had. They very easily fit into one of four categories: career, home, personal and family. With about $100 in supplies from my local office store, included color-coded hanging files (because that's just how I roll), manila folder inserts, and new tape for my label maker, I sat down and created a whole new filing system. And I LOVE IT.
Instead of half a dozen random folders for every book, I now have them all organized together with labels that say:
Career – Manuscripts – The Cinderella Society, book 1
Career – Manuscripts – The Cinderella Society, book 2
My various craft files are neatly organized as well:
Career – Craft – Editing strategies
Career – Craft – Hauge strategies
Career – Craft – Maass strategies
And all the financial documents I'd been dutifully tucking away are now easy to grab when I need them:
Career – Finances – Bank statements
Career – Finances – Expenses
Career – Finances – Quarterly taxes
Career – Finances – Royalty statements
I also keep extra folders in my office closet right next to my label maker. Whenever I need a new file, I pull out my supplies, immediately make the file and put away the new item. It literally takes 25 seconds, tops. No more stacks of filing waiting for attention… a long-time nemesis of mine that just made me dread filing all the more. In less than a minute, I can create a new file and neatly tuck away the material.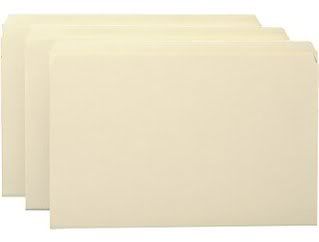 BONUS TIP: After spending most of my life trying to figure out how to shorten folder names to fit on a 1/3-tab manila folder, I am now a die-hard fan of straight-cut manila folders.
You can use a file name strategy that includes categories and the file name (like the ones above) to keep you extra organized without resorting to 6-point font. Since these manila folders are all placed in their own hanging file (because I could never keep my manila folders standing upright in my file cabinet and didn't like everything getting bent), all the labels are easy to see. It's a win-win in my book. A little extra cash up front in office supplies, but so worth it for the headache savings.
Out with the old, in with the new
One of the best things you can do at the beginning of each year is clear out the old to make way for the new. Do you have several manuscripts sitting on the back burner? They don't need to be taking up space in your active work area. Label them and tuck them away in a Future Manuscripts area so they're ready when you need them, but not taking up valuable brain space when you see them now. Because, really, how many of us haven't been struggling with a scene in our book, opened a drawer and saw another story folder, and thought, "You know, maybe I'll just work on THAT story instead!" It's an easy distraction and one you can't afford to succumb to if you want to be truly productive. Stick to your main focus, and you'll be much happier with your results at year-end.
Keeping your work space organized keeps you in the flow and maximizes your work time. Make the most of your space and you'll make the most of your work time too!
Come back tomorrow for part 2 of Kay's top three tips for maxing out your productivity!