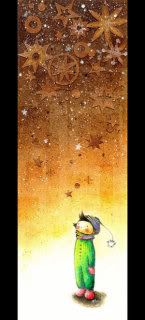 It's not yet crunch time, but it's not something that can be put off much longer: holiday shopping.  We're offering our suggestions for the reader or writer in your life.  Or perhaps your loved one is stumped about what to get you.  A gentle hint (or send them the link to this post) should do the trick.
For the writer:
Money is tight for everyone these days, but don't discount the best gift you can give to or get from the writer — the gift of time.  Something as simple as a weekend off of chores, or perhaps an afternoon of babysitting the kids.  Uninterrupted time is what every writer needs, and wants.

Writers live and die on their keyboards, and people are raving about Logitech's Cordless Wave keyboard.  If you've been hesitating to buy an ergnomic keyboard because you're not a fan of "broken" keyboards, this is the perfect solution and will reduce strain on your wrists and shoulders.  At $69.99, it's also affordable.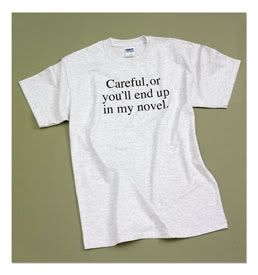 We love Bas Bleu, a great cyberstore for both writers and readers.  If whimsy is on your list, you can't go wrong with a "Careful, or you'll end up in my novel" tee-shirt or a "Novel in Progress" door hanger.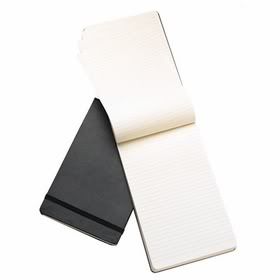 If you're a writer who can't stop scribbling ideas on napkins and the odd gum-wrapper in a pinch, Moleskine Reporter Notebooks make terrific stocking-stuffers.  Since the days when Hemingway filled innumerable Moleskines while in his Parisian cafe, these classic notebooks have been helping writers capture their thoughts for generations.
For the reader:
Amazon's Kindle electronic reader is proving to be the must-have gift of the holiday season for book enthusiasts. Unfortunately, there's a 13-week waiting list for it as of December 1.  But may we suggest the following alternatives?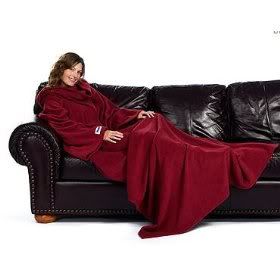 It's about as glamorous as a monks' cowl, but the Snuggie blanket is the perfect gift for the reader.  It keeps your arms covered, is constructed from fleece, and at two for $19.99, is an unbeatable deal.
The New York Times offers an eclectic mix of recommendations this year in its annual list of 100 Notable books.  Or how about a gorgeous reproduction of the world's rarest book, the Sarajevo Haggadah?
Hardcore couch potato readers will appreciate Levenger's Thai Silk Reading Pillow.  Not only is it functional, but turn it over and it becomes a beautiful decorative pillow.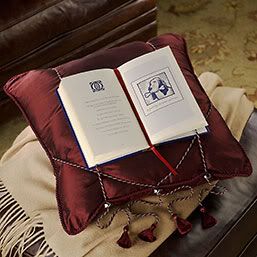 And look! It matches the above Snuggie!  We're big fans of Levenger's for their many styles of pens and reading accessories.
If you're on a budget, check out BestBookDeal, a search engine that trawls the Web to find the best price on a book.  Or perhaps organize a Book Exchange, a party where you and your friends gather to trade their best-loved books with each other.  
Donate time and/or money to your local library, or to BooksFirst! a nonprofit that donates books to under-resourced classrooms.
Do you have a suggestion about a great gift to give to the reader or writer in your life that you can share with us?  What's on your wish list this year?
Art by freckleface29.
About
Writer Unboxed began as a collaboration between aspiring novelists Therese Walsh and Kathleen Bolton in January, 2006. Since then the site has grown to include ~40 regular contributors--including bestselling authors and industry leaders--and frequent guests. You can follow Writer Unboxed on Twitter, or join our thriving Facebook community.