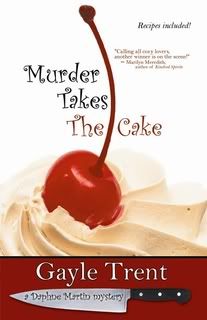 Today's guest post is by cozy mystery writer Gayle Trent. Her novel Murder Takes the Cake is a delicious confection of characters, humor, cake decorating, and of course murder.  Trent's novel is the first in her planned Daphne Martin mystery series.  We were pleased when Gayle agreed to guest blog with us because it allows us to turn the spotlight on one of our neglected genres — classic mysteries.
Murder Takes the Cake was a semi-finalist in Amazon's Breakthrough Novel Award contest, out of an initial submission pool of nearly 5000 novels in January of 2008, an amazing achievement. 
Enjoy!
What a character!
Characters are what take cozy mysteries "out of the box." Cozy writers use hobbies, professions and even obsessions to make their characters unique. I have an interest in cake decorating, so I infuse my hobby into a profession for my character. Even though I'm a novice cake decorator, I have the knowledge to make my character an expert.
Judith Skillings and her husband own and operate a Rolls-Royce and Bentley restoration shop. Not surprisingly, her cozy mystery heroine works in a classic automobile restoration shop. Ellen Crosby introduces readers to Virginia's wine country in her mysteries. Camille Minichino has a Ph.D. in Physics. She writes the periodic table mysteries. Sheila Lowe, a graphology expert, pens cozy mysteries wherein the heroine is an expert handwriting analyst.
Some cozy writers add a paranormal bent to their books. Alice Kimberly, author of the Haunted Bookstore Mystery series, employs the ghost of a murdered P.I. to help the heroine solve crimes. Madelyn Alt writes the Bewitching Mysteries, and Victoria Laurie writes the Ghost Hunter Mysteries.
Getting to know you . . . .
Since many cozy mysteries are series books, the reader has time to develop "relationships" with the books' main characters. The reader watches the characters grow and interact from book to book. While these might be the most unlucky people on the planet—murder victims are turning up around practically every corner—they're still falling in love, making new friends, caring for pets and pretty much happily going about their lives. Diane Mott Davidson's character Goldy has gone through quite a lot of changes since her first book, Catering to Nobody. There we met a divorcee with a young son. Now Goldy has remarried and little Arch is all grown up. In that way, cozy mysteries are rather like a soap opera; only you have to wait a long time between installments. Which reminds me of Lost . . . although my series doesn't have a dark cloud monster or a plane crash. At least, not yet. :-)
One reviewer said of Murder Takes the Cake, "I could identify with Daphne's relationship with her family. I think this was the part I liked best. Daphne has a cautious and teeth gritting relationship with her mother, a loving warm one with her father and her sister." I was surprised that this is what she "liked best" about the book. I'd intended to give the characters depth through their relationships, and I'd tried to make those relationships realistic. In fact, the publisher even asked me to tie up the heroine's relationship with the stray cat at the end of the book. I couldn't do that and remain realistic. The cat in book is based on a real cat, and it took me months to establish a relationship with her. The fictional relationship will progress in the next book, as will all of Daphne's other relationships.
It is really cool how readers of cozy mysteries become attached to characters and loyal to authors. In fact, every year cozy readers gather in Arlington, Virginia for the Malice Domestic "Fun Fan" convention to celebrate cozy mysteries and their authors. It's quite a coup for an author to win an "Agatha," the teapot awards given by Malice Domestic. And the convention is a terrific experience. As a fan as well as an author, I was thrilled to meet Dorothy Cannell and Harley Jane Kozak at the Malice Domestic convention a few years back. Both are delightful ladies with great senses of humor. Naturally, I told them I love Ellie Haskell and Wollie Shelley, respectively. And I do. I'm looking forward to seeing what they do next.
Thank you, Gayle!
Murder Takes the Cake is available at all online and bricks 'n mortar retailers.