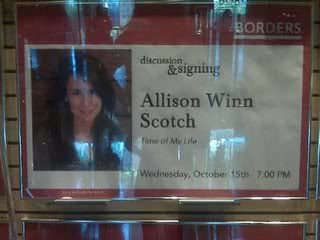 Today marks the start of the 60th annual Frankfurt Book Fair–the largest such fair, when publishing reps from all over the world buy and negotiate foreign rights for their books. Good luck to all authors hoping for foreign sales!
NYC residents, please note: WU contributor Allison Winn Scotch will be doing a reading and signing tonight, Wednesday, October 15th, at Borders Time Warner Center at 7 p.m. Everyone else, click HERE to watch Allison's interview with NY1 TV, about her new release Time of My Life.
WU's Barbara Samuel will also be out and about this weekend. "I'll be in San Diego and Encino this weekend," she posted on her blog. "If you're in the area, come see me."

Sunday October 16
12-2
Barnes & Noble Encino
16461 Ventura Blvd
Encino
Sara Gruen's bestselling Water for Elephants is heading for the big screen.

The bidding war is over, and Fox 2000 has emerged triumphant, clutching the rights to Sara Gruen's bestseller Water for Elephants, which they are promptly putting on the fast track. According to The Hollywood Reporter, Francis Lawrence is attached to direct, and Richard LaGravenese is adapting it for the big screen.
Will Dracula rise from the undead? It appears so!

Drawing from handwritten notes by Bram Stoker, the horror author's great-grandnephew is set to pen a Dracula sequel entitled Dracula: The Un-Dead.

The new project is the first story authorized by the Stoker family and estate since the 1931 film starring Bela Lugosi.

The forthcoming Dracula: The Un-Dead — apparently the title Stoker had intended for his original before an editor changed it — is slated for release in October 2009 in the U.S., U.K. and Canada. Film rights to the new story have also been sold, with production tentatively scheduled to begin in June 2009.
The final book in Cornelia Funke's wonderful Ink trilogy, Inkdeath, has been released. Go forth and read!
David Beckham marks the latest in a long line of celebrities who will write a children's book series. Beckham's series, set to debut in June of '09, will be about a group of 7 year olds in a football institute.
How has this new era of economic uncertainty affected the publishing industry? Time will tell. Lulu, however, has recently let go 25% of its employees.

Bob Young, Lulu founder and CEO, said, "With the credit and capital markets frozen solid Lulu couldn't continue burning through money at its previous pace. We're very disappointed…we were forced into a position of having to cut costs."
In happier news, debut novelist Aravind Adiga has won the prestigious Booker Award for The White Tiger, and Jean-Marie Gustave Le Clezio, a French novelist, has won the Nobel Prize for Literature for his life's work (an award that some think Americans incapable of winning, I might add).
This interesting nugget from today's The Writer's Almanac:

It's the birthday of the novelist Mario Puzo, (books by this author) born in New York City in 1920. He was the son of Italian immigrants. He wrote two novels that sold almost no copies, and he was in serious debt. Then one Christmas Eve, he had a severe gall bladder attack, and he was in so much pain that he fell into the gutter. As he was lying there, he said to himself, "Here I am, a published writer, and I am dying like a dog." He vowed that if he got better he would devote the rest of his life to becoming rich and famous. His next book was The Godfather (1969), a huge success, and he went on to write The Sicilian (1984) and The Last Don (1996). He said, "A lawyer with a briefcase can steal more than a thousand men with guns."
Tomorrow marks the 250th birthday of Noah Webster, of Webster's Dictionary. This from Wordsmith.org:

Today when we spell the word "color" instead of "colour" we can thank a crotchety, humorless man for saving wear on our fingers, not to mention savings on paper and those obscenely expensive inkjet printer cartridges. Oct 16 marks the 250th birth anniversary of Noah Webster (1758-1843), lexicographer extraordinaire, who compiled the American Dictionary of the English Language (1828), the first authoritative lexicon of American English.

Webster believed in establishing cultural independence from Britain and as such he emphasized a distinct American spelling and pronunciation. His dictionary listed various unusual and shortened spellings of words. He would hardly have imagined how the tide would turn one day. According to reports, more British children today spell "color" instead of "colour", for example. Webster's suggestion of using "tung" instead of "tongue" didn't stick, though.
I'm officially hooked on Publishers Marketplace and the "Today's Deals" emails I receive from them. I really enjoy reading about interesting new sales, like this one from yesterday's Deals:

CHILDREN'S: YOUNG ADULT
Tish Cohen's YA debut LITTLE BLACK LIES, about a teenage girl who enters a school for brilliant, entitled students–as her father is hired by the same school as the new janitor, to Regina Griffin at Egmont, and Lynne Missen at HarperCanada, by Daniel Lazar at Writers House (NA).
Ouch. Doesn't just the thought make your cringe, and make you want to read about it? High concept–still a winning ticket. Congrats to Dan Lazar and Tish Cohen for the sale of what sounds like a wonderful book.
Blog land news: Please do yourselves a favor and swing by Therese Fowler's blog for a great post on CONFIDENCE. I love her idea of starting a bead jar. Check out Ann Aguirre's Top Ten Bad Promo Ideas, too. Very fun. Ready for a contest? Check out this one, through St. Martin's Minotaur and Mystery Writers of America (MWA): The Best First Crime Novel Competition. Good luck!
Do authors and politics mix? This site thinks so, and it isn't very different than what you'd see in Hollywood–except here you may receive a bag of free books. What do you think?
In other news, did you know that eating half of a dark chocolate bar every week may help prevent heart disease? You can thank me later. ;-)
Write on!