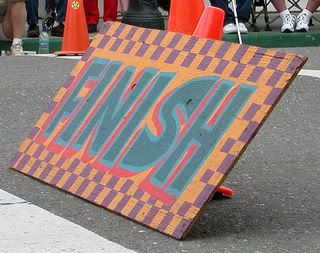 variorum (var-ee-OR-um)
adjective
1. Containing various versions (from manuscripts, earlier editions, etc.)
of a text.
2. Containing notes and commentaries by various editors and commentators.
noun
Such a book.
A friend of mine jokes that I am currently on Unbounded, version X. In truth, I have 21 complete files of my variorum. Most files mark a change of mindset, as I experimented with a new direction or massaged a character. They have telling names: "POV Experimental Unbounded," "Unbounded Revised Working Copy 2005," "Unbounded 2007 ACTIVE mega change time," "Unbounded 2008 pre-final edit March 08," "Unbounded DONE," "Unbounded DONEDONE," "Unbounded DONEDONEDONE."
My new file is called "The Last Edit."
This past month, I've been rummaging through old papers, just in case I locate some bit of research I'd meant to incorporate, some lost thought that when found will make the story that much better. Some of my worries are probably the result of debut-itis, e.g. "Have I done the story justice? Have I made the right choices?" And, sure, it's a little nerve withering to realize that bookstore-milling people will soon be able to read my work.
Maybe my apprehensions are because I've been writing this story for so long, and it's going to be hard to let go. How long? You may be surprised…
I started to write Unbounded in early 2002, experimenting–between nonfiction assignments–with the idea of longer fiction. I'd been writing children's book manuscripts for several years, but I wasn't quite satisfied with the space allowed for character development; I also wanted a bigger canvas to play with language–juicier words, bolder ideas, broader themes. I didn't become invested in the story right away. I dabbled with it. It grew on me. I found critique partners, and they encouraged me onward. At some point, I fell in love with the story and the characters, and I became determined to succeed. I finished Unbounded after about a year, then took another year to edit it. I sent it out, and started to collect rejection letters–many positive. One agent wrote that my focus had been too narrow, and that I needed to make the story bigger. Though her opinion resonated with me, the idea of rewriting the manuscript after two years of work–and half a year of marketing–sickened me. Worse though, as I learned, was the notion of abandoning it. So I didn't. And after scrapping the old work and choosing a new genre; after plenty of navel-gazing and craft work, stops and starts and learning curves; after many days and months and years, here I am. Sold. On the last edit.
How will this last edit differ from the many edits that have come before? These are high-sheen goals:
* Ice-smooth prose; no duplicated words or phrases in close succession
* Clean prose; no "favorite" words used repeatedly (I like "splinter" and "fragmented" too much!)
* Fresh prose; less reliance on crutch-descriptions like, "he paced," "she sighed," "her heart thrummed," etc…
* Leaner prose; we'll trim 10 pp from the final copy
This is when it will really pay off to read the entire manuscript aloud. I'm going to take my time on this last edit, to pay due homage to this story and my process; I want no regrets. By next month, Unbounded will be out of my hands and in the copy editor's. Sure, I'll see it again in galley form, but any changes made at that point should be on the order of tweaks. This, right here, with my variorum, is The End.
Baby bird grown up, fled the nest, gone.
It's normal to feel a little melancholy, isn't it?
What steps do you take to polish your story when you're on the last edit? What, if anything, do you do to symbolize reaching The End?
Photo courtesy Flickr's humming